Boris Johnson is travelling to Russia this week for the first UK foreign minister visit in five years – but you won't hear about it
The Government knows that however Boris's trip goes, it'll be 'damned if you do, damned if you don't'. But relations have changed in an unforeseen way of late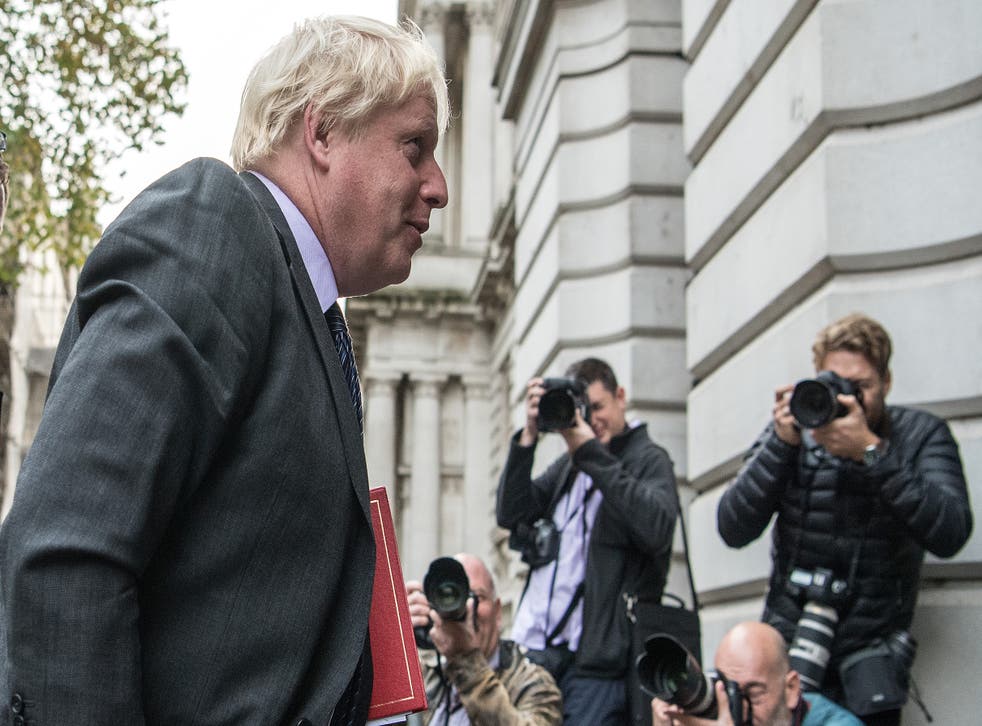 Talk about a pre-emptive burial of bad news. Boris Johnson's much-delayed visit to Moscow is being hidden away at the back end of the year in a way that almost guarantees feeble to nil coverage in the UK media.
Who, after all, will be much exercised by the Foreign Secretary's doings in Russia, what with the last-minute panic over shopping and turkey and the news schedules all over the place?
A host of reasons might lie behind the official reticence. One could be sheer embarrassment that the visit has not happened sooner.
When Theresa May became Prime Minister, one of the early phone calls she made was to the Russian President, Vladimir Putin, in the hope – or so it appeared – of trying to end the long run of generally appalling UK-Russia relations. Concern that President Trump and Putin might actually get along may have been a later consideration, too, given that a US-Russia thaw could have left the UK in the cold.
Then there was the shambolic way in which plans for the visit were handled. First scheduled for early April, it was postponed after a suspected chemical attack in Syria that was blamed on the forces of President Assad – and so, by extension, on his Russian allies. The visit was very soon reinstated, but then cancelled again, after it turned out that the US Secretary of State, Rex Tillerson, would be in Moscow just a day or so later.
This apparent lack of diary coordination between the two closest transatlantic allies is the sort of thing diplomacy is supposed to avoid. It hardly gave the impression that improving relations with Russia was a UK priority.
Labour MP asks Theresa May if she will name her goose on Christmas Day Michael or Boris
The long postponement, however, has created new problems. The dynamics have changed quite significantly over the intervening months – and not to the UK's advantage. This is partly because Russia is no longer, or much less, in the international dock over Syria. The tentative peace process Moscow initiated in parallel with its military involvement has borne fruit, and the US (if not the UK) has quietly abandoned its more dubious allies in the region. Putin's flying visit to Syria earlier this month was his "mission accomplished" moment, and Russia is now assured of a role in any peace.
Johnson must also navigate the still unresolved US-Russia relationship; if the UK wants to be in the US camp, it will have to keep its options open. Trump's hopes of an opening towards Russia may have been frustrated – even sabotaged – by his enemies in Washington, but recent statements on both sides suggest that both Trump and Putin still harbour hopes of forging a better world together.
Even as lower level officials, and members of the US Congress and the Russian Duma, have been hurling accusations at each other's countries, Trump and Putin have largely remained above the fray. Last week, it became known that the CIA had passed on intelligence that may have prevented a terrorist attack in St Petersburg – for which Putin publicly expressed his thanks.
UK news in pictures

Show all 50
And there is another change in the dynamics that no one could have foreseen. A crack that appeared in a North Sea gas pipeline had the UK suddenly soliciting extra supplies of gas from the Yamal project in the Russian Arctic which is threatened by US sanctions. The irony of this – especially acute, given that the UK has been a cheerleader for EU sanctions over Ukraine – was not lost on Russia. Putin himself was reported to have overseen the shipment, after inaugurating the Yamal terminal, and the vessel is steaming its way past Norway en route to the Kent depot even as I write.
So there is now an additional topic of mutual interest to be added to the standard list – Syria, Ukraine, sanctions, human rights issues – when Boris and Sergei (Lavrov), his vastly more experienced and cautious Russian opposite number, finally meet in what will be the first UK foreign ministerial visit to Russia for five years. That, in itself, shows how bad bilateral relations have been.
Register for free to continue reading
Registration is a free and easy way to support our truly independent journalism
By registering, you will also enjoy limited access to Premium articles, exclusive newsletters, commenting, and virtual events with our leading journalists
Already have an account? sign in
Join our new commenting forum
Join thought-provoking conversations, follow other Independent readers and see their replies