Brands have been quick to drop Maria Sharapova without trial - but they aren't so hasty with their male athletes
This brand dump is a strange move for Nike, considering the sportswear giant let Gatlin off the hook and stood by Armstrong, Woods, Michael Vick and even Oscar Pistorius during 'troubled times'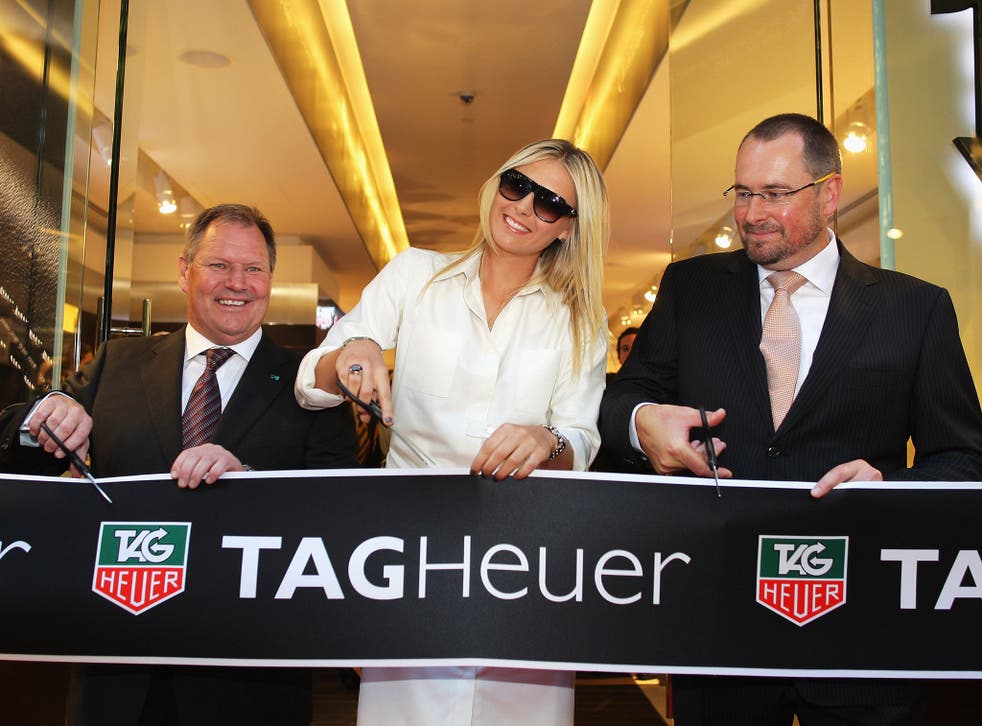 This time, post-Lance Armstrong and his belief that EPO was doctor-approved, there's no sugarcoating what happens to 'accidental dopers.' This week's sporting villain, a five-time Grand Slam winner whose skill in netting $30m a year in endorsement deals for her lissome good looks is even better than her on court prowess (worth $6.7m), can for now forget promoting the eponymous Sugapova candy range that presents another lucrative side-hustle. For Maria Sharapova today, there's a much more bitter pill to swallow.
"Shara-dopa" screamed the tabloids after the Russian – who, though ranked 17th in the world, is more commercially successful than the current world No.1 Serena Williams - called a press conference not far from her Florida. It was clear that she was trying to take some semblance of control over a potentially career-ending truth: that the world's highest paid female athlete failed a drugs test after crashing out at the Australian Open.
Brands do not need or want to wait around for a fair investigation. Only Justin Gatlin, a two-time convicted drugs cheat still bizarrely promoted by Nike as its poster boy for athletics, is speedier to the finish line than the very same brand which has dropped Sharapova's eight-year, £70m contract for an unproven and arguably honest mistake over a legal drug.
TAG Heuer, the Swiss watch brand, have followed suit this morning. Snarling bookies such as Paddy Power are giving punters the opportunity to bare their teeth and bet if Evian, Porsche, American Express or Avon will sever ties with Forbes Magazine's 18th highest earning athlete of the past decade.
This abhorrent brand dump is a strange move for Nike, considering the sportswear giant let Gatlin off the hook and stood by Armstrong, Woods, Michael Vick and even Oscar Pistorius during 'troubled times'. After weighing up the reputational damage wrought by Sharapova's 'accident', the brand has mercilessly decided that it could not possibly support the 28-year-old through an official investigation, despite making money from her talent since she was 11 years old.
The drug in question, meldonium, was legally prescribed to Sharapova by a family doctor for ten years under the alternative name mildronate for "abnormal electrocardiogram readings" and "some diabetes indicators". What's more, for the past decade the drug was not deemed serious enough to warrant inclusion on The World Anti-Doping Agency (WADA) banned list. It was only on January 1st that the drug became a prohibited substance after languishing for a year on a 'watch list' because it is now thought to help endurance and rate of recovery.
Careless as Sharapova may seem that she did not "click on a link" sent in an email by WADA on December 22nd that detailed WADA's up-and-coming changes, her ignorance is not enough for Nike to effectively rebrand her a drugs cheat by washing its hands of her as they (eventually) did both Oscar Pistorius, who killed his girlfriend, and boxer Manny Pacquiao, who make public homophobic slurs.
Why was Olympic darling Mo Farah, another star whose transcendental talent critics were eager to disbelieve, given the benefit of the doubt by Nike upon suspicion that his coach Alberto Salazar had breached anti-doping rules in its own Oregon backyard, and yet not Sharapova? Could it be sexism at play here?
Nike has impressed that the market value of its female athlete is based on nothing more than the illusion of squeaky-clean perfection that will be scrubbed away like an advertisement on a tube wall if its gets a bit grubby. Its male ingots, on the other hand, are historically protected in a vault where punishment is delayed, controversy capitalised upon and protection granted until proven guilty.
But Sharapova is facing the music head-on. Firstly by stating "I did fail the test and I take full responsibility for it", the former Wimbledon champion has held on to a vestige of credibility that she can build on as she serves a provisional suspension by the International Tennis Federation (ITF) and an expected two-year ban.
Key to her public rehabilitation is her application for a retroactive therapeutic use exemption (TUE), which means she may use meldonium without violating the rules if a heart defect and diabetes is proven. WADA should also share responsibility for these foggy issues by ensuring that every athlete declares the minutiae of existing health conditions and medication. It should also take pains to educate the public on previously obscure terminology and regulation that is now routinely discussed over the breakfast table.
While whispers of retirement have encircled Sharapova following a spate of injuries, her renewed drive to ensure her tennis legacy is sweeter than her Sugapovas means we haven't heard the last of that 109-decibel grunt on centre court just yet.
Register for free to continue reading
Registration is a free and easy way to support our truly independent journalism
By registering, you will also enjoy limited access to Premium articles, exclusive newsletters, commenting, and virtual events with our leading journalists
Already have an account? sign in
Join our new commenting forum
Join thought-provoking conversations, follow other Independent readers and see their replies