Democracy has defeated Trump but, when it comes to Brexit, it has failed all of us
Boris Johnson was able to push through Brexit on just 44 per cent of the vote, whereas in America, at least this time, the majority vote was able to defeat Trump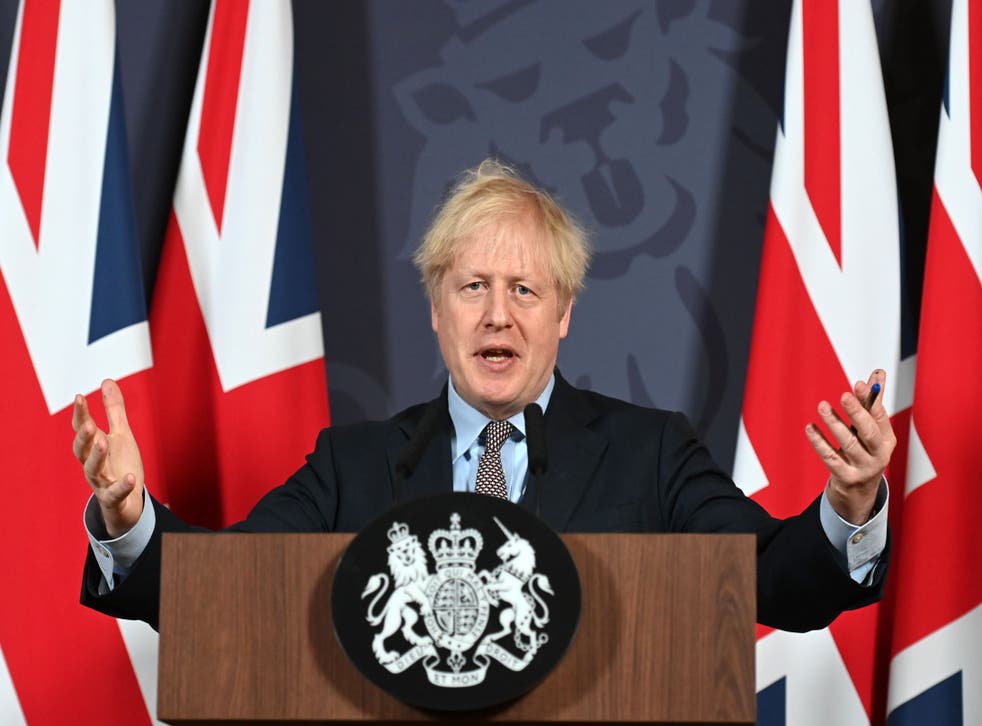 We like to pretend we're better than America. We see a mob of Trump supporters breaking into the Capitol building in Washington, chasing police officers and planting bombs, and we think, "Nothing so nasty could ever happen here."
Now, I could just point to the murder of Jo Cox to disprove this notion, but there is more to it than that. The Labour MP was murdered by a white nationalist a week before the EU referendum in June 2016. Heather Heyer was murdered by a white nationalist in Charlottesville six months after Donald Trump became president. Both killers were motivated by the belief that their victims were a threat to their country.
The politicians behind Brexit, just like Trump, had four years to dial down the nationalist, xenophobic rhetoric, which they had seen lead to a terrorist killing, and make it clear that violent extremists were not welcome in their movement. But instead, they just kept going.
In the case of Brexit, politicians and sections of the media drove a narrative of "take our country back". Boris Johnson's Vote Leave campaign played on the threat of Turkish migrants arriving in the UK if Turkey joined the EU; the Daily Express referred to refugees as "INVADERS"; and Nigel Farage had his "Breaking Point" refugees poster.
In the case of Charlottesville, Trump's slogan was "Make America Great Again". He'd said Mexican immigrants were mostly criminals, rapists and drug dealers, and called for a "shutdown of Muslims entering the United States". Then Heather Heyer was killed by a Trump supporter at a rally where people had been chanting "Jews will not replace us". Is it all a coincidence?
We all remember Trump struggling to condemn the white supremacists who killed Heather Heyer, saying that there were "very fine people on both sides". But you may not know that the director of communications for Arron Banks' Leave.EU campaign, Andy Wigmore, also suggested that, after Nigel Farage's anti-migrant campaign received a media backlash following the murder of Jo Cox, the reason they kept going was because their message still tested well.  
One of the hallmarks of fascism is labelling political opposition as less patriotic. For me, the core narrative since the referendum was that Brexit, patriotism and democracy all meant the same thing. Since 51.9 per cent voted Leave, any questioning of Brexit was painted as being against the "British People". Who can forget the Daily Mail calling the Supreme Court judges "Enemies of the People"?
Conservative MP Andrea Leadsom, also of Vote Leave, accused an interviewer of being unpatriotic for questioning the success of the Brexit negotiations. A former Vote Leave campaigner threatened on national television that if a second referendum happened it would "unleash forces that have not been seen in this country since the Thirties".
Boris Johnson regularly accused the opposition of betraying the country for supporting a different version of Brexit. And when opposition MPs told him about the death threats they received and begged him to stop using such language, he told them that if they wanted to feel safe, they needed to "get Brexit done". That's not distancing yourself from extremist violence. That's weaponising it to intimidate your political opponents into submission.
The Trump version of this is when the outgoing president told the far-right and typically violent Proud Boys group to "stand back and stand by", in case he lost the election. Nigel Farage once said that if Brexit wasn't delivered, he would return to mainstream politics. His choice of words: "Pick up a rifle and head to the front lines."
We've already seen Brexit Betrayal marches by Ukip. We've seen left-wing journalist Owen Jones attacked by far-right homophobic thugs. I personally had to escort Conservative MP Anna Soubry as she was being harassed, shouted at and blocked from entering parliament. I had a drink thrown at me and was poked in the face with a flag pole at a Brexit Party rally. Ironically, that was the same day I condemned throwing milkshakes at Nigel Farage on national TV.
So what's the difference between the UK and America? Why are we not seeing far-right activists breaking into parliament with rucksacks full of C4 explosives? Same nationalist rhetoric. Same "traitor" scapegoating. Same war language. Same bubbling unrest.
In fact, in both the 2020 US election that ushered Trump out of office and the 2019 UK election that made Brexit inevitable, 52 per cent of voters voted for parties that opposed the direction the nationalists were taking the country. The key difference is that Boris Johnson was able to win, and push through Brexit on just 44 per cent of the vote, whereas in America, at least this time, the popular (majority) vote was able to defeat Donald Trump.
So, what if the only reason our capital didn't erupt into violence isn't because we're better than America? What if it's just because, unlike America, our system wasn't democratic enough to allow the majority of voters to stop Brexit? What if we've simply let the beast loose rather than risk getting scratched trying to cage it?
Well, now we have a government that has sought to deport a two-tour war veteran suffering from PTSD, is looking into offshore camps for refugees, and is trying to make sure the government can't be held accountable to the Supreme Court. All this on top of the damage Brexit will do to British families. Meanwhile America can at least start to heal. So are we really any better?
Register for free to continue reading
Registration is a free and easy way to support our truly independent journalism
By registering, you will also enjoy limited access to Premium articles, exclusive newsletters, commenting, and virtual events with our leading journalists
Already have an account? sign in
Join our new commenting forum
Join thought-provoking conversations, follow other Independent readers and see their replies