There are some simple reasons why a Canada-style Brexit deal can't work for Britain, whatever Japan says
There has been some speculation about Labour MPs being privately contacted at senior levels of government to support whatever deal May reaches, 'in the national interest'. It's a lie that voting that way would be best for the country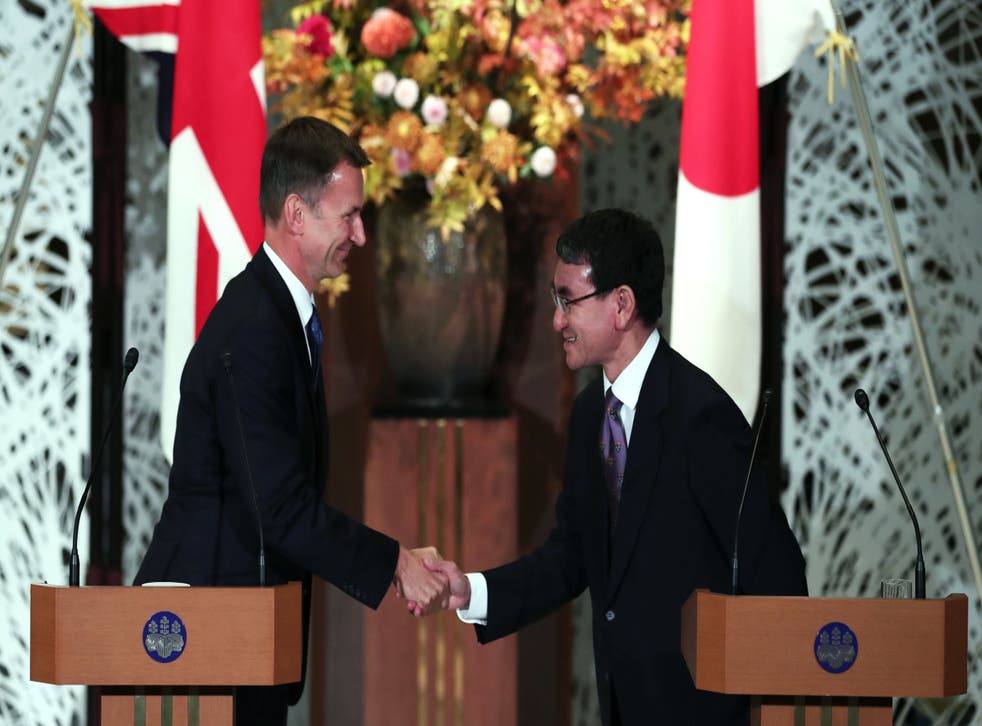 Japanese prime minister Shinzo Abe has had the increasingly desperate band of Brexiteers in the House of Commons jumping for joy this morning. He told today's Financial Times that the UK would be welcomed with "open arms" into the Trans-Pacific Partnership between 11 Pacific countries, which includes Japan, Canada and Mexico.
The TPP seeks to deepen trading ties and cut tariffs between signatory countries. The idea that we could potentially become members of it is reportedly being promoted by the international trade secretary Liam Fox (whose department was boasting of Abe's comments on Twitter) as a way of mitigating against the trading downside of Brexit.
However, there are some very obvious problems with the TPP. For one thing, the UK is on the other side of the world to the Pacific area, whereas the European Union is in our back yard.
The TPP hasn't been ratified yet by its signatories and has been thrown into doubt after one of the prospective signatories, the US, pulled out at the instigation of Donald Trump. TPP countries account for less than 8 per cent of UK exports, whereas the EU accounts for almost half.
We already have trade agreements with over 60 countries – including over half the members of the TPP – by dint of our membership of the EU's customs union, so the idea that being part of the TPP could make up for the loss of trade resulting from Brexit is pie in the sky – or "cloud cuckoo land", as Simon Fraser, the immediate former permanent secretary of the foreign office, puts it. And because Japan's companies are among the biggest inward investors to the UK, employing thousands of Brits, Shinzo Abe was careful to also point out in his interview that Japan is keen the UK should not crash out of the EU without a deal. He also emphasised that even if we leave with a deal, the UK would lose its role as a gateway to Europe after Brexit.
Sitting in the driving seat of the deal negotiations for the EU is the EU Commission. It is led by a college of 28 commissioners, one from each member state, including the UK's Sir Julian King, the president Jean-Claude Junker and six vice presidents. They are a bit like a cabinet of ministers, bound by the principle of collective responsibility but owing their allegiance to the EU rather than their home country. Technically they are civil servants.
On Wednesday, this college of people will gather for their weekly meeting at the Berlaymont building in Brussels where the EU's chief Brexit negotiator, Michel Barnier, will brief them on where the Brexit negotiations are at. Later that day, the EU Commission is likely to again formally reject the proposals agreed by the UK cabinet at Chequers in July that Theresa May has put on the table.
This is not a surprise. Long before senior EU figures started to publicly pour cold water on Chequers, the EU minister of one of the big EU countries told me "it will not work".
Theresa May lambastes a 'people's vote', saying people already had their Brexit vote in 2016
Save for a hardcore bunch of Brextremists – members of the European Research Group (ERG) of right-wing Tory MPs, led by Jacob Rees-Mogg – few Tory MPs you speak to have any desire for the UK to leave the EU without a deal. Not only would it be catastrophic for the UK, but I suspect it would bury the Conservative Party politically for a generation.
That is why May is absolutely determined for a deal to be done; and she will put forward a revised version of her plans when the EU Council of Leaders meets for its summit next Wednesday. It was noticeable that she dropped any mention of the word "Chequers" from her conference speech last week and she now refers to a "free trade deal" instead. This is because her revised proposals are likely to be some variant of her original proposals and a version of the free trade deal Canada has with the EU (some dub these revised plans "Chanada").
The ERG abhorred Chequers from the get-go, as did many others on my side of the argument for different reasons. The ERG huffs and it puffs, and members go on the TV and radio threatening to vote Theresa May down. But they privately admit that they do not have the numbers in the House of Commons for their kind of extreme "clean break" from the EU. By defeating what their PM comes back from Brussels with in their pursuit of the perfect Brexit (a contradiction in terms if ever there was one), they may sabotage their project altogether – many of them know this.
The Conservative MP Anna Soubry and I, as leading spokespeople for the People's Vote campaign, have spoken at rallies and events in Coventry, Exeter, Hull, Manchester, Nottingham and Sunderland in the last fortnight alone, which all contain areas that voted Leave in 2016 by some margin. From our conversations in these places, there is no doubt about it: what the polls are saying on Brexit is matched by what you hear on the street – more and more voters want a people's vote on the terms of Brexit, and many soft Leave supporters are switching to the Remain column.
The People's Vote and The Independent March for the Future taking place in London a week on Saturday promises to be bigger than the last one which drew over 100,000 back in June. This is because Brexit is going badly in most people's eyes and it is proving impossible to deliver in the form it was promised. For all the bellicose language, the ERG knows this is happening too and is willing to concede to Theresa May.
Over the weekend, there has been some speculation about Labour MPs being privately contacted at senior levels of government to support whatever deal May reaches. Apparently, we are being urged to do this on the basis that if May's agreement falls, we are faced with a no-deal scenario, which the national interest demands be avoided at all costs.
This is a lie, given government sources know only too well that parliament could take the matter into its own hands and impose an alternative solution – including a People's Vote. For what it's worth, I know of no pro-European Labour MPs who have been approached as reported and cannot see them propping up May and her hopeless government in their hour of need in any event. Above all, the national interest also strongly dictates against any Canada-style arrangement.
A Canada-style deal between the UK and the EU would be nowhere near as good as the benefits the UK currently enjoys as part of the EU single market and customs union. In the main, it covers goods and not services, which make up 80 per cent of our economy. It does not provide for frictionless trade between the UK and EU so we will face new red tape, costs and delays at our ports on all trade with our biggest partner.
Brexit: 10 of the most ridiculous headlines

Show all 10
It is unsurprising that both those who represent UK businesses (large and small) and those who represent employees working in them speak resolutely against a Canada-style free trade agreement for our economy. Carolyn Fairbairn, the director general of the CBI, said earlier this month: "A Canada free-style deal is not the answer for our country. It would introduce friction at borders, it would not solve the Irish border, it would damage the supply chains on which thousands and thousands of jobs depend."
Her counterpart at the TUC, general secretary Frances O'Grady, said: "The [Canada] deal does nothing to protect workers' rights in Canada. If the UK goes for a similar deal, politicians will be able to slice away at our employment rights. Rights to maternity leave, holiday pay, working time and health and safety would be at risk."
The bottom line is this: whatever agreement is reached, the government's own analysis states that the UK will be worse off in every other scenario outside of the EU, whatever the PM comes back from Brussels with these next few months. It is the opposite of what was promised, which is why all routes lead back to a People's Vote – with Remain on the ballot – on the terms of departure from the EU.
Reaching out beyond Twitter
I was astounded to learn this week just how much some influencers and celebrities are now earning through their Instagram accounts, having stumbled across the 2018 figures online. The data – which was collated by Hopper HQ, a company that runs social media accounts for companies and firms – was published over the summer.
Among the top paid earners globally are Kylie Jenner, who has 111 million followers and earns an estimated $1m (£770,000) per post, and Selena Gomez, with 139 million followers and earning an estimated $800,000 per post.
In the UK, David Beckham, with 49 million followers, earns around $300,000 per post and Gareth Bale, on 35 million followers, earns an estimated $185,000 per post. These are quite extraordinary figures and highlight just how far Instagram reaches these days.
One of the worst kept secrets is the obsession of politicos with Twitter. What these figures illustrate is that most other people are on other platforms like Instagram and Facebook. Whereas Twitter has 336 million users worldwide, Instagram has over 1 billion with Facebook reaching beyond 2 billion.
If political parties want to reach beyond the bubble, they will need to work out how to spread their message beyond the Twitter echo chamber. Bar a few big names (like Barack Obama and Bernie Sanders), I can think of few politicians who have successfully been able to do this on Instagram, perhaps because it was never meant to be terribly political – and maybe that is no bad thing.
Chuka Umunna is Labour MP for Streatham
Register for free to continue reading
Registration is a free and easy way to support our truly independent journalism
By registering, you will also enjoy limited access to Premium articles, exclusive newsletters, commenting, and virtual events with our leading journalists
Already have an account? sign in
Register for free to continue reading
Registration is a free and easy way to support our truly independent journalism
By registering, you will also enjoy limited access to Premium articles, exclusive newsletters, commenting, and virtual events with our leading journalists
Already have an account? sign in
Join our new commenting forum
Join thought-provoking conversations, follow other Independent readers and see their replies