Politicians aren't supposed to do it – but I'm marching on the Conservative conference. I have no choice
I am told there is a stuffy tradition about politicians not demonstrating at other parties' conferences. But sometimes the issues are too big to ignore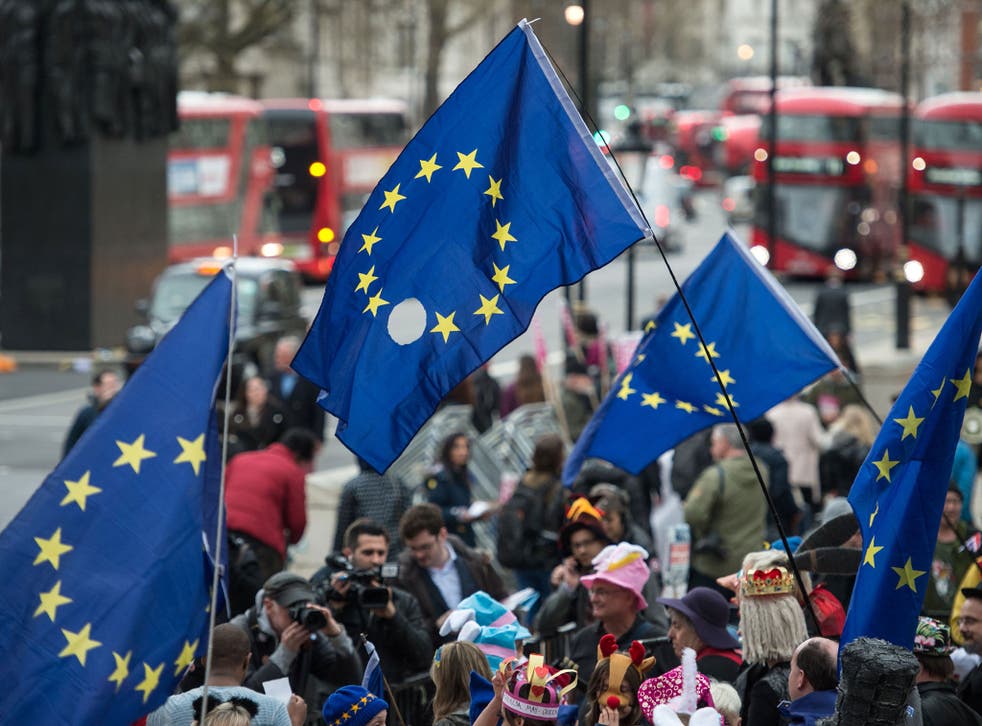 I am told there is a stuffy tradition about politicians not demonstrating at other parties' conferences. There is, however, already healthy cross-fertilisation through fringe meetings. And we don't hesitate to cast aspersions on our rivals on the podiums and on TV.
I believe it would be a healthy exercise in democracy to participate in a peaceful, dignified protest on the big issue of the day by marching. And the issues don't come any bigger than Brexit – which is why I will be addressing marchers protesting at the Conservative conference in Manchester this weekend.
Brexit changes most things, not least the quaint notion that governments always seek to increase the prosperity and opportunities of their citizens. It is vital ministers in the hall hear thousands of British people demanding an exit from their disastrous Brexit.
Whatever the arguments for or against EU membership in the referendum, the Government has clearly mismanaged the negotiations, and the situation is now so grave that parliamentary niceties suddenly look absurd. Some 15 months on from the original vote, the EU's Michel Barnier suggests we are still "months" from substantive Brexit negotiations even beginning – because the Government has been so unclear about what it even wants.
Vince Cable says Donald Trump state visit would embarrass the country
Ministers are effectively saying "we have absolutely no idea what future Brexit will bring – but we are going to force it upon you anyway." It is the political equivalent of jumping off a diving board without checking if there is any water in the pool below.
It is right that Conservatives gathering in Manchester hear the palpable anger of people who cannot believe the sheer level of incompetence from a government that actually seeks to crash out of the world's largest single market – despite having not a single new trade deal agreed even in the vaguest terms. "You don't know what you're doing" is a chant normally reserved for the football terraces, hurled at hapless managers – but this is surely a charge that could now be levelled at the dugout in Number 10.
Having been snubbed by India, Japan and even Australia, the Government held up Donald Trump's America as the country that Theresa May could do business with – but after America announced punitive tariffs on the aircraft manufacturer Bombardier, threatening jobs in Northern Ireland, the reality of such a post-Brexit future was thrown into painfully sharp relief.
From the podium in Manchester, a utopian future will no doubt be painted of Britain, as a fortress holding back immigration while simultaneously being a dynamic economy open for trade. But those who will be on the street outside see the picture in real Britain, and it is not nearly so alluring. Manchester voted to remain yet its people are already suffering the effects of Brexit – and it hasn't even happened yet.
Many are worried about jobs when no clear picture has emerged of how Britain will continue to trade with the rest of the EU post-Brexit. Anyone with property or other assets will know that these are worth 20 per cent less now due to the falling value of the pound. And anyone waiting for an operation will wonder how they will move up the queue when doctors and nurses from the EU are already leaving.
Vince Cable's party conference speech in 60 seconds
It is quite some achievement to unite the CBI and the TUC, but Theresa May has managed it – as they rail against the Government's abject failure to guarantee the right to remain of vital EU workers, who are now voting with their suitcases in departure lounges.
Leaving the single market has destroyed the Conservative reputation for sound money. And their failure to guarantee the right to remain has caused misery to families and shown the Conservatives to be heartless. Governments tend to be accused of being either incompetent or uncaring: this Government could legitimately be accused of both.
If enough people protest against this extreme Conservative Brexit, we can still secure a referendum on the final deal, as Liberal Democrats have been fighting for. Only then can we hold the Government to account, giving the people the option to reject a potentially disastrous deal.
My only regret is that I didn't also march on the Labour conference, where Jeremy Corbyn still refused to act like an opposition and oppose what many of his colleagues predict will be a ruinous Brexit.
That role of opposition falls to Liberal Democrats and thousands of like-minded people this Sunday. Make sure Theresa May hears Manchester's voice, your voice, demanding the chance of an exit from Brexit.
Register for free to continue reading
Registration is a free and easy way to support our truly independent journalism
By registering, you will also enjoy limited access to Premium articles, exclusive newsletters, commenting, and virtual events with our leading journalists
Already have an account? sign in
Register for free to continue reading
Registration is a free and easy way to support our truly independent journalism
By registering, you will also enjoy limited access to Premium articles, exclusive newsletters, commenting, and virtual events with our leading journalists
Already have an account? sign in
Join our new commenting forum
Join thought-provoking conversations, follow other Independent readers and see their replies