Nothing makes me happier about voting Brexit than hearing Jean-Claude Juncker's bitter and arrogant response
The man's a sadomasochist in a boring suit. The very embodiment of Fifty Shades of Grey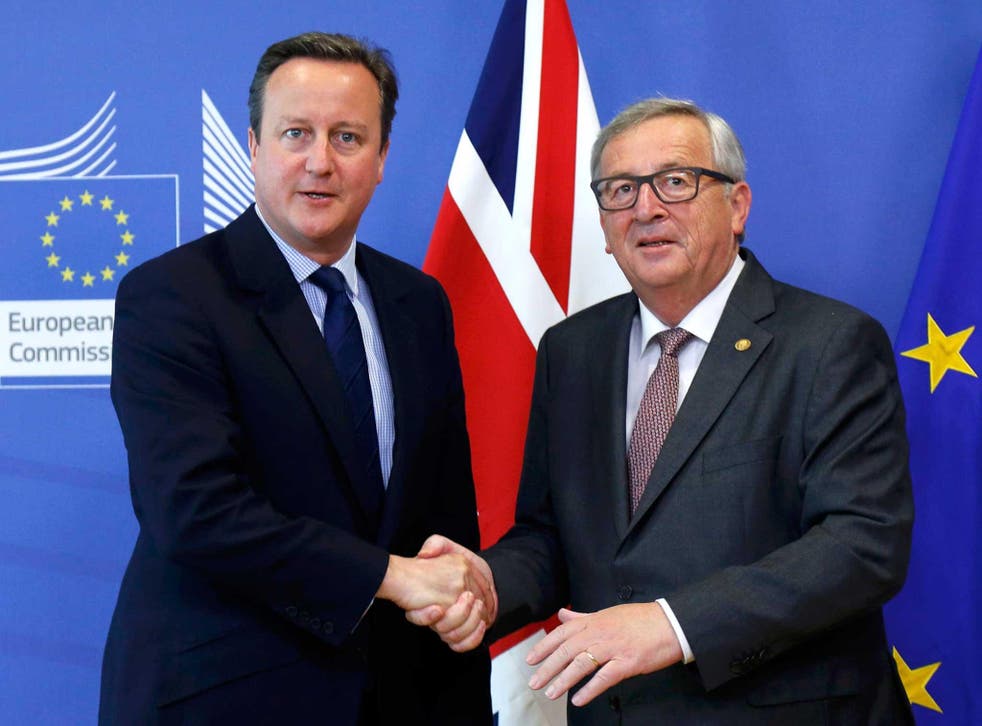 Call me mad, but I'm not feeling as worried about the UK's decision to vote to leave the EU as the general consensus suggests I should be. I'm actually feeling rather positive about it.
Granted, there was that sinking sensation when I woke on the morning of the 24th. The double take. The gulp. The sudden desire to eat my weight in (Belgian) chocolate. I'm a Eurosceptic, and even I wasn't sure the result was a good thing.
But since then, I've showered, shaved, had some hearty meals, sat through a couple of seasons of the Sopranos from under my blanket. I've walked the dogs. I've had time to think. I've surveyed the landscape and, though it may just be the meds talking, I'm now more certain that this was a good thing.
The initial hysteria surrounding the economy was always likely to happen. Since the result, though, plenty of big hitters (especially German ones) have come out saying it's in everyone's interests for us to continue as normal. Mark Carney seems assured, and Sir Mervyn King has echoed him: it's not as bad as everyone is suggesting. The main thing isn't our economy, it's Europe's: what will happen when Italy, an economy "too big to fail" fails, as has been predicted in this very paper? The Eurozone and EU couldn't survive. We're better off out of that mess.
Nigel Farage: "European Parliament is in denial"
I also think, for all the awfulness currently unfolding, that this presents an opportunity for our country to reflect on what we have become - and what we might not want to become in the future.
One man, in fact, has made me more certain than anything else that we have made a difficult, painful, but correct decision. That man is Jean-Claude Juncker.
If ever there was a symbol of the arrogance of the European Union, and its utter contempt for its citizens, it is this man.
His demands that Britain must face "consequences" struck a chord. Where Angela Merkel spoke diplomatically about not turning Brexit into "a nasty divorce", this undemocratic bureaucrat is clear he would rather punish the British for exercising their vote, even if such punishment damages the greater European economy. He is spiteful, he is petty, and he seemingly wants to cut his nose off to spite his face. He has shown his true colours.
His refusal to offer concessions to Britain, where even one might have made the difference between Leave and Remain, shows breathtaking arrogance. He has demanded Britain begin the process of invoking Article 50 immediately, when the country is in no fit state to do so. His view is clear: everyone must stick to the same outdated rules, even where they may irreparably damage you. Should you leave, we will damage you further. The man's a sadomasochist in a boring suit. The very embodiment of Fifty Shades of Grey.
Earlier today, Juncker turned to Nigel Farage and asked him why he was still there. It was a moment that shone a spotlight on what he really feels: he wants Britain to go so he can pretend the EU's problems aren't there, like George Osborne spending the last few days under the stairs pretending the economy wasn't there.
The problems of the EU, however, are only growing larger, and they do so because men like him refuse to change. Refuse to acknowledge. Refuse to act.
Maybe Britain is damned, but at least we now have the chance to ensure we are no longer lectured to by men like him. I, for one, am delighted about it.
So long, Jean-Claude, and thanks for all the fishing quotas.
Register for free to continue reading
Registration is a free and easy way to support our truly independent journalism
By registering, you will also enjoy limited access to Premium articles, exclusive newsletters, commenting, and virtual events with our leading journalists
Already have an account? sign in
Register for free to continue reading
Registration is a free and easy way to support our truly independent journalism
By registering, you will also enjoy limited access to Premium articles, exclusive newsletters, commenting, and virtual events with our leading journalists
Already have an account? sign in
Join our new commenting forum
Join thought-provoking conversations, follow other Independent readers and see their replies