Theresa May and Leo Varadkar couldn't care less about Northern Ireland in the Brexit negotiations
At the end of the day, as economically harmed as we will be, this wee place will continue to smile up towards those heaving clouds as they tip buckets of cool rain upon our pasty heads, which remain unbowed. But God, life will become so much more difficult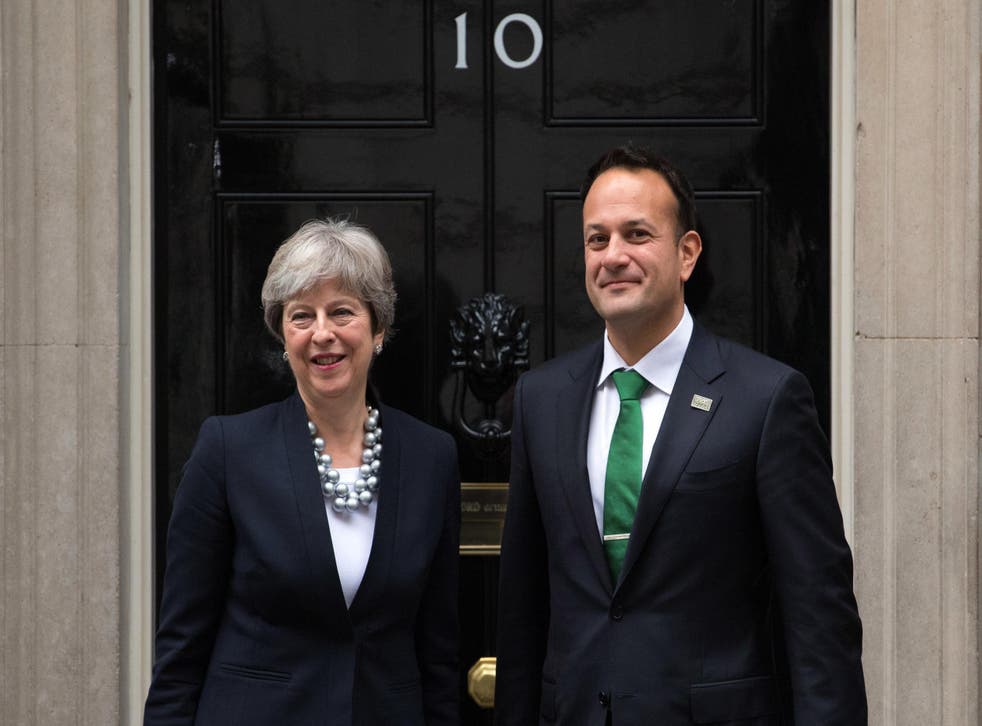 I've been excited all week; very excited, in fact. On Friday, I flew back home to Northern Ireland from London, for the first time in a month. Then my dad, my uncle and I will journey the three hours down to Dublin, to watch the glorious Irish rugby team.
Post-Brexit, I will not be able to do that journey with such ease – no checkpoints were crossed and no ID was required, other than a quick flash of my ravishing driver's licence pout when boarding my Belfast-bound flight. This is set to all change utterly, with the UK's determination to leave the customs union and single market, which makes a hard border on one of Northern Ireland's edges inevitable. A truth yet to be widely accepted, yet a truth nonetheless.
There has been a clamour from the EU side that there must be no hardening of the NI-ROI border at all. I'd love this to be the case too, but there has been precious little discussion about the inevitable consequence of this – a hard border between NI and the rest of the UK.
There are no good choices for us here, unless the impossible occurs, and the press and people of the UK begin to probe the completely unquestioned and unreasoned wisdom of May's decision to leave the customs union. The most extraordinary coup since the vote itself has been how May's red lines have evaded any scrutiny, or debate, about whether or not they really are the best idea for us.
UK news in pictures

Show all 51
But before I get into which option may be worse, a quick note on the Good Friday Agreement (GFA). Incessantly throughout the Brexit border debate, there have been accusations that a hard border would break this agreement. It is the one thing people point to when making the stupendously stupid accusation that NI peace will vanish with the imposition of any hard border, an idea borne out of gross misunderstanding or simply to pulsate reader interest or to meet their own selfish political ends.
In what ways could the GFA be broken by a hard border? Helpfully, a House of Lords Committee dealt with this exact question. Firstly, its report says that the peace process enjoys virtually complete support "of people from across the communities, and it would be irresponsible to overstate the threat posed by Brexit". It then notes that while nothing in Brexit will breach the treaty's actual provisions, it rightly states that common EU membership has meant the NI-ROI "border diminished both visibly and psychologically… The loss of EU membership thus threatens to undermine [the nationalist] sense of identity".
I agree completely – the GFA is not breached by a hard border, either east-west or north-south, but it can very much lead to an unnerving of the crucial senses of identity which the GFA sought to enshrine.
And yet Northern Ireland has been cast, as ever when it features in political theatre, as the football, to be booted back and forth from Brussels to Westminster.
Ireland/the EU demands a guarantee that there will be no north-south hard border, as this protects the Republic of Ireland economically, before the UK is allowed to progress to trade talks at phase two. The UK kicks the football back, saying that they do not want a hard border there at all (who does?) so let's get stuck into phase two to ensure the trade we want is given to us (under bespoke flexible arrangements), and no hard border need ever be imposed.
David Davis: A no-deal Brexit is possible
Dealing with the border at phase two allows the UK to pressurise the EU out of applying its usual trade rules, because if they do, they harm the Republic of Ireland by installing a hard border. It is extremely wishful thinking by the UK that such a tactic could magic up some kind of trade arrangement which simply cannot exist, but with a pretty scarce collection of cards to play, it's desperately trying to fashion whatever hand that it can.
But what about the football?
Essentially, these are our two options: the hurricane or the earthquake.
An east-west hard border would affect the vast majority of our trade. Constitutionally, it means the UK is no longer a single unit, and NI is adrift – almost suffering from a double partition. Politically, it's unfathomable for Westminster, or the DUP, with pretty good reason.
On the other hand, we have us being separated from the rest of Ireland economically, and pertinently, with a visible border. It would affect less of our trade than an east-west border, but still a sizeable amount. It could severely damage the border areas' economies. It could provide a dangerous increase in business for Irish smuggling gangs.
Either option not only affects significant amounts of movement of persons, but a border will challenge either the Irish or British sense of identity – those confidences of identity are guaranteed by the Good Friday Agreement – neither of the guarantees are broken by either border, but one will certainly become unnerved.
Not great options, but right now, all we can do is focus which option does the least damage.
Britain and the Republic of Ireland clearly have an option each that suits them better – but don't be fooled into thinking that their "Northern Ireland concern" is about anything more than an arm wrestle to make sure their preferable border is the one installed.
We have been failed by this Brexit vote, we have been failed by our politicians and by Westminster's thoughtless decision to leave the customs union but we must not be failed further through claims that all these difficulties will plunge us into conflict.
At the end of the day, as economically harmed as we will be, this wee place will continue to smile up towards those heaving clouds as they tip buckets of cool rain upon our pasty heads, which remain unbowed. But God, life will become so much more difficult.
But sure, at least it'll allow us a chance to display that famous humour of ours, when we stick a sign on either side of that disastrous hard border – one reading "a rock" while the other declares "a hard place". Maybe by deadline day, the ever-caring negotiators on either side will have at least decided who gets which. But I'm not hopeful.
Register for free to continue reading
Registration is a free and easy way to support our truly independent journalism
By registering, you will also enjoy limited access to Premium articles, exclusive newsletters, commenting, and virtual events with our leading journalists
Already have an account? sign in
Join our new commenting forum
Join thought-provoking conversations, follow other Independent readers and see their replies