Brexit voters have more in common with Arab Spring protesters than they would like to think
Almost by accident, Leave has initiated a revolutionary change, but the weakness of revolutions is that they briefly bring together those with little in common except an antipathy to the status quo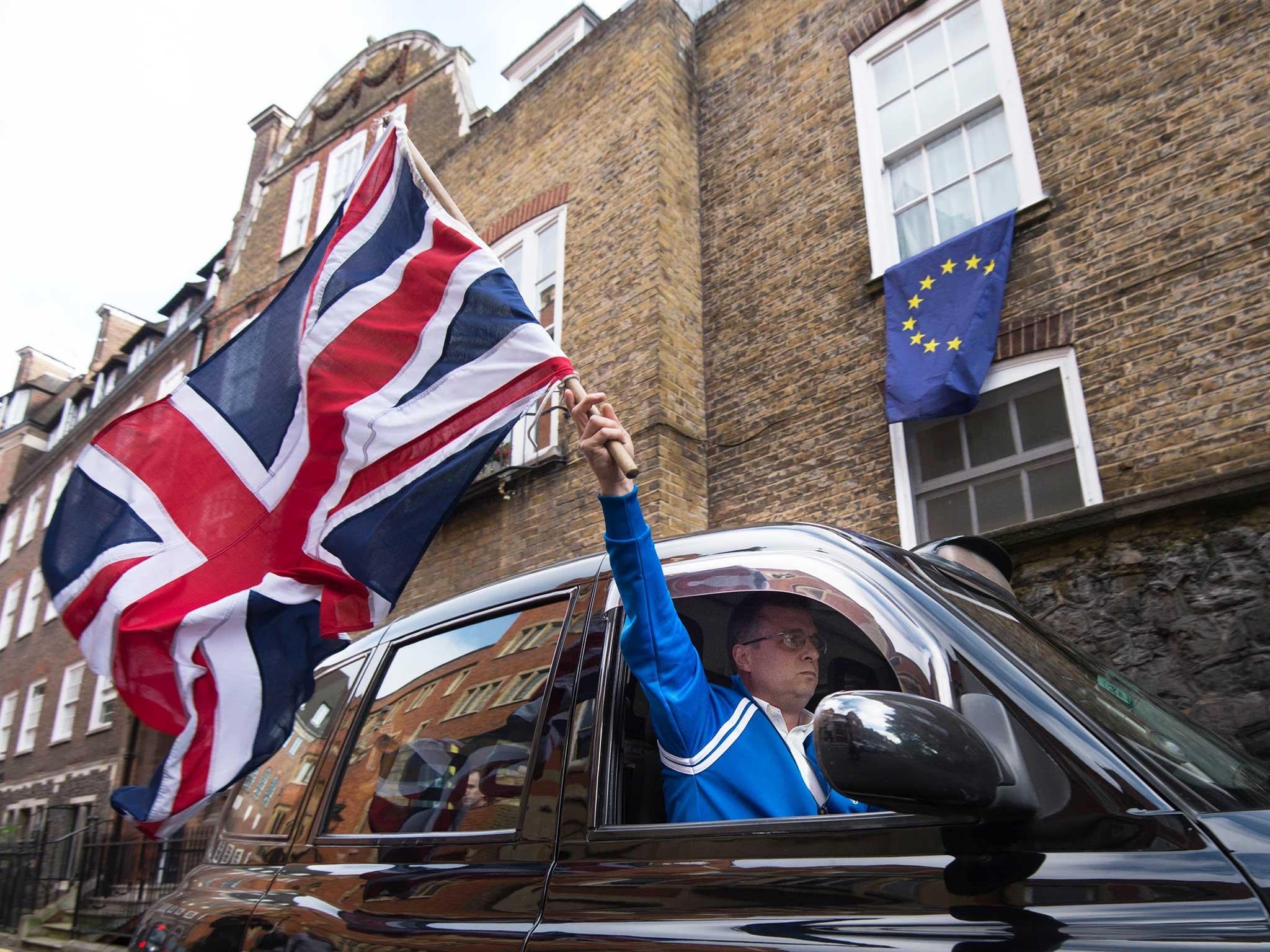 "In the little moment that remains to us between crisis and catastrophe, we may as well drink a glass of champagne," said Paul Claudel, the French poet, dramatist and ambassador to the United States in the wake of some calamitous episode in the 1930s. As the British vote to leave the European Union, it feels as if we have reached just such "a little moment", occurring as it does in a situation that was already dire and likely to get a great deal worse.
A referendum is by its nature divisive and is justified by explaining that it will produce a democratic decision that everybody can accept. But it is in the very nature of a referendum campaign that issues are over-simplified and presented as black-and-white questions by opponents who demonise each other. The vote becomes the vehicle for demagoguery and agendas that have little to do with Britain's relationship to Europe.
This referendum has not only widened existing political and social divisions within British society, but has ensured that these differences become more divisive and poisonous. This is always the way with referenda on important issues: they make irreversible decisions, but they do so at a high political cost by excluding compromise between contending parties with deeply held opinions that they are not going to abandon on the day after the poll, regardless of who wins or loses.
Leave voter didn't want Brexit
The first referendum I ever witnessed first-hand was in Belfast in 1973 when there was a vote on whether or not Northern Ireland should remain part of the UK. Predictably, this long-forgotten poll did nothing except exacerbate hatred and convince the losing side that they had no alternative except violence. More than 30 years later in 2005, I was in Baghdad to cover the referendum on the new Iraqi constitution, which, insofar as it had any effect at all, turned out to be one more stepping stone towards civil war.
Analogies with Northern Ireland and Iraq may appear out of place because both places have a tradition of political violence that Britain does not. But the killing of Jo Cox MP suggests the possibility of how swiftly that can change, though at first such incidents will be dismissed as atypical and disconnected from political turmoil. Demagogues and their softly spoken fellow travellers invariably throw up their hands in angry denial that their over-heated rhetoric could have had violent consequences. Ian Paisley repeatedly raised the political temperature in Northern Ireland to boiling point over 40 years while furiously disclaiming any responsibility for the dead bodies in the streets.
The English tend to underrate the political fragility of their own country because it has been generally stable since the end of the 17th century. It was striking last year how the Conservatives revelled in the wipeout of Labour in Scotland by the SNP without expressing much concern about the unity of the UK as a whole. The Remain camp thought they could win the vote by relentlessly emphasising the economic risks of leaving the EU, though the real danger is political rather than economic as a populist right is empowered with little idea of what it should do with that power.
6 ways Britain leaving the EU will affect you
Show all 6
The triumphant mood among those wishing Britain to leave the EU is ominously similar to that of protesters in Arab capitals at the height of the Arab Spring in 2011. Again, the analogy may seem exaggerated because an inbred and often unconscious British sense of superiority bridles at comparisons with other nations. But one of the failings of those protesters in Cairo and Damascus was that they attributed far too many of their country's troubles to the regime they were trying to overthrow. Demonisation of their opponents made sense in propaganda terms and conveniently freed them from drawing up realistic plans of their own. Similarly, those determined that Britain should exit the EU have likewise relied on excoriating Brussels as the source of all ills without explaining what they would do to end them.
There are other parallels between the "brave new world" feeling of those Arab Spring protesters five years ago and the Leave campaigners. Almost by accident, Leave has initiated a revolutionary change, but the weakness of revolutions is that they briefly bring together those with little in common except an antipathy to the status quo. It is not an alliance that normally lasts very long anywhere and in Britain it is difficult to see what right-wing Conservative MPs committed to the free market have in common with working class voters from the north of England suffering from cuts in social services.
Debate during the referendum focused on bread-and-butter economic issues and migration without much discussion of the political purpose of the EU itself. Since the beginning, the aim was always to find a way to include Germany as the most powerful and wealthiest state in Western Europe within an institution in which it and lesser European powers could coexist peacefully to the benefit of all. This project has largely worked – though long before the Brexit vote, the EU was clearly dysfunctional in coping with a myriad of political and economic problems. This failure had already produced a series of election victories for illiberal populist nationalist parties in Hungary, Poland and Austria. In the rest of Europe, the centre-left and centre-right parties have pursued much the same economic policies since the 1990s, providing no alternative for those opposed to the status quo aside from the extremes, which usually meant the far right.
The potential for Brexit to produce toxic results for everybody is greater than it looks, because it is one more source of instability in a region already under great pressures. This is at its worst in the Middle East and North Africa, where there are now at least eight wars and three serious insurgencies raging. Five years ago, European leaders such as David Cameron and Nicolas Sarkozy had a detached attitude to the collapse of states such as Syria and Libya into a state of permanent warfare. Only with the rise of Isis in 2014, followed by the migration crisis and terrorist attacks in 2015, did European leaders begin to take on board that the conflicts in the Middle East had the capacity to set the political agenda in Europe.
Dramatic developments such as the Brexit vote often elicit an exaggerated initial response, but the status quo turns out comfortingly to have more staying power than first imagined. In the present case, however, an apocalyptic tone is justified, because the post-Second World War political settlement was already at risk, and Europe was ill-prepared to withstand a further blow such as a British departure.