The UK should not let its pesticide standards slip during US trade talks – they will not be relinquished without consequences
The decisions made in these trade talks will define the health of the UK's population as well as the country's environment and economy for years to come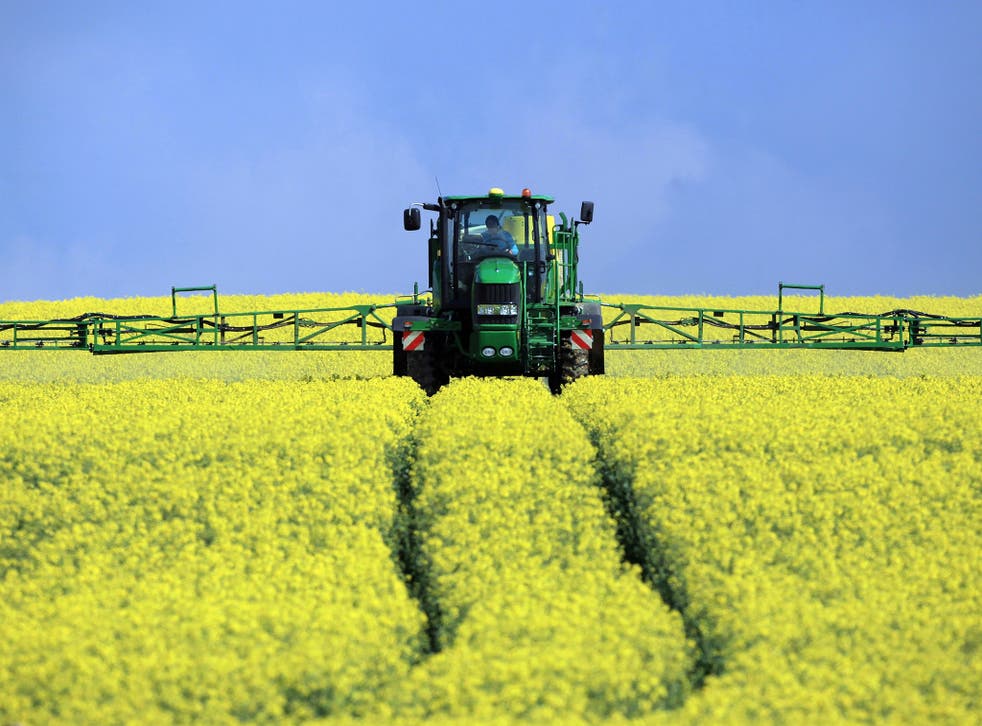 The UK is teetering on the brink of two very different futures as it negotiates new trade deals with the EU and US. The outcome of these negotiations will have a profound impact on UK food standards.
While public attention has focused almost entirely on the problems of chlorinated-chicken and hormone-fed beef, the insidious threats associated with pesticides are arguably of greater concern but remain largely ignored.
In my role as UN special rapporteur, I have met communities around the world whose lives have been devastated by highly-toxic pesticides. In Brazil, rural communities have had to flee their homes to avoid the suffocating fumes of pesticides regularly sprayed without warning. Indigenous children in Mexico continue to be gravely injured, and even killed, by pesticides long since banned in European countries.
While such extreme pesticide-related harm is not commonplace in the UK, these examples are not a far-off dystopia unique to poorer countries. In the US, where three times more pesticides products are authorised for use, farmworkers suffer more chemical-related injuries and illnesses than any other workforce.
It is worth remembering that one of the stated US priorities for the new trade deal is for UK pesticide standards to be much more closely aligned to American standards. This alignment would last long into the future, most likely obstructing the UK from bringing in stronger protections even if new evidence revealed pesticide-related harms to human health or the environment.
I am told time and again about the immense pressure put on those who try to stand up to American big businesses pushing to relax chemical regulations. And while standing firm against the might of US lobbying will require the UK to demonstrate strength and integrity, maintaining existing pesticide standards is without a doubt worth fighting for.
The UK should be very proud of its current approach to pesticides. Built in co-operation with European allies it is based on shared values, a commitment to human rights and a firm belief in taking a precautionary approach to protecting human health and the environment. Although the UK has left the EU, I don't believe this means that its citizens have turned their backs on these values.
Last year, despite strong opposition from the agrochemical industry, the EU and UK rightly banned the highly hazardous pesticide chlorpyrifos. Multiple long-term studies have suggested that even moderate exposure during pregnancy can impact the development of childrens' brains.
There is no safe level of exposure to this pesticide, yet it is still widely used across almost every state in the US. If UK regulations are weakened as a result of a trade deal with the US, it is realistic to expect that chlorpyrifos will once again be found in the food on children's plates.
While the US approach to pesticide regulation is far laxer than the UK's, its legal system does at least give victims of pesticide poisoning a better chance of seeking justice through the courts. American cancer sufferers have pursued lawsuits over their exposure to the weedkiller glyphosate, arguing that their illness was caused by exposure to the chemical. And more than 50,000 people are reportedly now close to agreeing upon a multi-billion dollar settlement.
However, in the UK, where glyphosate is also the most commonly used weedkiller, those who suspect they have become ill as a result of exposure have been unable to bring a single case to court, let alone win. This echoes the experience of hundreds of British sheep farmers who believe they were poisoned by organophosphates in the 1980s who, due to the UK law's high bar of proof, were unsuccessful in a number of court challenges.
It is a sad reality that if pesticide standards were loosened as a result of a new US trade deal, the UK could face a perfect storm of greater human and environmental harm without appropriate access to legal redress for those suffering as a result.
I truly hope that the UK's negotiators don't make the mistake of thinking that standards for pesticides and other toxic substances can be traded away without dire consequences. Pesticides remain largely hidden, but the devastation that they can wreak on human health and the environment is not in doubt to those of us who have studied their effects.
The decisions made in these trade talks will define the health of the UK's population as well as the country's environment and economy for years to come.
It's time for the UK government to make a choice. It can defend its current levels of protection or follow the US model of weak standards with the additional and enormous risk of a system that doesn't provide access to justice for victims. Ultimately, it's a question of which approach most reflects the UK's values.
Baskut Tuncak is the UN special rapporteur on the implications for human rights of the environmentally sound management and disposal of hazardous substances and wastes. He has held the post since 2014.
Register for free to continue reading
Registration is a free and easy way to support our truly independent journalism
By registering, you will also enjoy limited access to Premium articles, exclusive newsletters, commenting, and virtual events with our leading journalists
Already have an account? sign in
Register for free to continue reading
Registration is a free and easy way to support our truly independent journalism
By registering, you will also enjoy limited access to Premium articles, exclusive newsletters, commenting, and virtual events with our leading journalists
Already have an account? sign in
Join our new commenting forum
Join thought-provoking conversations, follow other Independent readers and see their replies