Even winning the World Cup won't help Theresa May lift the negativity around Brexit
Prime ministers want to be associated with football when it's going well for England, but it's more significant for politics when it's going badly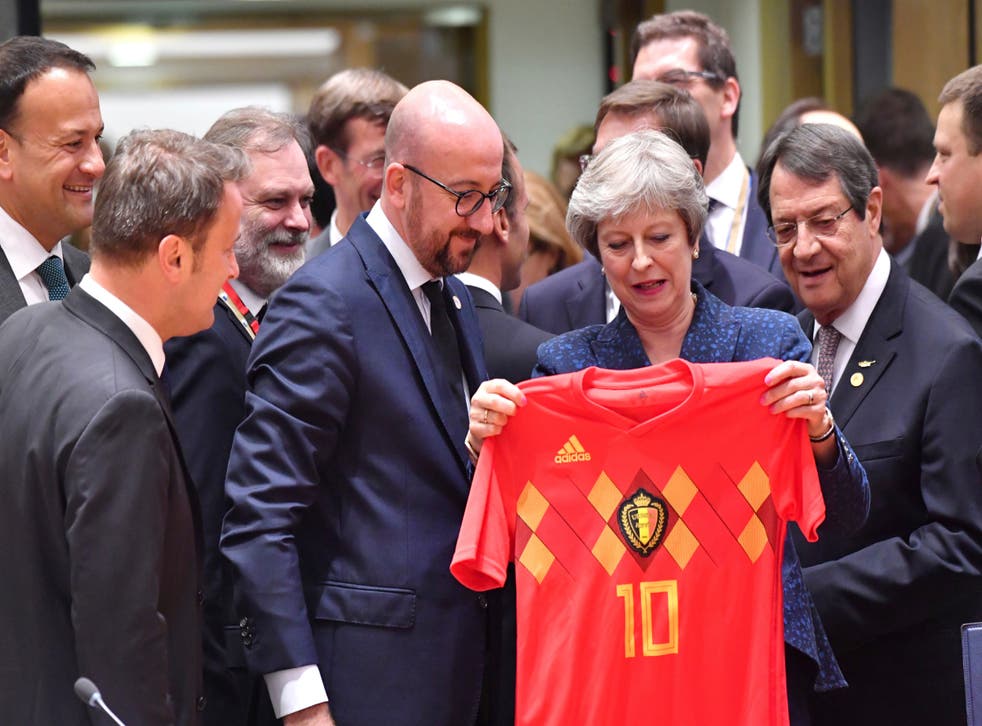 The great myth of the effect of football on politics is that England's victory in the World Cup helped Harold Wilson win the 1966 election. In fact, the election was in March and the World Cup was in July. It is true that some of the aura of success clung to Wilson, along with memories of his meeting the Beatles and the "white heat" of the scientific revolution, but it didn't last long.
Indeed, the more plausible story is that England being knocked out of the next World Cup by West Germany, in Mexico in 1970, contributed to Wilson's defeat by Ted Heath in the election four days later.
That probably wasn't going through Theresa May's mind when she was presented with a Belgian football shirt by Charles Michel, the Belgian prime minister, at the European Council in Brussels this week. But while the rest of us think England probably won't win against Colombia on Tuesday, although it would be fun if they did, she must be hoping that, in the unlikely event of England doing well, some of the magic might rub off on her.
At least she doesn't pretend to be interested in football, which is paradoxically to her advantage. Most fairweather fans would see her as one of them: pleased to share in the national moment, but not obsessed with the sport. Like Clement Attlee and Alec Douglas-Home, she is a cricket fan.
That means she is different from David Cameron, whose support for Aston Villa seemed unconvincing when he called them West Ham in a news conference. You cannot expect to bask in the national glow if you are a phoney.
She nearly blew it in Prime Minister's Questions this week when she gave in to a campaign by The Sun to get her to fly the cross of St George: "No 10 will be flying the England flag on the day of each of England's matches from now on, and we will be encouraging other government departments to do the same." That prompted a silly race to be the first department to put up a flag, won by Liam Fox's Department for International Trade.
This is treacherous ground for politicians. Jeremy Corbyn is a genuine football fan, but it is considered incongruous that he has an England flag in his office in Westminster.
Gordon Brown was a genuine fan, obsessed with his childhood team, Raith Rovers, and I remember him explaining who he would support in a World Cup if both England and Scotland qualified (Scotland as long as they were in, "then I would transfer my allegiance"). But he was out of office by the time of the World Cup in 2010.
Tony Blair was unfairly cast as a non-genuine fan because of a radio interview in which he said that as a young supporter of Newcastle he "came just after Jackie Milburn". This was reported as a claim that he had seen Milburn play. In fact, although he was not hardcore, he was typical of middle-class supporters of the Nick Hornby, all-seater stadium, tearful Gazza era.
His most striking engagement with the sport was at the 1995 Labour conference, when he and Kevin Keegan headed the ball to each other 26 times. I remember the intensity with which Blair focused on the task, which said something about his character, but little about the association between football and politics.
Brexit threatens life on the Irish border: in pictures

Show all 15
Labour was riding high in opposition, and Alastair Campbell, Blair's press secretary, managed to co-opt some of the optimism of "football's coming home" when England hosted the Euros in 1996. But the team still lost to Germany on penalties in the semi-final. (A player called Southgate missed.)
If there is such a thing as a national mood, however, you can feel it fleetingly when the sun shines and an event makes a lot of people happy at the same time. The 2012 Olympics did it and now the World Cup might.
And if it does (we are British, let us not get ahead of ourselves), you could see how it could help Theresa May lift some of the negativity about how hopelessly the British have been outplayed in the Brexit negotiations. In the immortal phrase of David Remnick of The New Yorker, we are the only nation capable of feeling schadenfreude about ourselves.
That does rather assume that this Friday's cabinet away day doesn't collapse in acrimony, and if there is a feel-good effect it is unlikely to last long. But what is important for May is less the boost she might gain from England winning, but the negative impact of England losing: it is 1970 that matters, not 1966.
At least she can be sure of one thing: this time England will not lose on penalties to Germany.
Register for free to continue reading
Registration is a free and easy way to support our truly independent journalism
By registering, you will also enjoy limited access to Premium articles, exclusive newsletters, commenting, and virtual events with our leading journalists
Already have an account? sign in
Register for free to continue reading
Registration is a free and easy way to support our truly independent journalism
By registering, you will also enjoy limited access to Premium articles, exclusive newsletters, commenting, and virtual events with our leading journalists
Already have an account? sign in
Join our new commenting forum
Join thought-provoking conversations, follow other Independent readers and see their replies