Britain: Saudi Arabia's silent partner in Yemen's civil war
British missiles and jets made and sold to the Saudis are part of a war that the Government wants us to overlook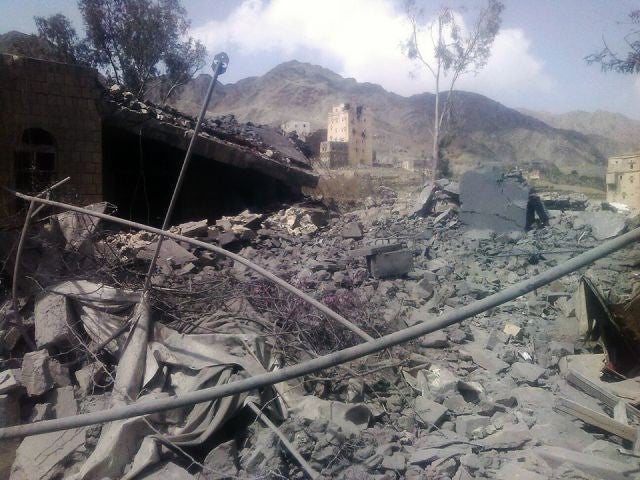 If you were told that British fighter jets and British bombs were involved in a Middle Eastern war which has left thousands of civilians dead, you could be forgiven for assuming this referred to Iraq, or perhaps the more recent UK aerial campaign extended to Syria.
What is less likely to spring to mind is another, forgotten conflict in the region – a war sponsored by the UK that is rarely talked about. For the past nine months, British-supplied planes and British-made missiles have been part of near-daily air raids in Yemen carried out by a nine-country, Saudi Arabian-led coalition.
In this conveniently hidden campaign, thousands have died. Bombardments by the Saudi coalition accounted for 60 per cent of the 4,493 civilian casualties in the first seven months of this year. Saudi Arabia waded into what began as a domestic political power struggle between the country's incumbent president, Abd Rabbu Mansour Hadi, and his predecessor of 33 years' standing, Ali Abdullah Saleh. The marginalised, predominantly Shia Houthi militiamen, viewed as an Iranian proxy by the Sunni kingdom, joined forces with Saleh's loyalists in the military to seize swathes of territory over the past 18 months, eventually forcing Hadi into self-imposed exile in Riyadh earlier this year.
A month after the aerial intervention began in March, the Saudis boasted that the coalition had dropped at least 1,000 bombs in up to 125 strikes a day. With Britain as the number one supplier of major weapons to the Saudi kingdom last year, and scores of British-made fighter jets currently being flown by the Saudi royal air force, along with British technical support, UK involvement is irrefutable. For anyone that has been on the ground in Yemen since the conflict began, it is obvious that civilians are bearing the brunt of the conflict.
Over five months spent in Yemen since the civil war began, I have witnessed numerous air strikes and visited the sites of scores more bombings across the country. The mounds of rubble I clambered over in recent months include the remnants of schools, hospitals, markets, food stores, civilian homes and public buses.
Many of these were "double-tap" strikes, where first responders were attacked as they tried to rescue the victims of an initial bombing. The evidence I collected from witnesses and survivors clearly indicated that civilians are, at best, being indiscriminately killed and, in some cases, targeted. Despite a strong likelihood that British weapons are being used – Britain exported more than 1,000 bombs to Saudi in the first six months of 2015 – to target civilians and civilian infrastructure, the UK government refuses to recognise its complicity in clear breaches of international humanitarian law.
While our government appears more than happy to sell our collective morality along with bombs and fighter jets to the Saudi kingdom, we should not be. We are playing a significant role. The Foreign Office insists that it has "assurances" from the Saudi-led coalition that its bombing campaign is adhering to international law. These are of little comfort to now orphaned four-year-old Rashid Othman. I saw his father's ashen body wedged underneath the bus he was travelling in to find food after it was hit by at least two air strikes in the sands of Lahij province. At least 30 passengers died. There were no conceivable military targets in the vicinity.
Similarly, the Saudis assured me – after I had spoken to half a dozen witnesses about the double-tap strike – that the coalition was not responsible for the death of at least 50 civilians killed at a goat market in July, even though no one else is carrying out air strikes in Yemen. Equally, they say they had nothing to do with the bombing in October of a Médecins sans Frontières hospital.
Saudi promises are one thing. But, last week, a group of eminent lawyers determined that British arms sales to Saudi are unlawful and called for an immediate halt. The Government invites us to admire the £98m in overseas aid for Yemen in the current financial year. It is small change compared with the £1.7bn worth of UK export licences to Saudi in the first six months of 2015.
David Cameron's compulsion to keep supporting Saudi's war can, in addition to the arms trade benefits, be put down to a previous warning given by the Saudi royals. After the aborted Serious Fraud Office probe into alleged corruption surrounding the British-Saudi Al-Yamamah arms deal in 2006, it emerged that the Saudis had threatened to stop passing on intelligence about potential terrorist threats if the investigation continued. Perhaps we should also ask what the Government's exchange rate is for British lives saved to Yemeni civilians, thousands of whom are already dead.
But this Saudi threat raises another contradiction. The main, and arguably only, beneficiaries of the current war are al-Qaeda in the Arabian Peninsula and the country's fledgling Islamic State offshoot, who have flourished as a result of the conflict. And, as long as it continues, it will only fuel their rise.
On top of all this, UN agencies have warned of mass famine, brought on by the blockade of Yemen's sea and air ports imposed by the Saudi coalition, which is preventing vital food, fuel and medical supplies from entering the country. Aid agencies say Yemen's humanitarian crisis is now the worst in the world, with more than 21 million people in need of some form of humanitarian aid. The combined threats of air strikes, a ground war and famine are likely to contribute to the already overwhelming European migrant crisis.
More than 2.3 million Yemenis have been internally displaced by the war, many forcibly by the bombings, while more than 160,000 people have arrived in Djibouti, Ethiopia, Oman, Saudi Arabia, Somalia and Sudan to escape the conflict. The majority took the treacherous journey by boat across the Bab-el-Mandeb strait that separates Yemen from the Horn of Africa.
The British government may choose to stay silent and ignore the evidence against it, even when raised by lawyers. We, too, may wish to claim ignorance, but Yemenis will not. As long as the UK keeps sponsoring Saudi's war, civilians are going to continue to die from bombs, bullets and a blockade, doing so in the full knowledge that we are supporting their suffering. If we fail to ask the Government questions about British involvement, our inertia makes all of us complicit.
Join our commenting forum
Join thought-provoking conversations, follow other Independent readers and see their replies