This Budget wasn't about the British people or ending austerity – it was about saving Philip Hammond's career
Hammond knew he could not afford a repeat of his disastrous first Budget in March, when he U-turned a few days later over plans to raise national insurance contributions for the self-employed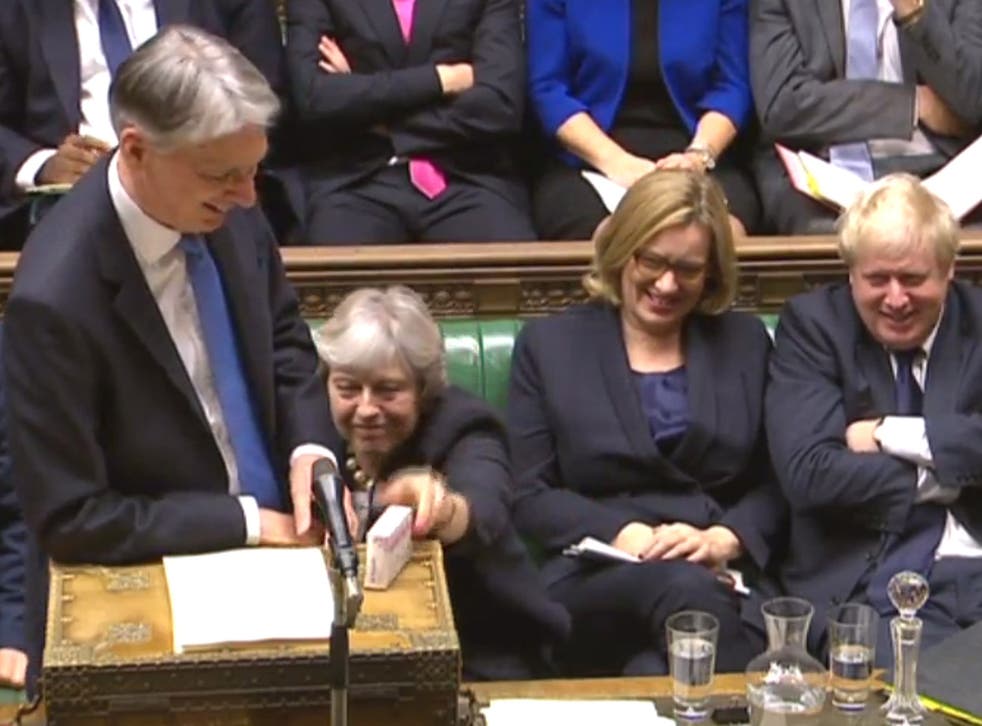 When he began his Budget statement at 12.37pm today, Philip Hammond might well have been thinking about the old political maxim: your opponents are in front of you – but your enemies are behind you.
Rarely has a chancellor gone into a Budget with as many MPs on his own side being relaxed about him failing, or even in some a cases willing him to fall flat on his face. His Conservative detractors claim he is too cautious and lacks a sure political touch. But if you hooked them up to a lie-detector machine, you would find that what they really dislike is Hammond's drive for a softer, slower Brexit.
It was rightly billed as a make-or-break Budget for Hammond, with predictions that a bad one would allow Theresa May to do what she would have done if she had won a big majority in June and move him from the Treasury.
Despite such pressure, having little cash to splash and no Commons majority to force through controversial measures, Hammond made the best of a bad job and may have prolonged his own shelf life. He made the little money allowed by his own fiscal targets seem to go a relatively long way. It wasn't as dull and threadbare as many Tory MPs had feared after the lacklustre measures he had trailed in advance; the cheers he won in the Commons seemed genuine. Politics is an expectations game and Hammond may have played it well.
UK news in pictures

Show all 50
He needed a "rabbit" and produced one. The abolition of stamp duty for first-time buyers purchasing a home worth up to £300,000 will be popular and at least addressed the Tories' lack of support among under-40s in June. Hammond's pledge to spend £44bn over five years on housing sounded big but is less generous than it seemed, as part of it will be loan guarantees. Similarly, the target of 300,000 new homes a year is not due to be achieved until the mid-2020s. Such goals have been set by successive governments and missed. Without much more action and money than Hammond provided, this target will be missed too.
The Chancellor found £2.8bn for the NHS, less than the £4bn sought by NHS England, but still a significant amount. However, there was a big gap where he should have said something about public sector pay. Beyond promising to fund wage rises for nurses if they are backed by a review of recruitment and retention, he made no commitment to pick up the bill for pay rises when the 1 per cent cap is lifted next April. This means that many services will have to fund wage increases through yet more cuts. The age of austerity is far from over, as some Tory MPs hoped to see.
Hammond's statement included several things he was not doing, a reminder of his political straitjacket. So fuel duty was frozen again amid threats of a Tory backbench revolt, even though he wanted to raise it – but he could not afford to declare war on the "white van man".
But there wasn't much for the "just about managing" classes that May supposedly champions. The £1.5bn package on Universal Credit will help the Government prevent it turning into a political disaster. But cuts already in pipeline, such as the four-year freeze on working age benefits, wage stagnation and an economy slowing under the dark cloud of Brexit, will leave many families still struggling to make ends meet.
Budget 2017: Chancellor abolishes Stamp Duty
Hammond stressed repeatedly that his Budget was about "the future". It sounded a bit odd, since he was hardly going to bring in retrospective measures to rewrite the past. The reason is the Tories' new mantra: they lead the country into the new post-Brexit era, while Labour offers discredited solutions from the past. A lot more work is required here: many under-40s judged Jeremy Corbyn's prospectus in June as new and exciting.
Hammond knew he could not afford a repeat of his disastrous first Budget in March, when he U-turned a few days later over plans to raise national insurance contributions for the self-employed. "This Budget was about doing enough to survive and not messing up," one insider admitted.
Some think that Hammond's relationship with May has not recovered from the March fiasco. There was real tension between them in the run-up to this Budget. May wanted Hammond to think big, notably on housing after making the crisis her personal mission. He was keener on planning reforms than a hike in borrowing, but his proposal to relax green belt controls was vetoed by the Prime Minister.
Unusually, Treasury officials know they could see a change of guard soon after a Budget. May would probably like to relaunch her Government in the new year with a major reshuffle. If she is strong enough to do so – still a big "if" – then Hammond could still be vulnerable. The pre-Budget tension between them will weigh heavily on May's mind.
Allies of Hammond warn that ousting him would not be without risk for May. As one put it: "He is her human shield, a Remainer with a target on his back. If he's shot by the Brexiteers, the next person in their sights will be Theresa May."
Another risk is that business and the City of London see Hammond as a "grown-up" who has shifted the Cabinet's centre of gravity on Brexit towards a sensible position, including a two-year transitional period. There would also be a risk that a sacked Hammond would be a dangerous animal on the backbenches – even if he is seen as a lone wolf with no band of followers. May will be well aware how Sir Geoffrey Howe, another ousted Chancellor, got his revenge on Margaret Thatcher by provoking her downfall in 1990.
So by winning Tory cheers today, Hammond has given May a dilemma by displaying more political nous than his Tory critics believed he had. It will be yet another difficult decision for the Prime Minister.
Join our new commenting forum
Join thought-provoking conversations, follow other Independent readers and see their replies