Oxbridge still has a problem with elitism – as the student trying to burn money in front of a homeless man shows
Admission quotas would release opportunity for thousands of students. Let private schools take 7 per cent of the places, and give the remaining 93 per cent to state-educated students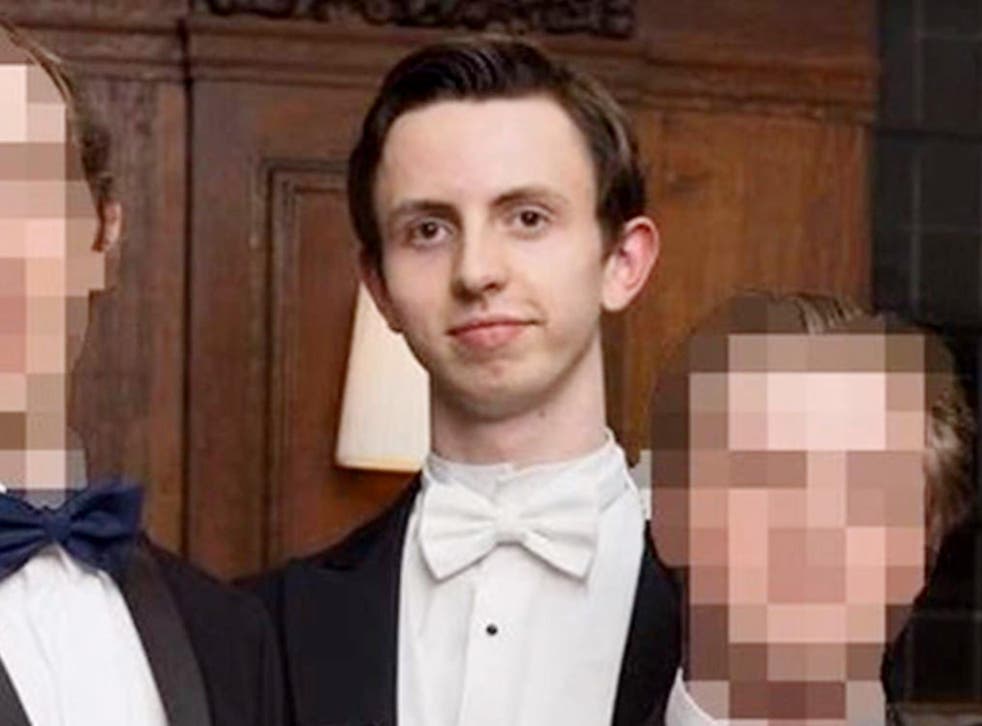 They just never learn, do they? Initiates at the Bullingdon Club in Oxford apparently hilariously burned £50 notes in front of homeless people in order to get into the society and now one Ronald Coyne has followed suit in Cambridge, setting fire to a £20 note in front of unemployed crane worker Ryan Davies, who was sleeping rough and had asked Coyne, dressed in white tie and tails, for some change. "You want change?" Coyne is supposed to have said. "I'll change this into fire for you," holding up the note and sparking it into flame courtesy of a cigarette lighter.
You couldn't make it up. Unfortunately for Coyne, the event was recorded on a phone and has since gone viral.
"We're not toffs," wailed his mother, Sandra McLaughlin, "he's not a toff." Sadly for McLaughlin, I think attempting to portray Ronald, who attended the Stewart's Melville boarding school in Edinburgh (annual fees: £22,000) and was comms officer for the Conservative Association at Cambridge, as a young man who is really down with the boys on the street is a somewhat hapless venture.
Coyne has lost his place at the association and there are calls for him to leave the university altogether, which of course he won't. After a bit of sackcloth and ashes Coyne will carry on with his law degree and this event – for him – might just be one of those things that are brought up years later, on (say) his wedding day, with a rueful laugh.
UK news in pictures

Show all 50
A reality TV programme might even reunite him with the justifiably aggrieved Davies, who by then will be hopefully running his own crane business, his days of sleeping rough a distant memory.
However, it is Cambridge which has to consider the Coyne affair more seriously, since incidents like this not only damage the reputation of the establishment but also cement the notion that Cambridge (and by extension, Oxford) are still not places where "normal" people go.
Despite strenuous efforts by Oxbridge to insist that it is open to all, events such as this, plus statistics revealing that privately educated students still number just under half the intake, while only representing 7 per cent of students across the nation, make this look like posturing. They simply reinforce the idea that Oxbridge is a bastion of privilege that pays lip service to the idea of inclusion; that Oxbridge undergraduates have a sense of entitlement and privilege that has nothing to do with brain cells and everything to do with background and money; that the system offers great advantage and fantastic academic tutelage on the one hand but represents deep inequality on the other.
Coyle is a student at Pembroke College, and had just been attending one of its regular formal dinners. Interestingly, the current Master of Pembroke is none other than Lord Smith of Finsbury. Chris Smith, was himself a former undergraduate at Pembroke College, and Labour politician whose distinguished career has been devoted to openness and equality. Anyone visiting a national gallery or museum this weekend can thank Lord Smith for the reintroduction of free admission, achieved when he was Secretary of State for Culture.
It is time for Smith, and others at the top of the Oxbridge establishment, to insist on meaningful change. Admission quotas for example, would release opportunity for thousands of students at a stroke. Let private schools take 7 per cent of the places, and give the remaining 93 per cent to state-educated students. I simply don't believe that there are only enough clever young people at state schools who qualify for 63 per cent of the places (the current state of affairs in Cambridge).
Furthermore, Lord Smith, please abolish these silly formal dinners. Nobody needs to learn how to eat fruit with cutlery or clamber into white tie and tails in order to feel good about themselves. They breed a notion of superiority which, as the idiotic Coyne has demonstrated, doesn't do anyone any good.
Join our new commenting forum
Join thought-provoking conversations, follow other Independent readers and see their replies