Cameron's compassion is all rhetoric and no reality
The claim to support working people simply does not stand up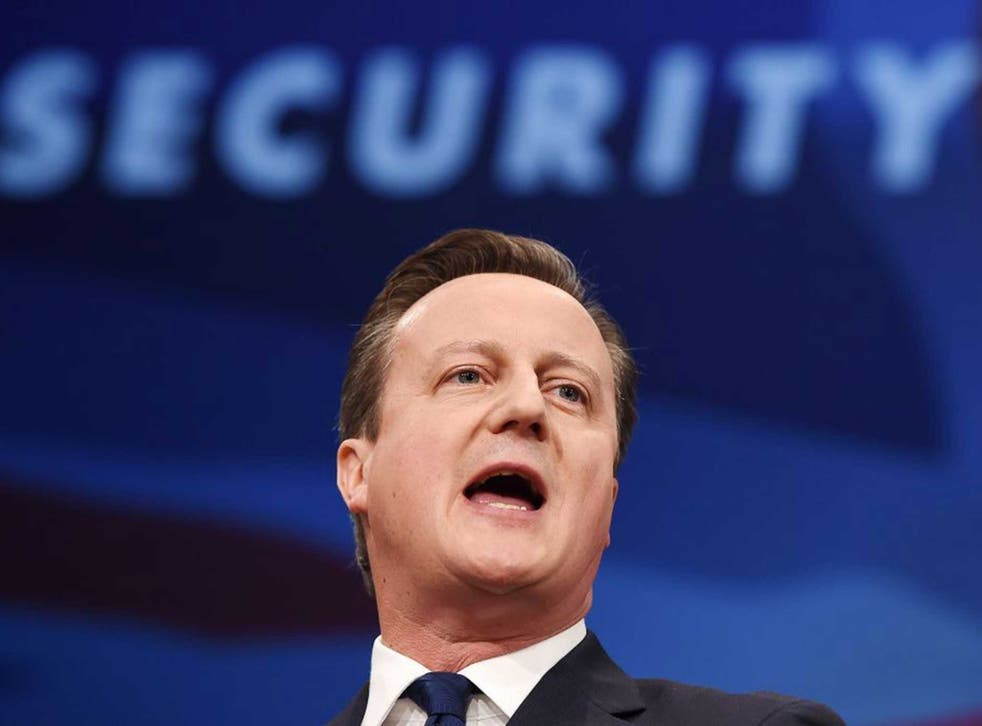 In tone, David Cameron returned to where he began. Ten years ago he stood on the stage at his party's conference as a leadership candidate stressing the need for a more compassionate form of One Nation conservatism. In yesterday's address to the conference in Manchester as an election-winning Prime Minister, he proclaimed that he was the leader of a One Nation, modern, compassionate Conservative Government.
Cameron declared he supported the vulnerable, backed "working people", was committed to the NHS and to an "all-out assault on poverty". All these claims had precise echoes with his early days as a leader when he argued with a flourish that his overwhelming priority could be summarised in the three letters "NHS" and when he visited council estates to symbolise his apparent commitment to the poor. There was even a reminder of his early optimistic metaphor about letting the sun shine. Now he argued that the country was "moving into the light" once more.
The tonal return to the early days, not always reliably applied in his conference speeches over the years, reflects a partial triumph for Cameron. To some extent he has changed his party. The mood at this conference and others in recent times is less hard edged than such gatherings tended to be before he became leader. Those attending are younger. There is much debate on the fringes about poverty and how to address it. Cameron can refer to single-sex marriage without worrying that he might be booed. That was a worry for him when he first raised his support for the proposition in an early leader's speech. He has become socially liberal and so has his party.
He has also made the right strategic call in the light of his surprise election victory, as he has made astute strategic calls at every pivotal junction of his leadership. The aftermath of an authority-enhancing win and Labour's identity crisis is the moment to pitch a tonal appeal that goes beyond his party. Apart from a brief, justified opening passage about the thrill of victory, there was no hint of triumphalism and, instead, a focus on what needs to be done. This is as smart a judgement as Cameron's response to the 2010 election, when he transformed a disappointing result into one that triggered a coalition in which many policies on the radical right were implemented. The return to the themes of his early leadership was not inevitable. In some of his speeches he has lapsed too easily into anti-state populism. This speech, like George Osborne's earlier in the week, was subtler, showing on one level an intelligent reading of the current context in which some in the Labour Party and the non-Tory media ache to be wooed.
But step away from the choice of themes and look at the policies. The policies will impact on people's lives, not an elegantly crafted speech. There is a big gap between tone and reality. Take the NHS as an example. Cameron is right to want a seven-day service, but the NHS is creaking now, struggling to meet rising demand. There is little sign yet of when the additional cash will be provided merely to maintain current levels of fragile provision. When a hospital reaches crisis point and stories erupt about patients not being treated, will the commentariat still be gushing about Cameron's command of the centre ground?
The claim to support working people and the desire for an "all-out assault on poverty" is challenged by his own agenda. The decision to scrap tax credits for those on low incomes is a precise counter to Cameron's theoretical ambition. The policy was not an unavoidable choice, a practical technocratic decision. It is a judgement based on values at odds with the One Nation, compassionate conservatism that Cameron espouses tonally. This was a speech set against a spending review that will have some brutal consequences. When that review is announced, even some of the media Blairites, so enthusiastic about the seemingly wide appeal of the speech, will wonder whether policy and tone dance as one.
His new housing policy also owes more to Thatcher than Macmillan, the latter being supposedly closer to Cameron's politics. As minister for housing, Macmillan built hundreds of thousands of homes – an unusual contribution from a housing minister. In the 1980s, the Thatcher government was ideologically obsessed with ownership rather than the more daunting task of meeting the demand for affordable, rented housing. Cameron is right to overhaul sclerotic planning procedures, but he too seems more occupied with ownership than the fundamental task of meeting housing demand.
Although Cameron has changed his party in some respects, Europe continues to generate near-hysterical excitement, as it did in the 1990s. Fringe meetings on the matter were packed even when Cabinet ministers had withdrawn; the issue is the magnet, irrespective of who is speaking. Cameron had no choice other than to insist he is no great enthusiast for the EU, while valuing the single market. Until his renegotiation is complete he cannot say much more. But this constraint does leave the political stage to those arguing for withdrawal. Perhaps the unavoidably tentative approach will change when Cameron completes his limited negotiation and he will lead a confident "In" campaign. It will take quite a leap to go beyond "the EU is terribly flawed but let's stay in", not a great rallying cry. If the referendum were to be lost, yesterday's speech will be largely irrelevant.
In the meantime, Cameron's speech could propel the Government in two very different directions: either some of its policies will have to change to meet his tonal ambition; or Cameron will show that by being emollient personally he has the space to implement policies that contradict his One Nation aspirations – with much of the non-Conservative media cheering him on. We shall soon find out which route is taken.

Register for free to continue reading
Registration is a free and easy way to support our truly independent journalism
By registering, you will also enjoy limited access to Premium articles, exclusive newsletters, commenting, and virtual events with our leading journalists
Already have an account? sign in
Register for free to continue reading
Registration is a free and easy way to support our truly independent journalism
By registering, you will also enjoy limited access to Premium articles, exclusive newsletters, commenting, and virtual events with our leading journalists
Already have an account? sign in
Join our new commenting forum
Join thought-provoking conversations, follow other Independent readers and see their replies