Botswana's President Masisi joins the Giants Club
The new Head of State joins the initiative to protect elephants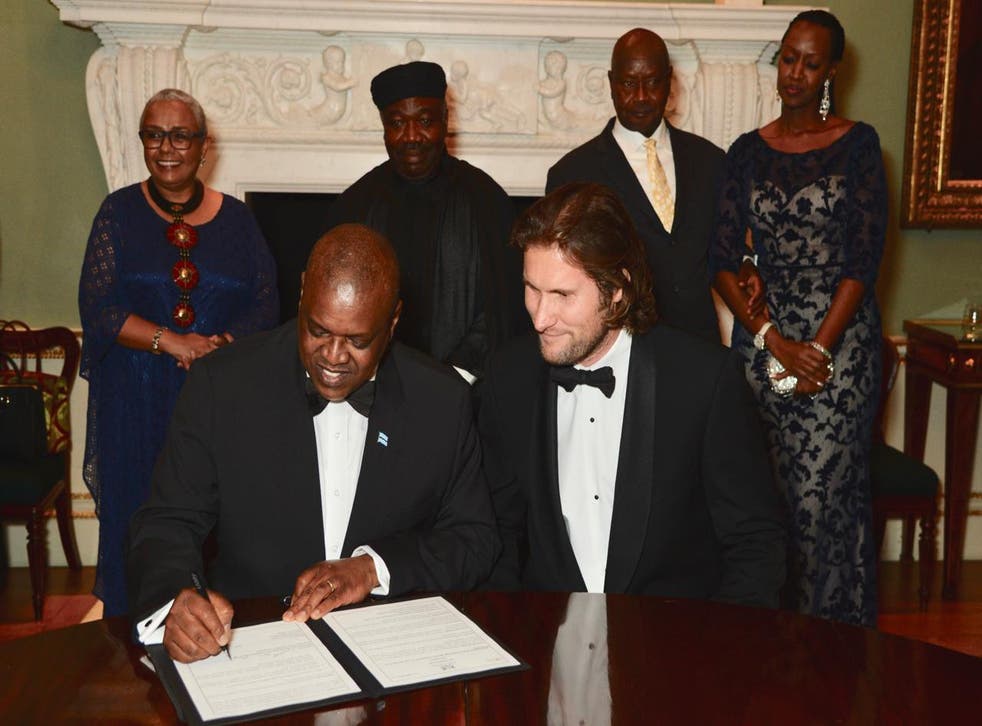 Botswana's new president Mokgweetsi Masisi became the fourth African Head of State to join the Giants Club when he signed the forum's declaration at a ceremony attended by fellow African leaders.
The Giants Club is an initiative of the international conservation organisation Space for Giants that unites the leaders of African elephant-range states with international financiers, conservationists and celebrities.
Together, these individuals combine their exceptional political muscle, extensive financial resources, pioneering scientific expertise, and global reach and influence to fulfil the Club's goal of effectively protecting half of Africa's elephants by 2020.
President Masisi joins President Ali Bongo Ondimba of Gabon, President Uhuru Kenyatta of Kenya, and President Yoweri Museveni of Uganda, to head the Giants Club. Botswana's Former President Ian Khama acts as President Emeritus.
Together their nations are home to more than half of Africa's 415,000 remaining elephants. Botswana alone hosts between 130,000 and 150,000 elephants, mostly centred on the Okavango Delta in its north. His Excellency President Masisi said: "Botswana has always cherished its position as a refuge for elephants, but we are very well aware that the threats they face cross borders and require consistent, constant, connected pressure to defeat.
"The Giants Club is a unique forum to support those efforts, bringing as it does the support and influence of a diverse society of people dedicated to accelerating Africa's efforts to protect its natural heritage, for Africa, and for the planet.
"I am honoured to join the Giants Club alongside my fellow Presidents Yoweri Kaguta Museveni, Ali Bongo Ondimba, and Uhuru Kenyatta. Together we can achieve great things."
President Masisi formally joined the Club during a private dinner it held at Spencer House in London attended by President Museveni, President Bongo, Kenya's First Lady Margaret Kenyatta, and several of the Club's members.
The Giants Club Declaration sets in writing the support that the Club will offer its Presidents as they commit their governments to significant international elephant protection mechanisms. As well as agreeing to support and endorse the Giants Club, President Masisi also noted his agreement to work to reduce the problem of human-elephant conflict in Botswana, promote domestic and international investment in responsible conservation and tourism enterprises to create new revenue from wildlife for the benefit of Botswana's citizens, and combat the illegal wildlife trade in Botswana and in the Kavango-Zambezi Transfrontier Conservation Area by supporting initiatives and programmes that build capacity along the criminal trial process.
The Giants Club membership is dedicated to supporting its Presidents to achieve their domestic conservation agendas, funding Space for Giants to give technical guidance or to deliver active conservation programmes.
Examples of Giants Club projects already underway include strengthening judicial systems in Botswana, Uganda, and Kenya to enhance wildlife crime investigations, prosecutions, and convictions; constructing electrified fences to keep elephants away from farmers' fields and reduce human-elephant conflict in Gabon, Kenya, and Uganda; and launching international conservation investment mechanisms to bring new finance to protected area networks, in Uganda and Gabon.
The Giants Club will now dispatch Space for Giants specialists to consult with President Masisi and his Government to understand how best they may assist.
Max Graham, CEO of Space for Giants, said: "Together the countries whose Presidents sit on the Giants Club are home to well over half of Africa's remaining elephants. Their commitment to conservation is a prerequisite to joining the Club, and each has his own approach that we are dedicated to helping them to achieve.
"The Giants Club looks forward to standing with President Masisi and supporting him as he brings his vision to bear on Botswana's already stellar global conservation reputation."
Register for free to continue reading
Registration is a free and easy way to support our truly independent journalism
By registering, you will also enjoy limited access to Premium articles, exclusive newsletters, commenting, and virtual events with our leading journalists
Already have an account? sign in
Join our new commenting forum
Join thought-provoking conversations, follow other Independent readers and see their replies