Selling carbon in wildlife habitat could save species and boost local economies
As Space for Giants goes carbon neutral, its CEO outlines how soaring demand for carbon offsets presents extraordinary new opportunities to pay to protect nature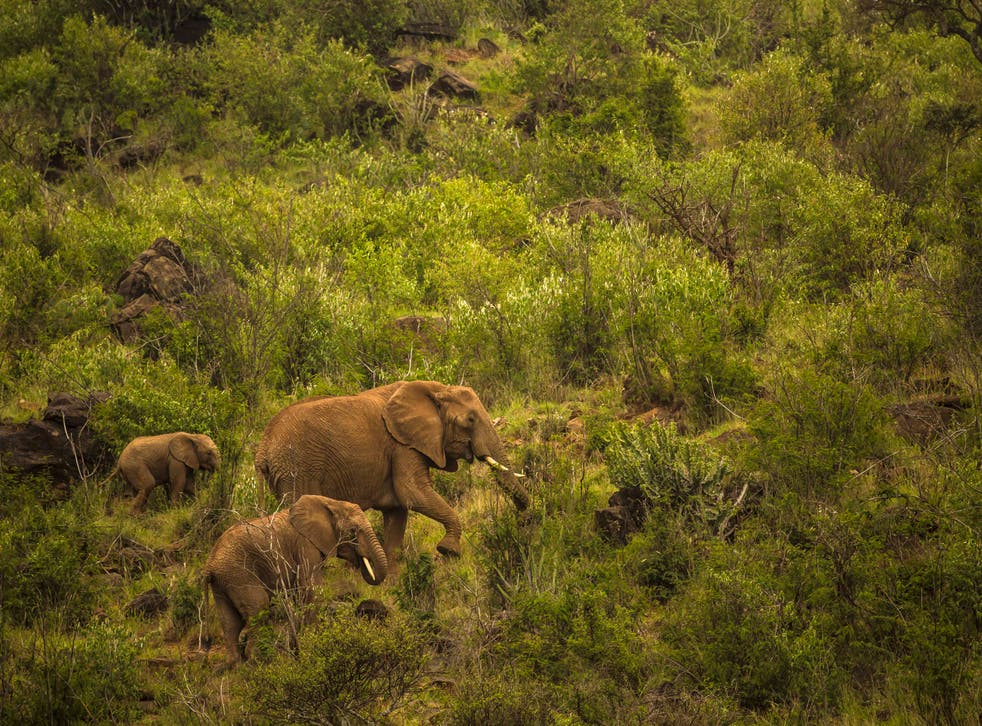 Space for Giants has just become the first Africa-based conservation organisation to achieve both the Carbon Neutral International Standard and to participate in the UN's Climate Neutral Now Initiative. 
Reaching these milestones means we've joined the growing number of major firms like Sony and M&S, and other charities like Born Free, who have recognised and acted on our joint responsibility to add no more carbon dioxide to Earth's atmosphere. 
Working with One Carbon World, which guides organisations to net zero emissions, we've measured our carbon footprint, bought 'carbon credits' to offset what we currently emit, and worked out how we can reduce that over time. 
We're also today launching Space for Giants' Carbon Calculator. You can use it to work out your own carbon footprint and learn how to reduce it, and donate the carbon cost of your footprint to our conservation programmes. 
All of this has come as part of a process of reflection and refocus for us at Space for Giants triggered by Covid-19. Most likely caused at least in part by the illegal wildlife trade, the pandemic has highlighted as never before the dangers of over-interference with the natural world. 
We're all much more aware today of the impact our activities are having on nature, and of how that impact affects not just forests, wildlife, and oceans, but human health and ultimately the climate. 
Turning forests to farmland or plantations and killing wild animals for meat markets, mistaken medicinal use, or trinkets, all takes people deeper than ever before into habitats that house unknown millions of new viruses, pathogens, and zoonotic diseases. 
At the same time, plants are one of our primary mechanisms for removing carbon dioxide from the atmosphere and letting the planet keep the climate in the balance all life on Earth needs to survive. Clearing forests for cattle or crops massively reduces the carbon that landscapes can absorb, as well as releasing carbon that was stored in the felled trees into the atmosphere. 
The over-exploitation of nature is at its root a question of value. Often, there is more value to a person or a government to turn a natural landscape into one developed for short-term financial gain than to leave it as it is, or sustainably use its resources. 
What if we found a way for the landscape to bring more sustained economic value to those same people or governments without irreparably damaging it? What if that mechanism also protected not just the environment of that single habitat, but the entire planet? 
Fortunately a way to achieve all of this exists, in carbon credits. This is increasingly the mechanism we and many others in our sector believe will unlock the value of natural landscapes.
Get into the weeds and it's complicated, but on the face of it how it works is pretty simple. On the supply side, independent specialists assess then verify how many tonnes of carbon are stored - or 'sequestered' - in a landscape's trees, grasses, or soils, or mangroves for marine projects. 
A carbon credit is then issued that pays to keep that carbon locked into that vegetation or landscape, or for additional carbon that is stored because the environment is conserved.  
On the demand side, companies, organisations or individuals who've calculated how many tonnes of carbon dioxide they are emitting buy an equal number of carbon credits. In effect, the carbon they are emitting is balanced out, or 'offset', by the carbon that remains stored.
The aim is that net zero carbon is added to the planet's atmosphere. The money the emitter paid for the credits is then sent back to the people, organisation, or government that owns or manages the landscape to pay for its continued protection and for the carbon to remain locked away.The global carbon market has more than doubled since 2017, to more than $320 million in annual offset sales.
Cumulatively over the last 15 years it's been worth more than $5.5 billion. As companies and brands finally wake up to their customers' clamour for them to go carbon neutral, we're sure this market will only grow further, and faster. 
It's important to stress that carbon credits are no silver bullet, and in no way should they allow companies or countries to slow efforts to reduce their emissions or cut fossil fuels completely. That is all that will make a permanent difference. But they can be part of the solution.
At Space for Giants we've already launched an early programme to calculate how many tonnes of carbon is being sequestered in 150,000 acres of savannah and shrubland in Laikipia in Kenya. When these carbon credits come to market, that revenue will help us and our partners expand conservation work. 
We'll plant new trees and protect existing ones from illegal charcoal logging. We'll work with local cattle-keepers to avoid overgrazing grasslands, and keep neighbouring farmers safe from human-elephant conflict so they're more tolerant of wild animals living in their shared landscape.
New nature-based businesses will be supported. This is only the beginning. At Space for Giants we're talking with the national authorities in a number of countries about identifying carbon finance opportunities to help pay to protect their national parks and reserves. 
Governments there have such limited funds and competing priorities such as health and education that conservation is chronically under-funded. Carbon credits can help plug that gap. The idea is that we then design projects around those opportunities, work with technical partners to package the opportunity, complete the necessary third-party verification, and then take it to market where carbon credits are sold to unlock new funding for conservation.Finally, we're engaging our growing network of influential friends and supporters, in business, entertainment, science, and fashion, to spread the word that going climate neutral now has a multiplier effect of also unlocking new funding for global conservation.
This is even more important since Covid-19 destroyed at least for now, the primary source of conservation funding: tourism. Being carbon neutral is for Space for Giants but one step in emerging from the Covid-19 crisis as a conservation organisation that has reflected, reinvented and refocused on what is required to protect the natural ecosystems on which Africa's large wild animals depend, and to ensure they are valued so they can endure sustainably. 
We have started 2021 with passion and vigour knowing that we are ourselves responsible and conscious of our impact, while moving towards helping others to offset their impact and in so doing unlocking carbon finance to pay to protect the natural landscapes that are so crucial to the wellbeing of all life on Earth. 
Visit spaceforgiants.org/carbon-calculator to calculate your carbon footprint and donate its monetary value to Space for Giants' conservation work, or to talk to them about their new carbon for conservation programmes.
Join our new commenting forum
Join thought-provoking conversations, follow other Independent readers and see their replies