Education is key in the fight to save our elephants
BAFTA award-winning app, Virry, will use live streamed footage from Lewa Conservancy in Kenya to teach children around the world about the threats facing endangered species.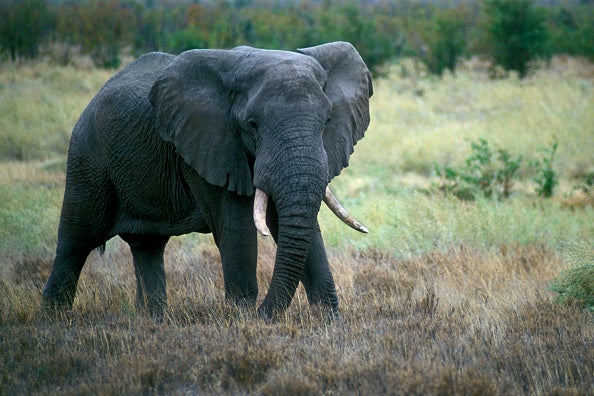 Despite an increase in funding, and often military level responses from conservationists, we now know the world's elephant populations continue to decrease at a distressing rate.
The Great Elephant Census (GEC), commissioned through a $7 million grant from Microsoft co-founder Paul Allen and his sister Jody, employed ninety scientists to survey 93% of all Savannah elephants over two years. It was the largest African wildlife survey ever undertaken and its results were astounding.
Using 81 aircraft, flying over 18 countries, the census discovered there are just 352,271 savannah elephants left in Africa. This fits with a longstanding trend of population decimation: the population has been dropping by roughly 30,000 a year since 2005.
The worst situation is in Tanzania, where the elephant population has dropped by 60%, yet hunting concessions can still be purchased there with relative ease, as a recent high-profile case regarding the Emirate-owned Green Mile Safaris demonstrated.
If knowledge is power, then this census deals a good hand to the conservation community, by showing us not only the gravity of the situation but also confirming the causes of a continental scale wipe out: a staggering 201 poacher camps and 3.39 million heads of cattle.
The response has been a notable militarisation of conservation efforts: more rangers employed, governments supplying better weapons, aircraft and helicopters dished out to lucky reserves, sniffer dogs trained up, and unmanned drones even watching from the skies.
Not to mention the use of intelligence services both private and governmental to infiltrate poaching cartels and apprehend those responsible.
Yet the unpleasant reality is that the slaughter of endangered species persists. Where there is a demand there will be a supply, especially when the product in demand exists in some of the world's poorest societies.
Campaigners are starting to recognise they cannot merely strong-arm their way out of this, the response has to be more nuanced and recognise the contexts in which poaching and human-animal conflict take place.
Community outreach programmes, such as the one run by the Giants Club, use interactive drama performances to explore issues of poaching, conservation and conflict through the means of entertainment and laughter. These initiatives speak directly to the people most vulnerable to grooming by ivory cartels, and those most likely to be farming near endangered populations.
Giants Club training and education programmes also provide local men and women with the tools they need to become the next generation of conservationists, giving back ownership of conservation to the populations closest to it.
Tackling the demand side of poaching also requires education. This September a BAFTA award winning App, Virry (www.virryapp.com), will begin live streaming footage straight from Lewa Conservancy in Kenya to iPhones, iPads, Apple TVs and Sony VR systems around the world.
Carefully designed by child psychology experts and conservationists, Virry aims to educate a generation to the threats facing endangered species in an entertaining and accessible way.
Using live-streaming technology from a series of cameras set up in wildlife parks Virry gives users real-time access to their favourite wild-animals from the comforts of their own homes.
In addition to the Lewa Downs in Kenya, other wildlife parks available to visit through Virry include Al Ain Wildlife Park in the UAE and Durrell Wildlife Park in Jersey, which was founded by the late British conservationist, Gerald Durrell.
Svetlana Dragayeva, founder of Virry, believes that "immediate conservation action must be accompanied by a long term paradigm shift" in the way we view our surroundings.
"By engendering a passion for wildlife in children from the age of three onwards, they are more likely to understand, emphasise and protect wildlife once they are older," she said. "We are trying to change the way humans think and interact with wildlife."
The App is currently used by 100,000 children, and is predominantly based in the USA, Europe and Russia, but plans are underway for a marketing drive across Asia, where much of the demand for illegal ivory stems from.
"The future of the world's wildlife species rests on the tenacity of governments, conservation organisations and communities to take heed of studies such as the GEC and recognise the power of education in fighting poaching, conserving elephant and rhino habitats and mitigating human-elephant conflict. Guns may stop a poacher, but they won't change mind-sets and they can't build a society that is more engaged with nature," says Dragayeva.
Putting an end to the slaughter of wildlife is going to take a continued and collective international effort, but if we can change the way people think about wildlife then we are taking a major step forward in the battle.
Nelson Ngusaru is a former anti-poaching ranger and a conservationist. He is also contributing editor of Buffalo Monkey, a leading African wildlife news platform.
Join our commenting forum
Join thought-provoking conversations, follow other Independent readers and see their replies