President Ali Bongo: "Our resolve to protect elephants has never been stronger"
Ahead of the Illegal Wildlife Trade Conference in London next week, Gabon's President Ali Bongo renews his pledge to end the ivory trade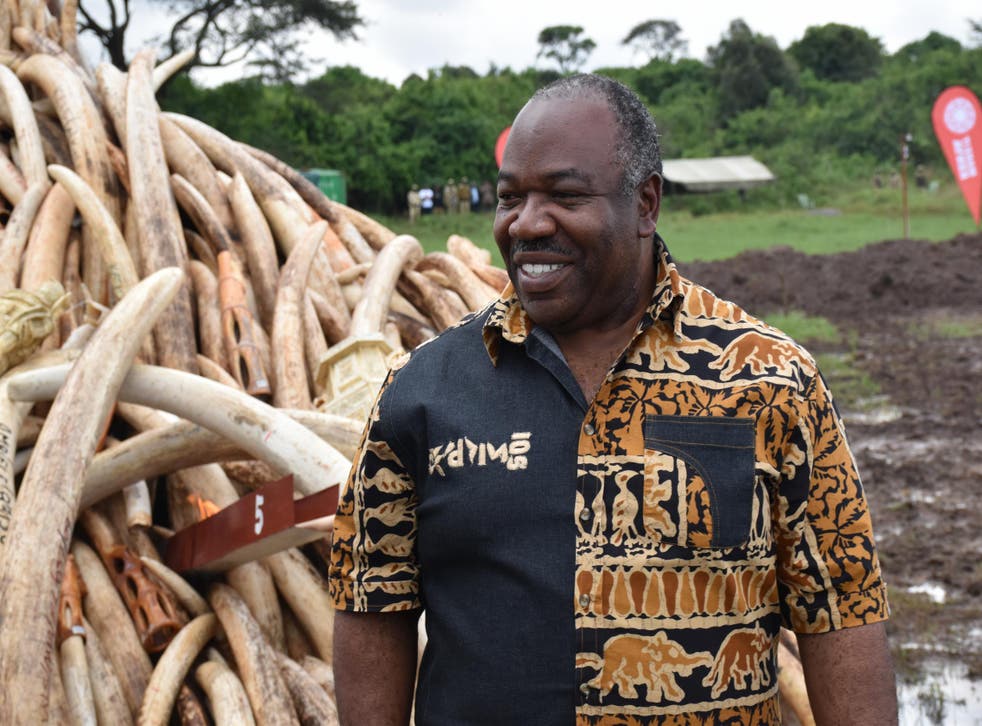 The illegal trafficking of wildlife and wildlife products is a blight on humanity. It is cruel, driving species to extinction, and depriving developing countries of their natural heritage and opportunities for future prosperity.
This trade - estimated by the European Commission to be worth some 17 billion pounds per year- is big business, run by ruthless networks that thrive on, and create, lawlessness. It is linked to the trafficking of weapons, drugs and the spread of terror.
My country, Gabon, is on the frontline of the battle to end this trade and that is why I will travel to London next week for the Illegal Wildlife Trade (IWT) Conference that has been convened by the UK government.
Elephants, of course, are one of the species most at risk. Some 55 African elephants are killed every single day for their ivory, most of it illegally exported to Asia. If this continues elephants could disappear from Africa within a generation.
In the forests of central Africa, including parts of Gabon, we've seen a terrible slaughter this past decade. We lost 25,000 elephants in a single national park. Often, it has been easy to despair. Yet these setbacks have only increased our resolve to turn the situation around.
In 2014, the previous occasion the UK hosted the IWT conference, I joined four other African leaders to form an alliance called the Elephant Protection Initiative, or EPI. We were united in common purpose; to end the ivory trade and save our elephants.
Fast forward four years, and our original group of five countries has become 19. We span our continent, from the arid Sahel to the horn of Somalia, from the grasslands of the Kalahari to the dense forests of the Congo basin. We include countries that are trying to recover from civil wars, and others- like mine- that have enjoyed decades of peace. We are Francophone, Anglophone, and Lusophone. Significantly, most of Africa's surviving elephants are today to be found in EPI countries.
Not only have we grown- and more countries would like to join- but we have achieved so much. Our determination to end the ivory trade and close domestic ivory markets has yielded results. We are delighted that China introduced a ban on ivory earlier this year. Hong Kong will soon follow suit. We welcome the new UK legislation restricting ivory sales, and the indications that the rest of the EU, and Australia, will follow suit.
Gabon, Botswana, Uganda and Kenya have joined together to form the Giants Club; a subset of four EPI countries that have demonstrated significant leadership on conservation, focused on raising financial and technical support for elephant conservation.
We are on our way towards creating a world where it is no longer acceptable to think of ivory as a commodity that can be traded for financial gain. We are using new technology and common security protocols to prevent theft from our national ivory stockpiles. Several EPI countries, such as Gabon, Kenya and Malawi have introduced tough new wildlife laws, ensuring we catch more poachers, and put them in prison for longer.
Now we need to look to the future. Gabon and other EPI countries are coming to London with plans outlining how elephants can be conserved for decades to come. Our National Elephant Action Plans (NEAPs) are designed to save our elephants and protect natural environments, but also improve the lives of our growing human populations.
Our plans focus not just on anti-poaching, but also on promoting employment and revenue from tourism. We need to convince farmers who live alongside elephants, and whose crops are often damaged by them, that these animals can be creators, not just destroyers, of economic wealth.
We recognise our responsibility. Ultimately, the fate of the elephant is in Africa's hands. We have shown that we're prepared to make sacrifices. My own country, Gabon, gazetted some 11 per cent of its territory as national parks at the beginning of this millennium, sometimes in the face of local opposition. Across Africa, more than 300 wildlife rangers have been killed in the line of duty this past decade, many at the hands of better armed poachers.
We will carry on our struggle, but we need others to step up to the challenge. For the EPI, this is the moment of truth. If we can fund our conservation plans, we can save our elephants. The IWT Conference gives us a unique opportunity; to build on an African conservation success story, whilst delivering a serious blow to the illegal wildlife trade.
Ali Bongo Ondimba is President of the Republic of Gabon and is a founding president of the Giants Club.
Register for free to continue reading
Registration is a free and easy way to support our truly independent journalism
By registering, you will also enjoy limited access to Premium articles, exclusive newsletters, commenting, and virtual events with our leading journalists
Already have an account? sign in
Join our new commenting forum
Join thought-provoking conversations, follow other Independent readers and see their replies