Meet the mother of rare twin jumbos in Kenya's Amboseli National Park
Good rains and conservation projects combine to secure elephant habitat and increase chances of rare twins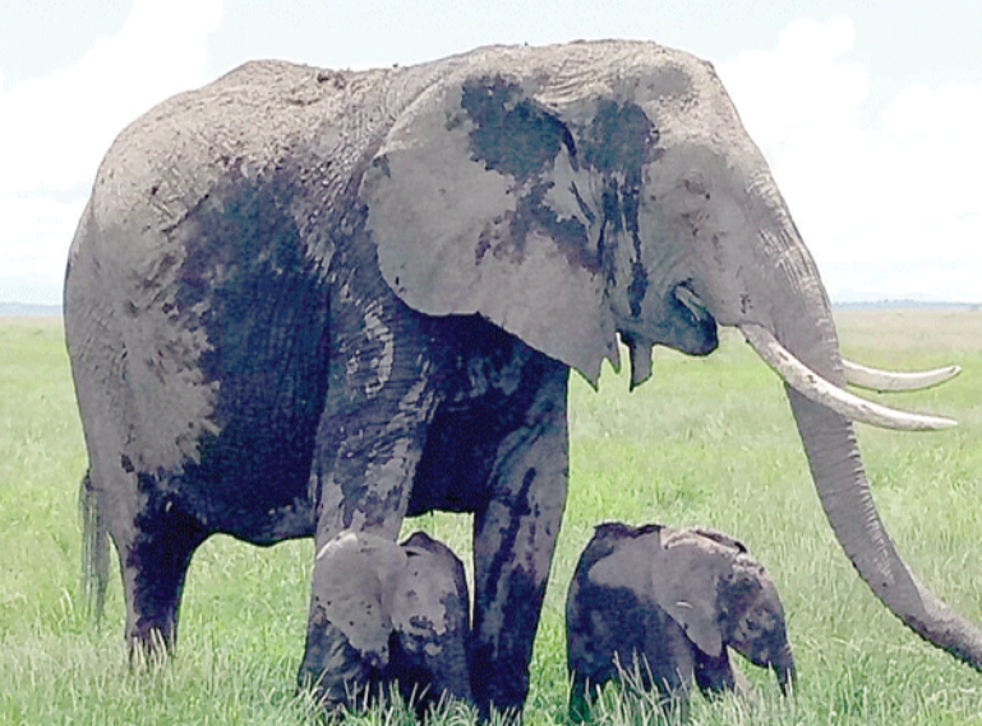 By Daniel Kaburu for People Daily in Kenya
Elephants truly are amazing. An elephant carries a pregnancy for nearly two years, that's a whopping 660 days. So when an elephant gives birth to twins, it really is a cause for celebration.
In August 2018 members of local communities joined conservationists and researchers at Amboseli National Park, in the shadow of Mt Kilimanjaro 95 miles south of Nairobi, in witnessing what they deemed as history in the making. The last time twin elephants were born in this region was 38 years ago.
The new 39-year-old mother, fondly named Paru, has settled down in the 151 square-mile park feeding on the the lush green vegetation that feeds one of Kenya's biggest elephant population.
Times are good at the Park this time of year. Pasture is plenty making this home to an abundant species of wildlife. Beautiful birds add colour to the skies and to the sounds emitted from the expansive reserve where there are more than 400 species of birds.
Back to Paru, and the the Senior Warden at the Park, Kenneth ole Nashuu, knows that Paru is very happy here. She feels safe and explains that elephants are highly social and that a bug part of why Paru is comfortable is because she is part of a larger community of elephants and more importantly cases of poaching have all but come to an end at the Park.
"This is largely due to the fact that we made the decision to involve the local communities in our conservation efforts...of elephants, other wildlife and even the forest. We also have more that 300 scouts from the local community currently working closely with the wardens to make sure that the elephants are protected" says Kenneth.
With such a peaceful and safe environment, Paru and her twins who are yet to be given names are guaranteed a long life. Census for the elephants in Amboseli National Park is set to take place later this month to determine, amongst other criteria, the health of the elephant population.
This article is reproduced here as part of the Giants Club African Conservation Journalism Fellowships, a programme of the charity Space for Giants and supported by the owner of ESI Media, which includes independent.co.uk. It aims to expand the reach of conservation and environmental journalism in Africa, and bring more African voices into the international conservation debate. Read the original story here
Register for free to continue reading
Registration is a free and easy way to support our truly independent journalism
By registering, you will also enjoy limited access to Premium articles, exclusive newsletters, commenting, and virtual events with our leading journalists
Already have an account? sign in
Register for free to continue reading
Registration is a free and easy way to support our truly independent journalism
By registering, you will also enjoy limited access to Premium articles, exclusive newsletters, commenting, and virtual events with our leading journalists
Already have an account? sign in
Join our new commenting forum
Join thought-provoking conversations, follow other Independent readers and see their replies