Uganda's minority Batwa tribe fear for their disappearing culture
Hunter-gatherers moved from their traditional homes struggle to win compensation they were promised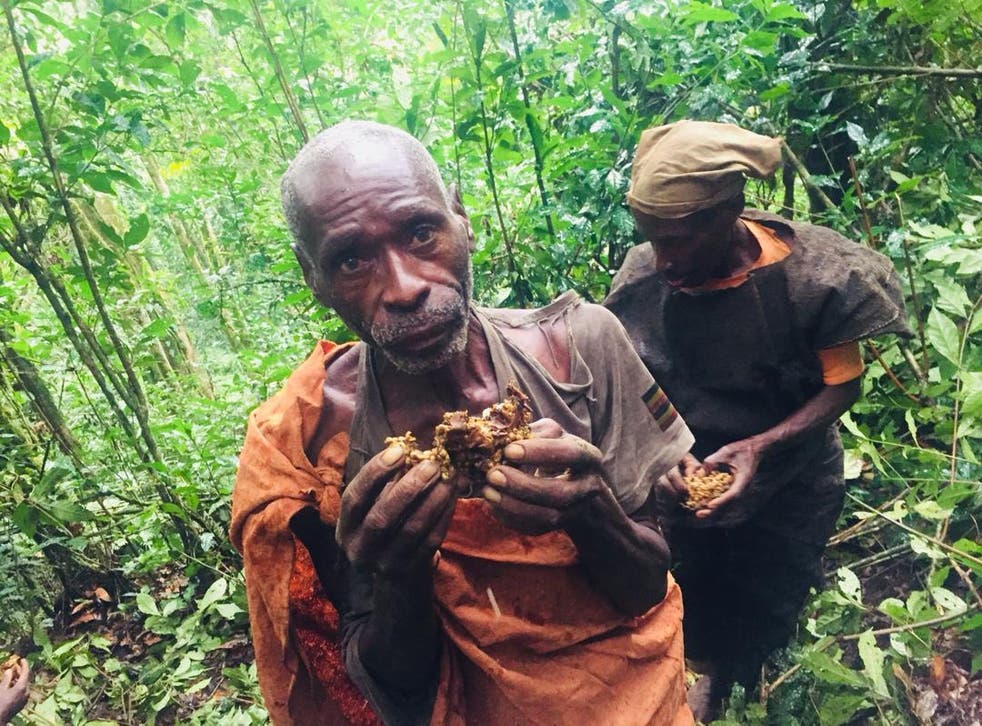 By Pamela Amia for Chimpreports.com in Uganda
On a cold afternoon, Caleb Ngambeweza sits by a mud and wattle house belonging to one of his community members, with his eyes glued to the dense thick forest far ahead of him. Ngambeweza who says he's now 120 years old, talks of the fears he has for the survival of his people, the Batwa.
The Batwa are one of the oldest surviving tribes in Africa, but their culture, identity and language are under increasing threat. The traditional hunting ground of this nomadic community used to comprised of forested areas in Uganda, Rwanda, Burundi and the Democratic Republic of Congo.
However, in 1991, in conservation efforts to protect mountain gorillas, the Mgahinga Gorilla National Park in Uganda was created in the south of the country and Uganda's 6,700-strong Batwa community were evicted from the Bwindi Impenetrable Forest where they had lived for centuries.
Those who lived by the outskirts of the forests scattered in different groups to places like Mpungu, Buhoma, Kitalito, Kebiroma, Mgahinga, Kisoro among others.
According to Ugandan law, as a nomadic people who had never settled in one location, the Batwa had no claim to the land, therefore, the Ugandan government had no legal obligation to compensate them.
Over time, the government has promised to accommodate them and find them land but the process has been a slow one.
These communities have failed to adapt to new life as their numbers and life expectancy reduced.
As he looks into the forest, Nambeweza wonders how life would have been had his people stayed there longer. It was their livelihood and their entire world depended on it.
Since their culture has an attachment to the forest, the Batwa worry that although it is already dying out, it could eventually disappear in the near future.
Ngambeweza himself worries about his six children who know little about the ways of their forefathers. Although he barely stayed in the forest himself, his parents would occasionally take him back for hunting and looking for herbs.
"Our school for culture is there," he said, pointing in the direction of the forest. "Now that we cannot go there, how (then) do we teach our children?"
Currently, the forest is out of bounds for them and if one is caught inside, he risks being jailed or worse shot as a suspected poacher. The Uganda Wildlife Authority (UWA), different tour agencies and some NGOs have resorted to adding the "Batwa Cultural Experience" to their gorilla trekking packages where tourists visit the Batwa who exhibit their culture through dances, ancient lifestyle and display regalia.
This however, doesn't sit well with some sections of conservationists who view the activity as turning desperate humans into tourism attractions. Some of the Batwa however are okay with this since they get tips from tourists. The tips are however not sustainable.
While launching another Batwa Experience route in Bwindi two weeks ago, the Minister of Tourism, Wildlife and Antiquities Prof. Ephraim Kamuntu said that culture was an important aspect of people's lives which ought to be harnessed for development especially through cultural tourism.
He added that cultural tourism not only serves to generate money from tourists but also plays a key role in the preservation of culture and heritage.
"I am very glad that the proceeds from the Bwindi Batwa Forest Experience will target mainly the Batwa. This is another indicator that the Government of Uganda has never, and will never neglect the Batwa people as quite often wrongfully accused. There is a great will by Government to continue improving the conditions of all Ugandans," he said.
A plan by the government to relocate the Batwa, that has for long been pumped up by Prime Minister Ruhakana Rugunda, is still stalling because of lack of funds according to the Prime Minister's office.
A committee which is headed by the Ministry of Gender, Labour and Social Development and several other government departments was last year selected to look into the matters of Batwa transformation and empowerment.
At the moment, a local community based organisation called Change A life Bwindi with the help of the Batwa people are constructing a Batwa Heritage Centre where the Batwa will gather and showcase their culture and tradition to the visitors.
They will also use the space to teach their children their culture and norms so that it can be passed from generation to generation.
This article is reproduced here as part of the Giants Club African Conservation Journalism Fellowships, a programme of the charity Space for Giants and supported by the owner of ESI Media, which includes independent.co.uk. It aims to expand the reach of conservation and environmental journalism in Africa, and bring more African voices into the international conservation debate. Read the original story here.
Register for free to continue reading
Registration is a free and easy way to support our truly independent journalism
By registering, you will also enjoy limited access to Premium articles, exclusive newsletters, commenting, and virtual events with our leading journalists
Already have an account? sign in
Join our new commenting forum
Join thought-provoking conversations, follow other Independent readers and see their replies