Homeless Veterans appeal: Archbishop of Canterbury gives his 'wholehearted' support
Justin Welby praised the 'extraordinary' work carried out by both charities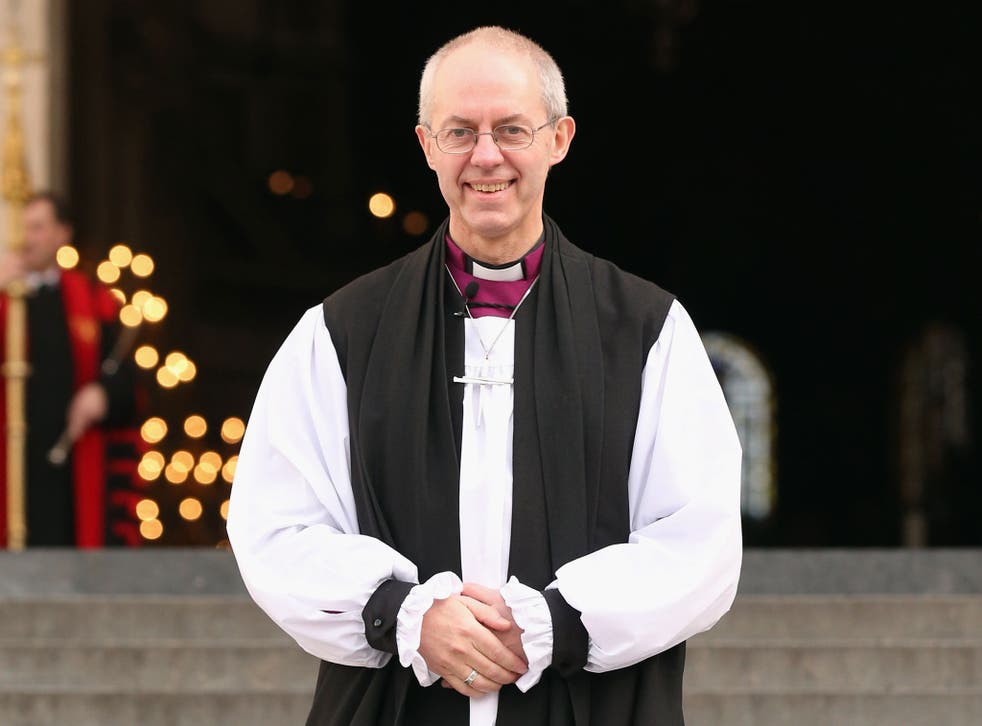 The Archbishop of Canterbury has given his "wholehearted" support to The Independent's Homeless Veterans appeal, saying that the British public owes an "immeasurable debt of gratitude" to those who signed up to fight for their country.
In backing the drive to help ex-servicemen and women who have fallen on hard times, Justin Welby joins a remarkable roll call of supporters which already includes Prince William, Angelina Jolie, Stephen Fry, former SAS sergeant Andy McNab and the leaders of the three main political parties.
"Shortly before Christmas, I had the enormous privilege of meeting veterans of various conflicts when I visited the National Memorial Arboretum," the Archbishop said. "It powerfully brought home to me the service and sacrifice given by so many, and the immeasurable debt of gratitude we owe them.
In pictures: Homeless Veterans appeal

Show all 31
"We must not forget those who – having served our country with such courage – have now fallen on hard times. So I wholeheartedly support this appeal, which offers to help those ex-servicemen and women who have become destitute and seeks to prevent it happening to others."
Proceeds from the appeal will be divided between ABF The Soldiers' Charity, an umbrella organisation which gives grants to thousands of individuals and smaller projects, and Veterans Aid, which combats homelessness among former servicemen and women through its London drop-in centre and hostel.
The head of the Church of England praised the "extraordinary" work carried out by both charities. "They not only provide crucial practical support to ex-servicemen and women who are homeless, in debt or struggling with addiction: they also bring hope," he said. "I pray people will give generously to this appeal."
At the end of last year David Cameron, Nick Clegg and Ed Miliband gave the cause their unanimous backing. Angelina Jolie, the actress and humanitarian activist, has also made an undisclosed donation on behalf of herself, her husband Brad Pitt and their six children.
Both charities welcomed the Archbishop's words. Dr Hugh Milroy, the CEO of Veterans Aid, said: "The Archbishop's support is heart-warming and his sentiments about prevention chime particularly with our philosophy. We want people to come to us before they hit rock bottom. We have been offering a hand up to veterans in crisis since 1932 and are absolutely a place of hope. No ex-serviceman or woman in distress need feel alone or abandoned."
Brigadier (Ret'd) Robin Bacon, chief of staff at ABF The Soldiers' Charity, added: "The continued high-level support this campaign attracts exemplifies the strength of feeling in the UK towards the men and women of our armed forces. Continued financial help is required to ensure that we can help those who need it the most."
During his visit to the National Memorial Arboretum in Staffordshire the Archbishop filmed his New Year Message, in which he warned of "a danger that the sacrifice and suffering of those caught up in war and disaster will slip from our minds". He said his hope for 2015 was that Britain continued to be "the kind of country that goes on looking outwards; that is full of a generous spirit".
Register for free to continue reading
Registration is a free and easy way to support our truly independent journalism
By registering, you will also enjoy limited access to Premium articles, exclusive newsletters, commenting, and virtual events with our leading journalists
Already have an account? sign in
Join our new commenting forum
Join thought-provoking conversations, follow other Independent readers and see their replies