Homeless Veterans appeal: Boris Johnson pledges £200,000 in major boost to campaign
The Mayor of London, who slept rough on the streets of the capital earlier this month to support the appeal and raise awareness about homelessness, made the surprise announcement today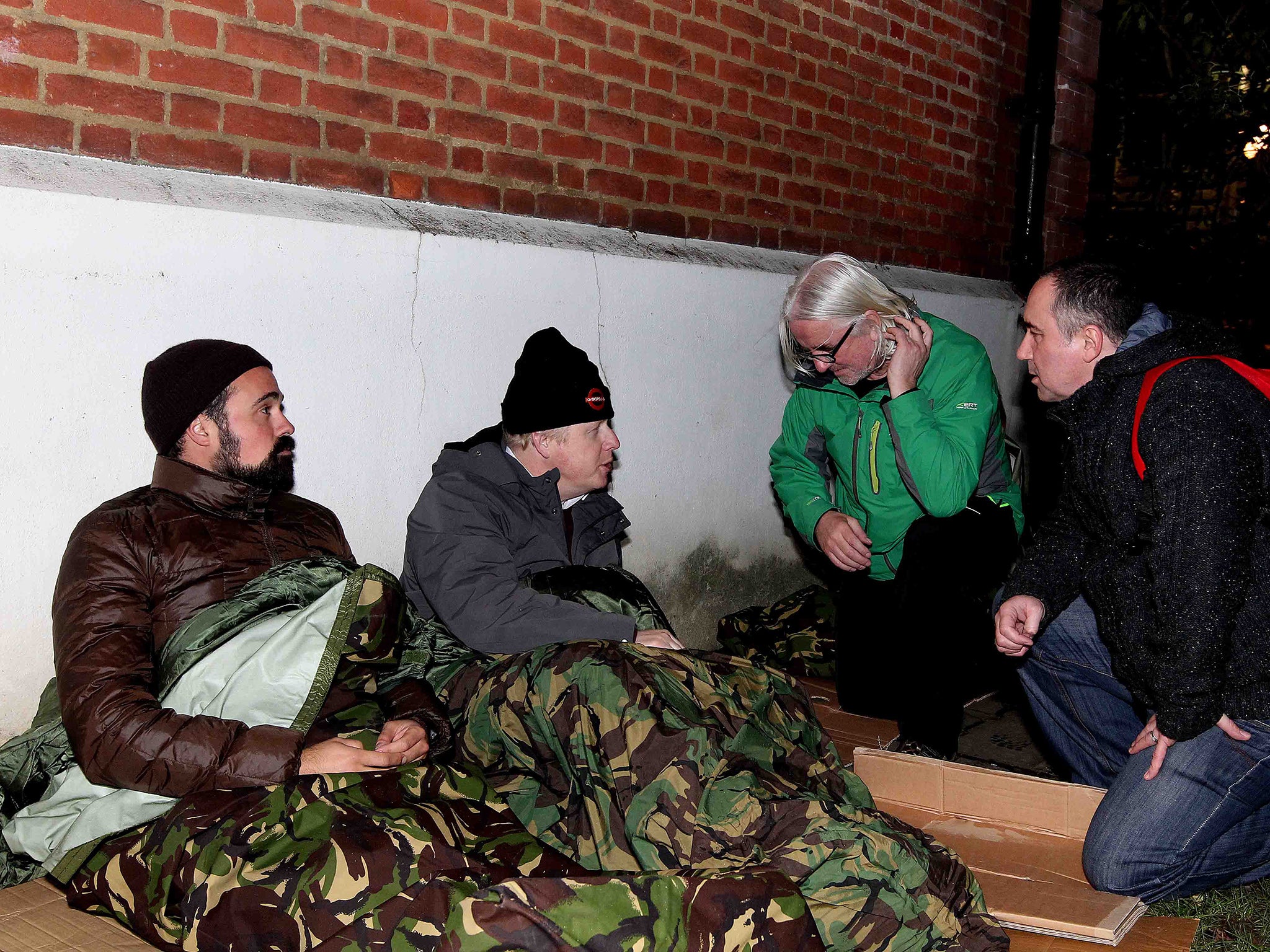 One of the charities at the centre of The Independent's appeal for Homeless Veterans received a major funding boost yesterday when Boris Johnson pledged £200,000 towards the renovation of its vital hostel for ex-servicemen in London.
The Mayor of London, who slept rough on the streets of the capital earlier this month to support the appeal and raise awareness about homelessness, made the surprise announcement during Mayor's Question Time at City Hall yesterday [WEDS].
The money, which will come from the budget of the Greater London Authority (GLA), will go towards the refurbishment and extension of New Belvedere House in Stepney, which is run by Veterans Aid. Former servicemen who have fallen on hard times and would otherwise be sleeping rough on the streets are housed there.
In pictures: Homeless Veterans appeal
Show all 31
Mr Johnson said: "Those who serve our country deserve all the help we can give them, as the GLA Tories and The Independent have rightly campaigned for. Although there are now far fewer UK veterans on the streets than there were two decades ago, it's tragic that last year they still numbered over 120 [in London]."
New Belvedere House has 55 rooms, but is almost always full. In order to maintain its high success rate in preparing veterans for independent living, Veterans Aid wants to enlarge and modernise the building. In total, the project is expected to cost £6 million.
Dr Hugh Milroy, the CEO of Veterans Aid, said: "I was stunned to hear today's announcement of £200,000 being donated towards the redevelopment of our hostel. We have been supported by Mayor Johnson and his team for a few years now and have been working with them for some time hoping that they'd support the project. However, the team from City Hall never even indicated that they were going to help so this really is the best type of news."
The former RAF Wing Commander said he was "sure" that The Independent's campaign had helped influence the decision. "We are so proud that the Mayor of London acknowledged our expertise and recognised the charity's battle to end homelessness among the ex-service personnel community," he said.
The GLA is also providing a further £250,000 for other charities working with homeless veterans to bid for. GLA Conservative budget spokesman Gareth Bacon, who campaigned for the continuation of such funding, said: "It's a sad fact that many of our servicemen and women face serious social problems such as homelessness after returning from military service.
"This cash has already made a significant difference by helping hundreds of veterans access treatment, hostel accommodation, training and employment opportunities. This additional £450,000 of funding will help more people off the streets and help them get back on their feet, lead an independent life and integrate in society."
Join our commenting forum
Join thought-provoking conversations, follow other Independent readers and see their replies