Homeless Veterans appeal: Building on hope
New Belvedere House has been a place of shelter for veterans in crisis, providing them with a home when they would otherwise be on the streets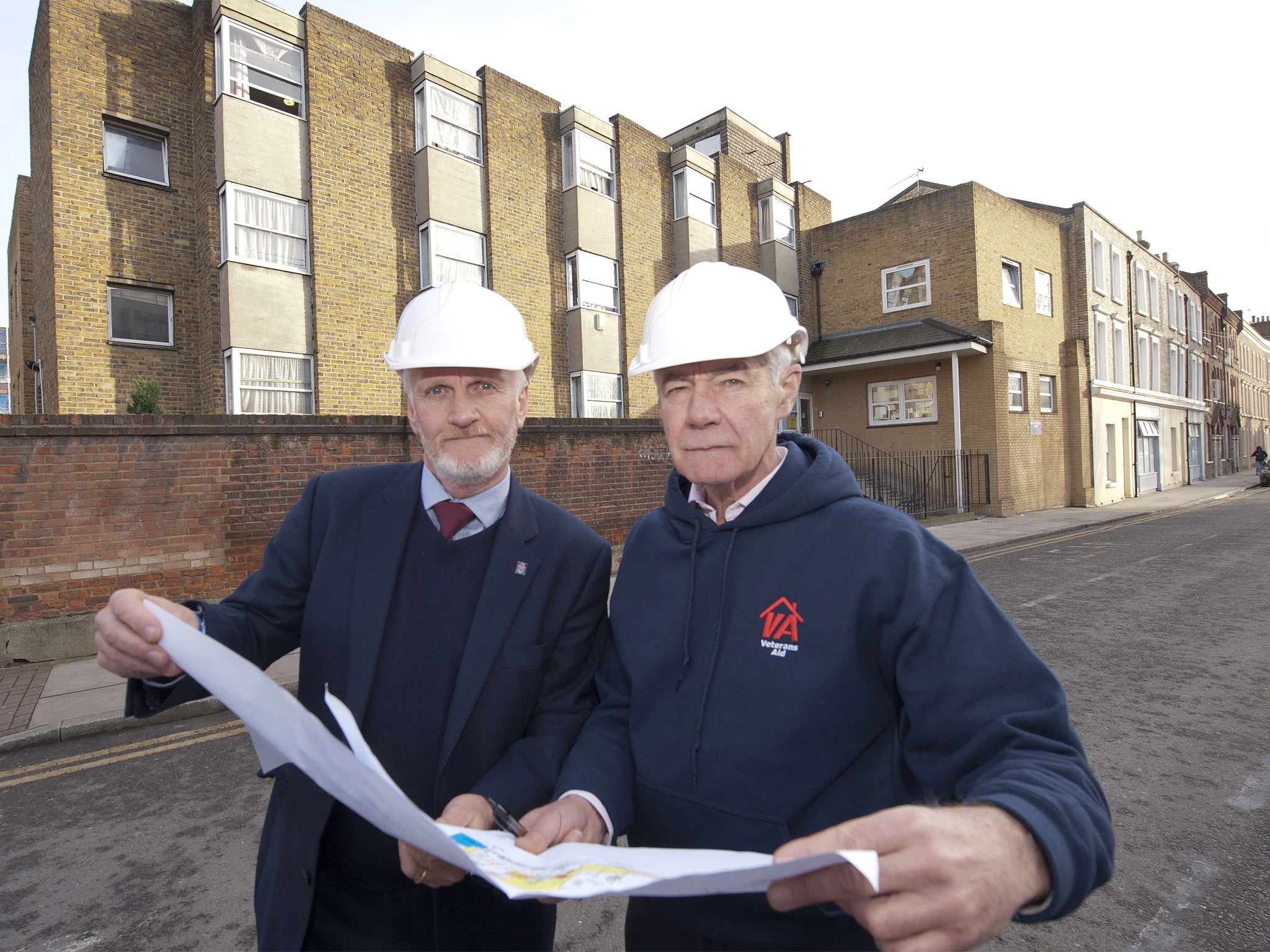 Since 1973, New Belvedere House in Stepney, east London, has been a place of hope for veterans in crisis, providing a home for those who would otherwise be out on the streets. Now, thanks to the extraordinary generosity of those who responded to The Independent's Homeless Veterans appeal, the building is about to begin a new chapter in its history.
As the fundraising campaign draws to a close, project managers, architects and builders are preparing to begin work on a major renovation of the hostel, modernising it for the 21st century and allowing staff to help even more struggling ex-servicemen.
New Belvedere House is run by Veterans Aid, one of two military charities benefiting from The Independent's appeal. It has a high success rate in preparing veterans for independent living, so its 55 rooms are almost always full. The charity has long been keen to build an extension, but until now has lacked the funding to do so.
By the end of the project, 12 more veterans will be able to count New Belvedere House as their home – and the facilities used by all residents will be dramatically improved. The façade of the building will be replaced with soaring glass walls, and an extra storey will be added to the existing building to make space for new bedrooms.
Every room will be gutted and rebuilt, with new plumbing, electrics, furniture and decor, and a lift will be installed to allow disabled veterans easy access. The layout will also be reconfigured, so space which is currently wasted can be turned into new rooms – including a fully equipped art centre.
Until now the hostel has lacked a proper kitchen, but a new one will be installed so the veterans can make their own meals or learn the basics of cooking from staff. A gym will also be created – quite a step up from the current 6am exercise class which takes place in the hostel's recreation room.
The aim of New Belvedere House is not simply to provide a bed for the night. New residents are given clothes, toiletries and constant help in overcoming any addictions or personal problems they might have. They are then helped to get work or find training, before finally being encouraged to move out when they are ready.
"It's not a hostel where you spend one night and go – everyone has a life plan," said Dave Buckley, the facilities manager at Veterans Aid, who is in charge of the renovation. "I am proud of what we do. I would like to replicate the hostel four or five times – hopefully we won't have the need."
He added that the project would be a "logistical challenge" but that when complete, the new building "will last for up to 50 years so the legacy will continue".
Last year, Veterans Aid provided more than 21,300 nights of accommodation for ex-servicemen and women, answered more than 3,400 calls for help and advice and had 500 people walk through the doors of its drop-in centre in Victoria, central London.
The annual cost of housing someone in New Belvedere House is £5,000, with between £3,000 and £5,000 usually being spent on their training and future accommodation.
In pictures: Homeless Veterans appeal
Show all 31
Colonel Geoffrey Cardozo, the charity's fundraiser, said it had been trying to find the money to finance the renovation for four years. "The campaign made a huge amount of difference. It is an exciting time – we are all delighted," he added.
Members of the public have been so touched by the Homeless Veterans appeal that some sent parcels for residents of the hostel to open at Christmas, he revealed. One person sent 20 mobile phones as well as stationery, toiletries and chocolate cakes. Another made truffles for all 55 men.
A particularly popular gift among the veterans was the collection of new Hugo Boss jackets and T-shirts donated by the organisers of the Wimbledon tennis championships, he said. "The guys were really happy – you can see how quickly the self-esteem comes back when they wear them."
Dr Hugh Milroy, the CEO of Veterans Aid, said: "It is hard to believe that The Independent's Homeless Veterans appeal is coming to an end. The transformation of our large hostel is a major task for us – however, we are only building on its astounding success to help our dedicated staff continue their work.
"For the individuals we deal with, who are often damaged and vulnerable human beings, it will remain a place of hope."
He added that when the renovation is complete, the hostel would be a "world-class facility" designed to let the veterans who live there know that they are "worthy of the best".
"The quality of our hostel is critical to the process – and overall, our success rate tells us that we are getting it right," he said.
More than 95 per cent of our hostel graduates go on to sustain their new lives emotionally, physically, psychologically and financially, living in the community. Investing in the hostel will ensure that we can keep doing this for as long as there is a need."
Join our commenting forum
Join thought-provoking conversations, follow other Independent readers and see their replies