Homeless Veterans appeal: How our campaign is already making a difference
From the former serviceman riding night buses to keep warm, to another who hit financial crisis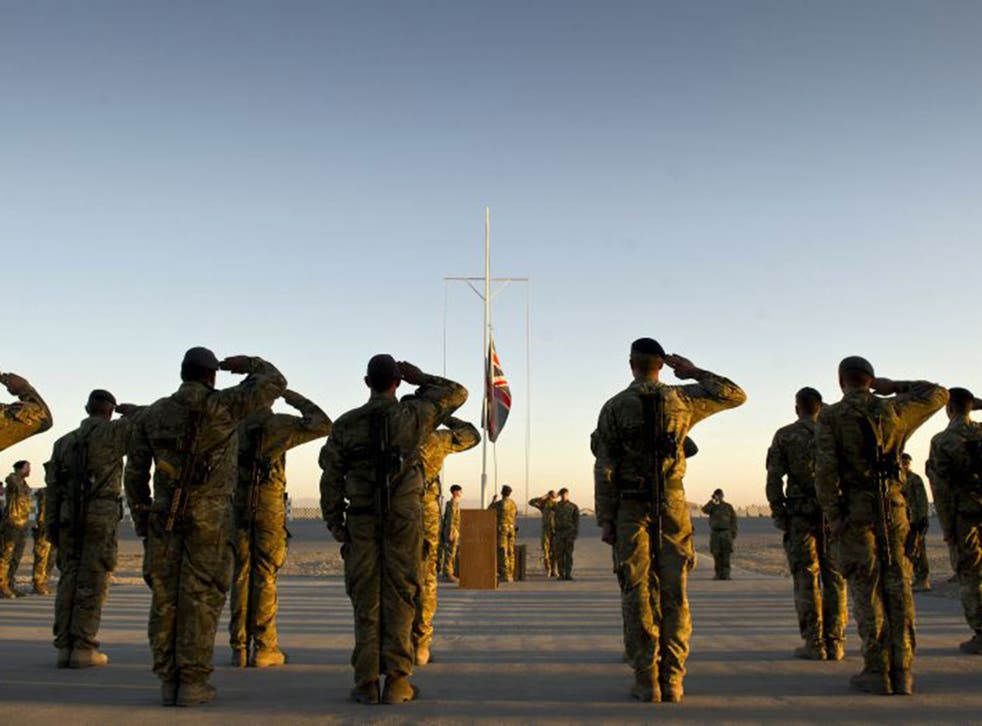 He served for a decade with the Royal Tank Regiment, but less than a month ago Robert was homeless and riding night buses back and forth across London to keep warm. He had been living in Spain, but returned to the UK after the breakdown of his marriage and the loss of his job.
With no money, he rode the buses for his first three nights back in Britain before he heard about Veterans Aid, one of two charities being supported by The Independent's Christmas Appeal. "I thought I'd come to London because I had the most chance of getting gainful employment – but it's not very friendly at night," he said. "My situation was very dire, I was out of money and out of options. I was stood in my shoes, that was it."
Less than a month after arriving at the Veterans Aid drop-in centre in central London, he is now busy decorating his studio flat, after the charity referred him through the Veterans Nomination Scheme, which matches homeless veterans with suitable council properties. Robert, who preferred not to give his surname, said the charity had been "absolute superstars" and that the treatment he had received had been "first class".
He is one of many veterans who have either been saved from homelessness or brought back from its brink since the start of The Independent's Appeal at the end of November. Organised in partnership with i, The Independent on Sunday, the London Evening Standard and TV station London Live, it has reached a wider audience than in previous years – including veterans who are themselves in need of help.
Roy Daley, 69, from Bethnal Green in East London, served for nine years with the Royal Corps of Signals but left in the 1970s and has since worked in the security sector. He recently took a part-time job after being wrongly advised it would not affect his benefits – only to be left devastated when he received a £6,000 bill for overpaid housing benefit, council tax and rent arrears. Suddenly, he was facing financial ruin.
In pictures: Homeless Veterans appeal

Show all 31
"I thought I was a strong character before this happened, but I went to pieces," he said. "My whole world fell apart. I couldn't get through to speak to anybody about it. It just mashed my brain up. I couldn't understand the council tax or anything. It made me ill, I wasn't sleeping."
When he read about the Homeless Veterans appeal, he contacted Veterans Aid and was stunned when they immediately offered to pay off some of his debts. The charity is now advising him about the rest of his financial problems.
"I was reduced to tears when I visited Veterans Aid," he says. "I was blown away, I was pinching myself. They made me feel so welcome and put my mind at ease. When they said they would pay my rent for me I said 'What?' It has all been a bit overwhelming. It was amazing, things happened so quickly."
Most of the veterans who have personally benefited from The Independent's appeal are still on the road to full recovery and therefore preferred not to be identified. One was David, who served with the Royal Pioneer Corps for 14 years and has since retrained as a carer. After his relationship broke down, he became homeless and was sleeping on a succession of friends' sofas.
After reading about Veterans Aid in the Evening Standard, he was fast-tracked for a council flat in East Sheen, south west London, after the charity referred him through the Veterans Nomination Scheme.
Dr Hugh Milroy, the charity's CEO, said: "This is the upside to the whole campaign and I am hugely grateful to all involved. We've already responded to dozens of calls for help from ex-servicemen and women who have never even heard of us. This has clearly helped prevent bad things happening to veterans."
Join our new commenting forum
Join thought-provoking conversations, follow other Independent readers and see their replies