Homeless Veterans appeal: How your mobile phone can help the homeless
One innovative project to get people off the streets is looking to expand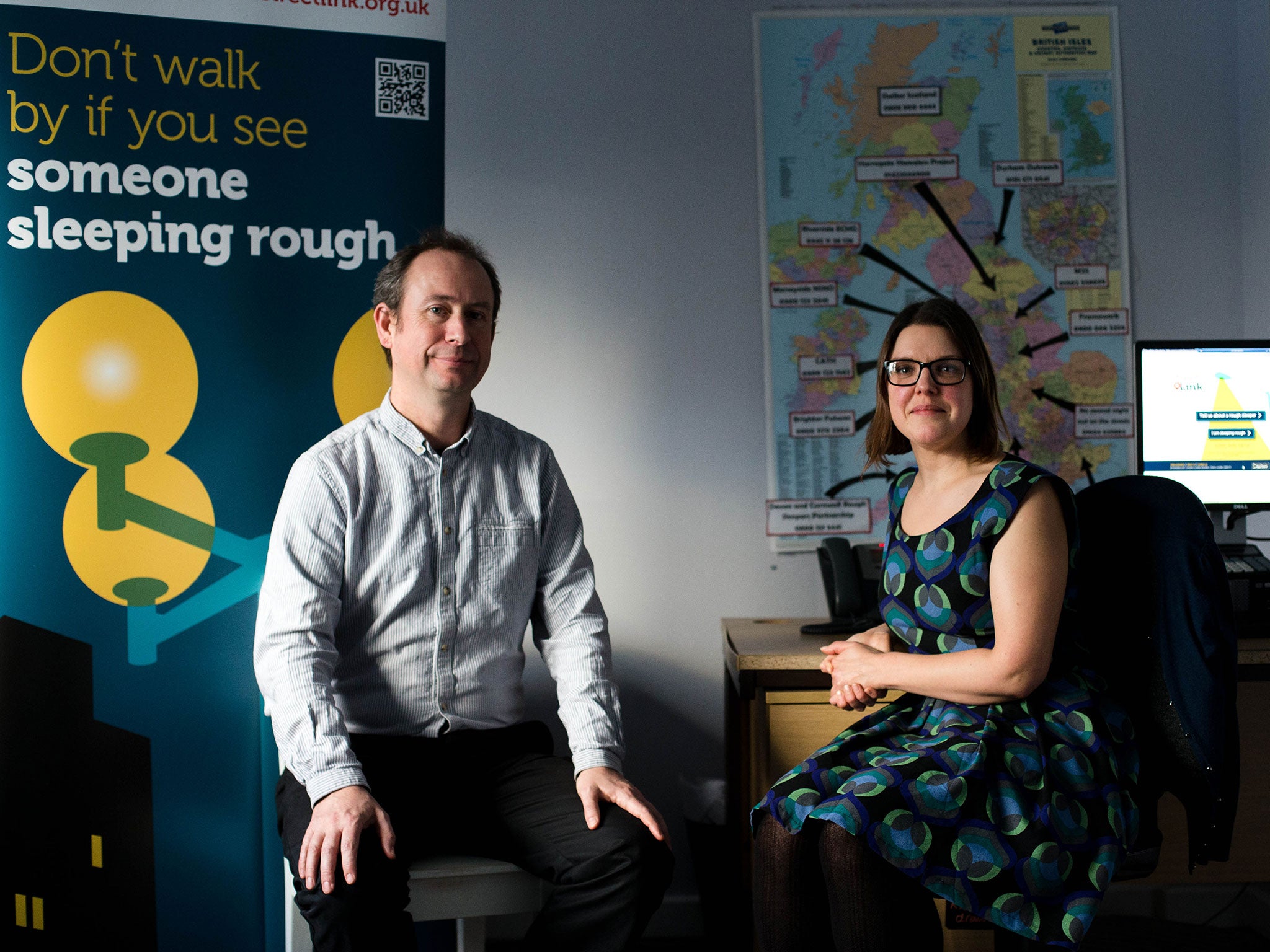 A unique service which encourages members of the public to report rough sleepers using their mobile phones so they can be helped by local councils is poised to expand into Wales and Scotland.
StreetLink, which was only set up two years ago and is run from a modest office in Shepherd's Bush, west London, now passes on about 1,000 reports of homelessness to local council outreach teams across England every month. The number of referrals – which covers those who are sleeping on friends' sofas or are at risk of homelessness, as well as those physically on the streets – is increasing steadily as the service becomes better known, rising by 23 per cent in the last three months of 2014.
StreetLink currently covers all 326 local authority districts in England, but organisers are currently in discussions with the Welsh and Scottish administrations with the hope of creating one service for the whole of Britain.
Both charities benefiting from The Independent's Homeless Veterans appeal praised the service, which was set up in December 2012 after the then Housing minister, Grant Shapps, realised that even he had no idea what to do when he saw a homeless person on the streets of Manchester. Wendy Searle, the head of communications at ABF The Soldiers' Charity, said: "This a really innovative way to help those, whether they are veterans or not, who find themselves sleeping rough. With such a high proportion of the public having smartphones there may be further developments that charities like ours can embrace to help accelerate the time between finding a problem and helping out."
Dr Hugh Milroy, the chief executive of Veterans Aid, added: "The numbers of homeless ex-service personnel are very low – however, one veteran on the streets is one too many. Indeed, in a country like modern Britain it is a dreadful indictment of society that anyone is living on the streets, be they veterans or not. StreetLink is vital, but as a society we should hang our heads in shame that it is needed at all."
In pictures: Homeless Veterans appeal
Show all 31
StreetLink, which is funded by the Government and the Greater London Authority but delivered by the charities Homeless Link and St Mungo's Broadway, has just seven full-time staff manning its phones and website 24 hours a day, 365 days a year.
When a report about a rough sleeper is received, an alert is sent to the relevant council, which can then deploy an outreach team to offer them help – sometimes within 24 hours. The person who made the report is also kept updated about the result of their actions, so they can hold their local authority to account if they are unhappy with its response.
Matt Harrison, the director of StreetLink, said its main aim was to "get people off the streets as quickly as possible". Although he would never discourage someone from buying a rough sleeper food or a hot drink, he said such gestures are "not going to end their homelessness".
He added: "The key thing is to get them in touch with the services that can get them off the streets. The more people we get told about, the more we're going to be able to help."
Members of the public who are concerned about someone on the streets can contact the service by downloading the StreetLink app, calling 0300 500 0914 or visiting streetlink.org.uk.
Join our commenting forum
Join thought-provoking conversations, follow other Independent readers and see their replies