Homeless Veterans appeal: 'If you're hard on the world you are hard on yourself'
Maverick artist Grayson Perry today backs our campaign. Evgeny Lebedev took him to hear the stories of those veterans your generosity is supporting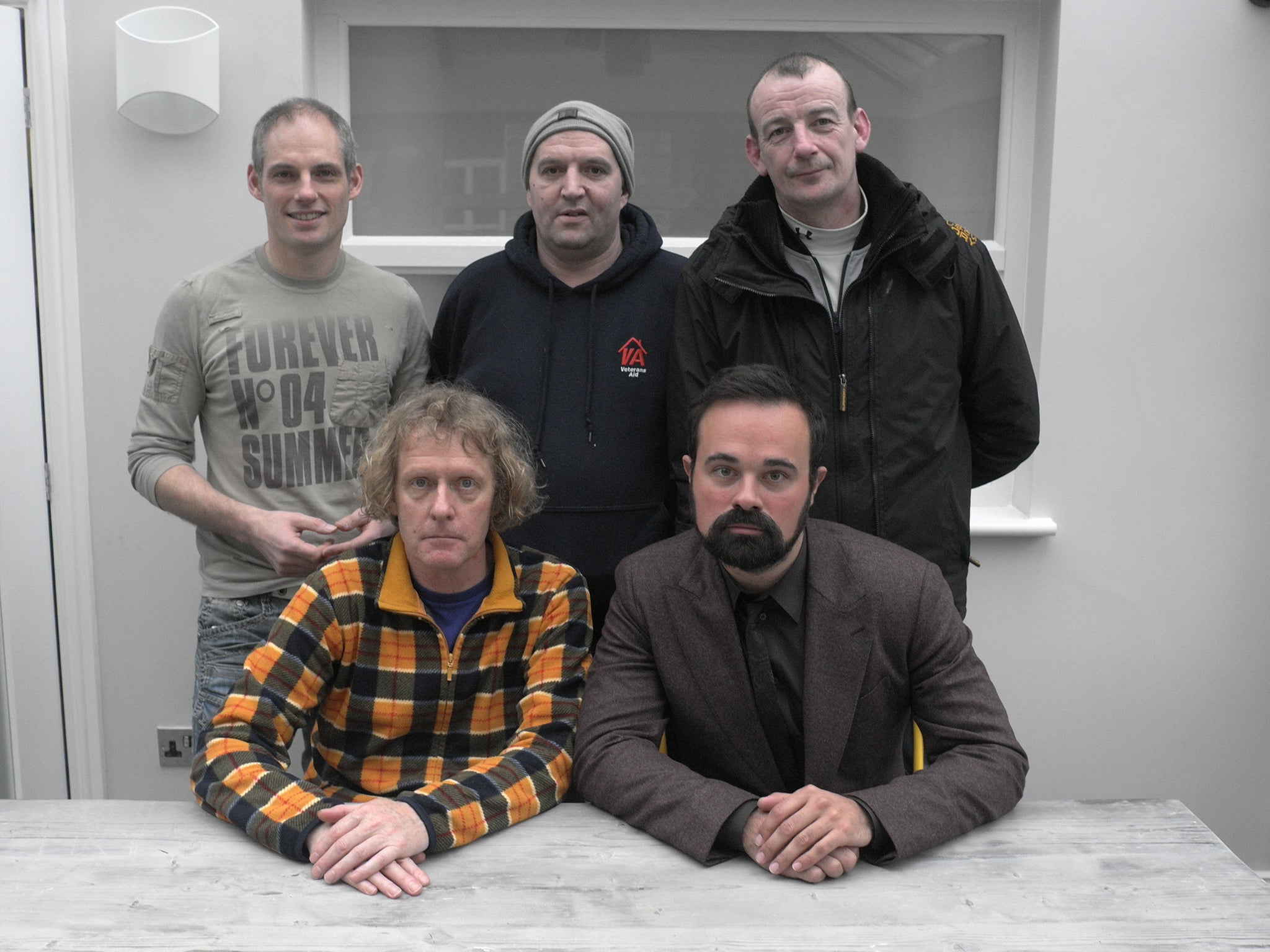 Over the past few weeks this newspaper's campaign for Homeless Veterans has been endorsed by some extraordinary figures, from Prince William and the Archbishop of Canterbury to Angelina Jolie and the leaders of the three main political parties.
But the endorsement that I can announce today excites me just as much – if not more – than those: that of Grayson Perry, that extraordinary artist and cultural innovator who has done so much to change how we think today.
He read our coverage of how people who had served their country had since fallen into destitution, and wanted to know how he could help. Wonderfully, the solution he offered was to create a unique piece of art that would not only reflect the stories of those this campaign is helping but which we could also then auction to raise more funds for those who need it.
Being Grayson, however, it was not enough for him to have read the stories that have appeared in this paper. He wanted to go and talk to the veterans themselves, so this month I found myself one morning meeting him at New Belvedere House, the inspirational hostel in east London run by one of our appeal partners, Veterans Aid.
Naturally, the former Turner Prize-winner turned up on his bicycle, though he was less prominently attired than normal, having left his frocks at home to dress in a lumberjack shirt, tracksuit bottoms and trainers.
Among those we met were Sean Staines. He left the armed forces and set up a landscaping business in Leicester. It was on the verge of failing because a customer owed him £10,000 and wouldn't pay. He settled the matter by adding a few adjustments to his work with a pickaxe, but he ended up spending a night in the cells.
"My missus chucked me out," he told us. "You end up having to lie to everyone. I didn't want to say I was sleeping in the woods, so I told my missus I was staying with my sister, and I told my sister I was with my missus. I was 'going home' and sleeping in the woods." Now Sean has passed courses in railway engineering, and is working and supporting himself at his home in Islington.
In pictures: Homeless Veterans appeal
Show all 31
Hugh Thompson was a boxer for the Army, with 125 fights to his name. "I had a drug problem – heroin. I ended up in prison for two years." Now he has taken courses in operating cranes and he too is self-sufficient.
Hugh said the difference of the care offered by Veterans Aid is immediately obvious. "A lot of charities, government officials and the like… if you tell them there's something you want to do, a course you want to learn, they say, 'Oh, we'll look into it.' Then you don't hear anything for weeks and months. With these guys, it's a yes or a no, straight away, and if they say they'll do something they stick to it."
Alice Servina is the therapist at New Belvedere House. In its 55 rooms live former members of the armed forces for whom life post-service has not worked out as they might have hoped. Be it drink, drugs, family breakdown – she explained that they stay here as long as is needed to point their life back in a positive direction. "You can only help people when they really want help, when they have tired of living where they're living," she said.
"It's like what my wife talks about," Grayson said (he is married to a psychiatrist), "this idea of self-soothing. If you're hard on the world, you are hard on yourself. You have to be nice to both."
The chief executive of Veterans Aid, Dr Hugh Milroy, was delighted by how the visit had gone. "Welcoming Grayson to New Belvedere House was a real pleasure," he said. "The staff and residents warmed to him immediately. Sometimes visits can be a little formal but Grayson's empathy, humanity, humility and genuine interest shone through.
"We were stunned to learn that he was prepared to create an artwork for us and immensely grateful. Many of the veterans we help have an interest in painting, ceramics, photography or some kind of creative activity, so there was great curiosity and enthusiasm when his visit was announced."
Since this appeal began, we have quickly learnt that fundraising is just one part of the problem. As Grayson and I left New Beldevere House, on a wet and dismal January day, CEO Hugh Milroy took me to one side. "Evgeny, for me this hasn't been about the money," he said. "But because of this campaign we're already transforming lives. People have arrived here who never would have heard of us otherwise, and everyone involved should be really proud of that. We've been able to make a huge difference."
It was a meaningful thing to hear. Armed Forces veterans aren't always aware of the help there is out there, but our campaign, and its prominence on these pages, has helped on that front. I am confident that Grayson's involvement, and the work he produces, will help achieve that too.
The work will be ready later this year, after the official campaign is over. However, this paper will keep you updated on how it progresses and, when auctioned, the funds will be split between our charity partners to provide them with an additional boost to their work.
Evgeny Lebedev is the owner of 'The Independent' and 'Evening Standard'. Follow him on Twitter: @mrevgenylebedev
Join our commenting forum
Join thought-provoking conversations, follow other Independent readers and see their replies