Homeless Veterans appeal: 'It's life, and not the Forces, that gets you'
The head of Veterans Aid tells Chris Green how his charity is changing perceptions of ex-servicemen and women in need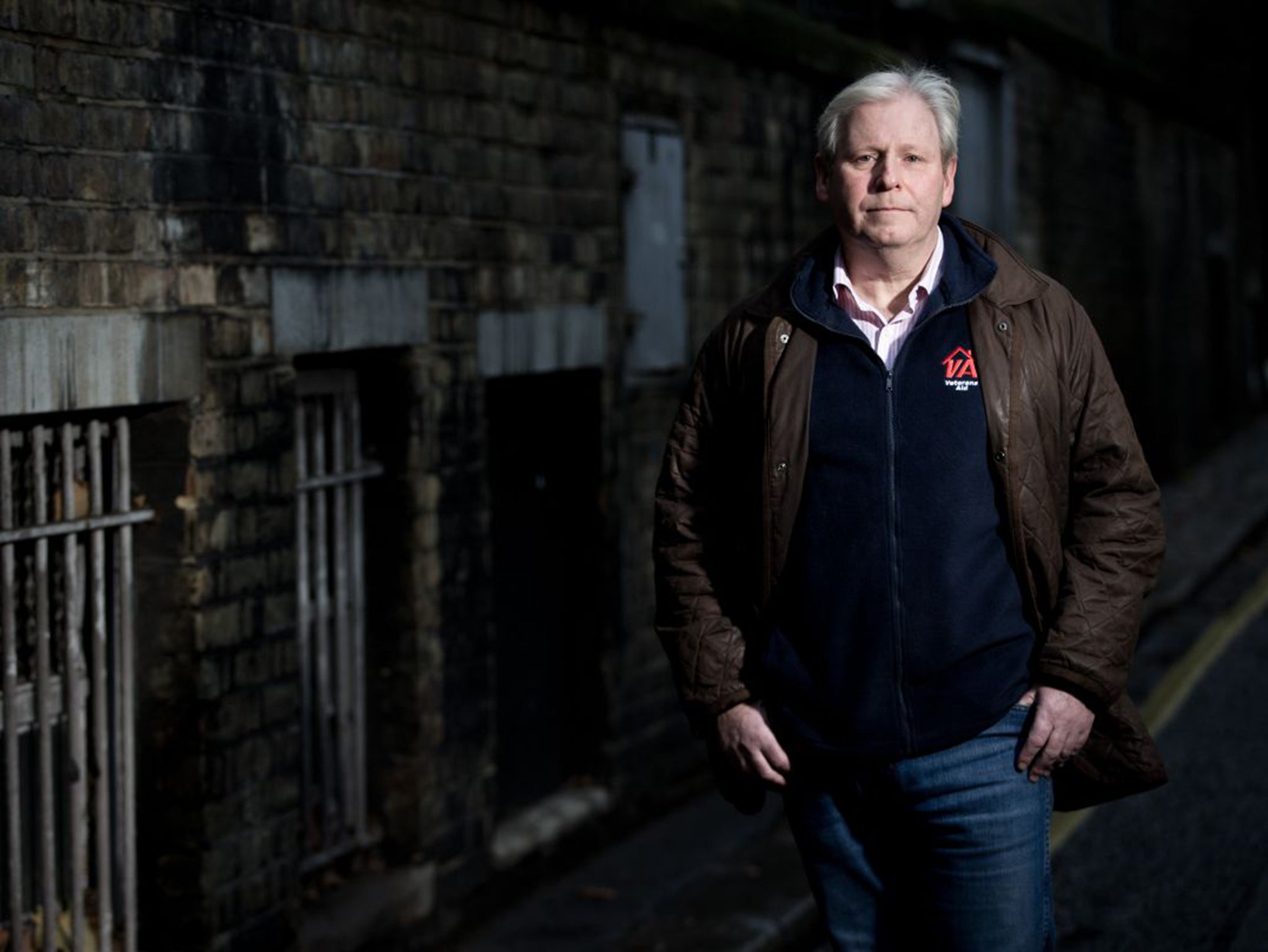 When Hugh Milroy was a student, a chance encounter at Salisbury railway station had a profound effect on his life. On the platform, he passed a homeless man with a straggly beard wearing a combat jacket, who suddenly began shouting his name. "I was at school with you," the man said.
Milroy realised he was talking to one of his old schoolmates, who had joined the Army but had since left and become homeless. "Being a student I didn't have much money, but I emptied my pockets and took him for breakfast," he recalls.
"For years I was haunted by that memory. I thought, how could that happen? What went wrong?"
They are questions the 58-year-old believes he is addressing through his work as the CEO of Veterans Aid. The charity, which he has headed since 2005, operates on the front line of the fight against homelessness among Britain's ex-servicemen and women and is one of two being supported by The Independent on Sunday's Christmas Appeal.
In pictures: Homeless Veterans appeal
Show all 31
After studying theology at university, Milroy served 17 years in the Royal Air Force, including the Gulf War, rising to the rank of wing commander. While still serving he began working towards a master's degree at the University of East Anglia's School of Social Work, researching the effect of military service on personnel and their families, before completing a doctorate on homeless veterans, going out onto the streets and meeting them for himself.
Having spoken to hundreds of struggling former servicemen and women, he is convinced the one thing veterans need is "to be the same as everyone else" – and labelling them "heroes" or "victims" to be lionised or pitied is not helpful to anyone.
"Everyone looks at military people in isolation, without societal context," he says, "but the fact is that there are 13 million people in poverty in this country and only some of them are veterans. There is nothing intrinsically in military service that would make you homeless. What we see is that it's life that gets you."
Poverty, he says, pointing to the portrait of William Wilberforce behind his desk, is "modern-day slavery" – and it is this that brings the vast majority of veterans to the charity's door, not issues such as post-traumatic stress disorder (PTSD). "We see it every day: payday loans eating into our people like a flesh-eating bug, cheap alcohol destroying people. What my very strong, hand-picked team do is attack these things – we're breaking those chains day after day."
Milroy rises at 4.30am every day, when his first action is to check his emails in case a veteran in need of help had been in touch. Veterans Aid prides itself on its speed of response: some homeless veterans who have dialled its number have been bewildered – and overjoyed – to find themselves having a hot meal in the café below the charity's offices in Victoria, west London, within an hour.
Milroy is constantly on his phone, firing off emails approving the payment of a veteran's rent arrears or giving him a night in a hotel. His hands-on approach means he knows many of the charity's clients; past and present residents of the charity's Stepney hostel, New Belvedere House, affectionately call him "Sir" or "the Wing Commander".
The charity's focus on prevention – stopping homelessness in the days or even hours before it happens – has been credited with seriously reducing the number of ex-service people living on London's streets. Last year, about 3 per cent of the city's rough sleepers were believed to have a service background. It is still too many, but Milroy is concerned the improving situation is mostly ignored, whereas spurious scaremongering statistics about tidal waves of homelessness are often jumped upon.
"One media outlet printed a story saying there were 5,000 [veterans] sleeping rough," he says. "Another TV documentary claimed there were 1,000 veterans rough sleeping within a mile of the Cenotaph. The TV company went out three times to find someone and couldn't do it – because we've had an impact."
Such distortions are harmful, he says, because it suggests to the public that many veterans are "damaged goods" rather than functional members of society – which has the effect of making their lives more difficult. "If that's the case, are you going to employ one of these guys? Are you going to rent your house out to one? Or, more importantly, are you going to let little Johnny join up?" he says.
A recent report by the Royal British Legion picked apart some of the myths about veterans. They included the notion that they are more likely than civilians to commit suicide (they are not); that most suffer from mental health problems (no more so than the general population); and that a disproportionately high number end up in prison (again, untrue).
The problem with such misconceptions, Milroy says, is it leads some vulnerable veterans to believe they must have something wrong with them, which delays their progression back to independent living. "What people are looking for is a permission slip for their behaviour," he says. "Why not blame the forces rather than take personal responsibility?
"I worry this makes it seem that veterans are a subspecies of society. They're not. Most veterans walk past you in the street and you wouldn't know they were there."
Milroy is also critical of the high number of armed forces charities (about 2,200). He argues that the baffling array of organisations offering help for veterans is a "diversion" when what is really needed is a small number of streamlined services which are superb at what they do.
"I worry about exploitation, and I worry that people are getting passed from pillar to post when they actually need to get to us for help," he says. "And I'm uncomfortable about relentless media requests inviting me to 'big up' problems rather than signpost solutions." In a few years, when the conflicts of Afghanistan and Iraq have faded slightly, he predicts a lot of recently created services charities will "crumble" because they are not based on need.
His approach has been undeniably provocative – and Milroy has been openly criticised for challenging perceived wisdom and methodologies. "It's been a difficult path to tread," he says, "but it was for the greater good and the system needs to modernise. We're here for the long haul."
Three or four times a year, he says, he hears a story of social isolation so shocking he finds it difficult not to despair. "An ex-Gurkha came in, wrapped in a flea-ridden coat with two pocketfuls of dog-ends. Horrible things had happened to that man on the streets. I came up here and I'm not ashamed to say I cried. How can people fall through the cracks like that in 21st-century Britain?"
He admits that such experiences have made him a "zealot" for the work his charity does – and that there is no reason it could not replicated for non-veterans. "What we've created here is a working model that is applicable across society, to other socially excluded groups," he says. "You could take the military part out of a lot of what we do and it would still work."
By far the best part of his job is when he finds himself in a room full of the charity's former clients and suddenly sees that they have become impossible to distinguish from any other member of society. "You wouldn't know they had been homeless. You couldn't even guess."
Join our commenting forum
Join thought-provoking conversations, follow other Independent readers and see their replies