Homeless Veterans Appeal: One year on our work gets an extra boost
Last Christmas, The Independent and Evening Standard ran their most successful campaign, raising £1.3m for ex-servicemen and women. Today we look at how our partner charities have used your donations – and announce a new £1.7m grant from London's City Hall to complete the building of a new veterans' shelter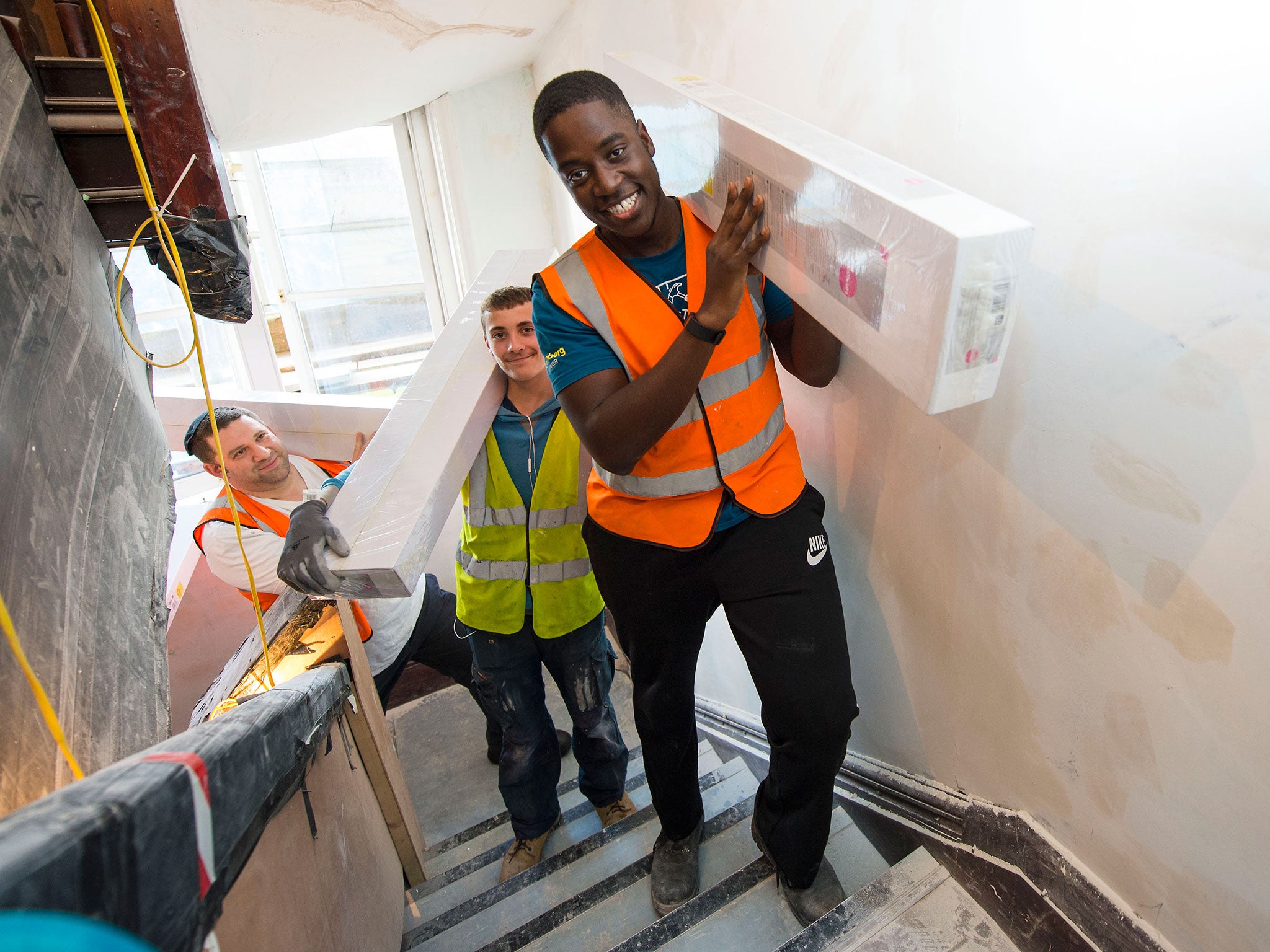 On a side street in Stepney, east London, a transformation is taking place. Workmen carrying building materials are filing into the Victorian building adjoining New Belvedere House, the hostel whose refurbishment was at the centre of last year's Independent charity appeal for Homeless Veterans. Thanks to the generosity of readers, the process of renewal has begun.
The hostel is owned and run by Veterans Aid, the frontline charity which helps Britain's struggling ex-servicemen and women get back on their feet, often stepping in early and preventing them from spending even a single night on the streets. When completed, the complex will house up to 63 homeless veterans in accommodation equipped to prepare them for sustainable, independent living.
The first part of the renovation involves the Old Rectory building, which is being turned into four self-contained flats with enough room for 13 veterans. Separate from the main hostel, it will act as a "move on" property for those who are preparing to leave the care of Veterans Aid (which was one of our two partner charities last Christmas, alongside ABF The Soldiers' Charity).
When the project is complete, each bedroom will be furnished and decorated to a high standard as the ageing building is brought into the 21st century. Volunteers from the financial firm Bloomberg and development charity Habitat for Humanity have been drafted in to help with the work – saving an estimated £220,000 on labour costs.
"You can feel the energy now – some of the guys are starting to ask 'Can I be the first one in?'," said Dennis Murphy, the deputy manager of New Belvedere House. "We're always making do, which is the Army way of doing things of course, but the new facilities will allow us to do things so much better."
Work is soon set to begin on the rest of the hostel complex, with a completion date of early 2017. The renovated building will feature a purpose-built reception area, a dedicated training kitchen for veterans to learn cooking skills, new counselling rooms, a gym and improved IT suite. The aim is to create the UK's first "world-class" facility for veterans. "Without a doubt, The Independent's campaign gave Veterans Aid a major boost – financially and operationally," said Dr Hugh Milroy, the charity's CEO. "The publicity enabled us to reach out to clients who hadn't known we existed, or what we did. Prevention is always our preference, and by intervening instantly we are able to halt the downward spirals that lead to social isolation, homelessness and a significant burden on the taxpayer.
"The campaign's timing was perfect as we had just launched our £6.5m hostel refurbishment programme. The excitement generated as the new facility takes shape is wonderful – when our new bedrooms, gym, training kitchen and therapy areas are completed we will have premises that match the quality of support that has always been available to residents."
Announcing a £1.7m donation from the Mayor of London and City Hall, Boris Johnson said: "The outstanding support offered at Belvedere is already making a tremendous difference and this new funding will enable it to help hundreds more.
"The hostel is set to be transformed into a world-class facility that helps our ex-service people out of hard times with the training, counselling and help they need to get firmly back on the right path to independent living."
Death march survivor: Life savings used up
Robbie Clark, 97, believed to be Britain's oldest living former prisoner of war, was one of the few soldiers who survived Hitler's 1,000-mile "Death March" retreat across Europe in 1945. The veteran, who was widowed in 2010, was serving as a gunner in the Durham Light Infantry when he was captured by German forces during the battle for Tobruk in June 1942.
After he used his £50,000 life savings to help pay for a £960-a-week carer to live at his home in north London, he was faced with the prospect of being forced into care.
Nearly 190,000 people signed a petition calling on Brent council to pay for Mr Clark's care, which it eventually agreed to do. But with negotiations ongoing and with money increasingly tight, The Soldiers' Charity stepped in with a £2,340 grant.
"I couldn't believe it, I just couldn't believe it," Mr Clark said. "It's not just the charity, it's the amount. It's made a complete difference. It's made me happy, there's nothing I want for. I would like to thank all who have helped me, most sincerely from the bottom of my heart."
Served in Kosovo: Financial and moral support
Siobhan Weller, 34, spent eight years with the Royal Logistics Corps, including a tour of Kosovo. She left in 2006 and was struck down with severe anaemia which required weekly blood transfusions. When she recovered, she was offered the job of parliamentary assistant to a Conservative MP, but could not afford to relocate to London. Helped by funds from the Homeless Veterans appeal, The Soldiers' Charity stepped in, paying for a deposit and her first month's rent on a shared flat.
But Ms Weller's run of bad luck was not over: her illness returned and she was forced to leave her Westminster job prematurely. The charity continued to offer her moral support and she has since moved to Lincolnshire, where she was elected as a local councillor at elections in May.
"The charity helped me financially initially, but then it turned into emotional support," she said. "You stop believing in yourself, but The Soldiers' Charity kept coming back into my life. They're just wonderful people to be around."
Troubled veteran: Help after a stroke
Ken Anderson, 63, served with the Royal Army Pay Corps and the Queen's Own Highlanders in the 1970s, doing several tours of Northern Ireland. After leaving the Army he worked on the railways and for a whisky distillery before finding a job with a security firm. Just over a year ago he had a stroke which left him unable to work.
Struggling to get by on statutory sick pay, he couldn't afford a £1,000 adaptation to his bathroom which would allow him to shower unaided. But in February, The Soldiers' Charity gave him the necessary grant using money from the appeal.
"It's lovely to know that people are there who will offer this to you," he said. "I really can't thank them enough. I don't know where I'd be – other than my wife throwing buckets of water on me out the back."
Join our commenting forum
Join thought-provoking conversations, follow other Independent readers and see their replies