Homeless Veterans Appeal: Stephen Fry backs The Independent's campaign
Fry joins Prince William and Angelina Jolie in supporting the campaign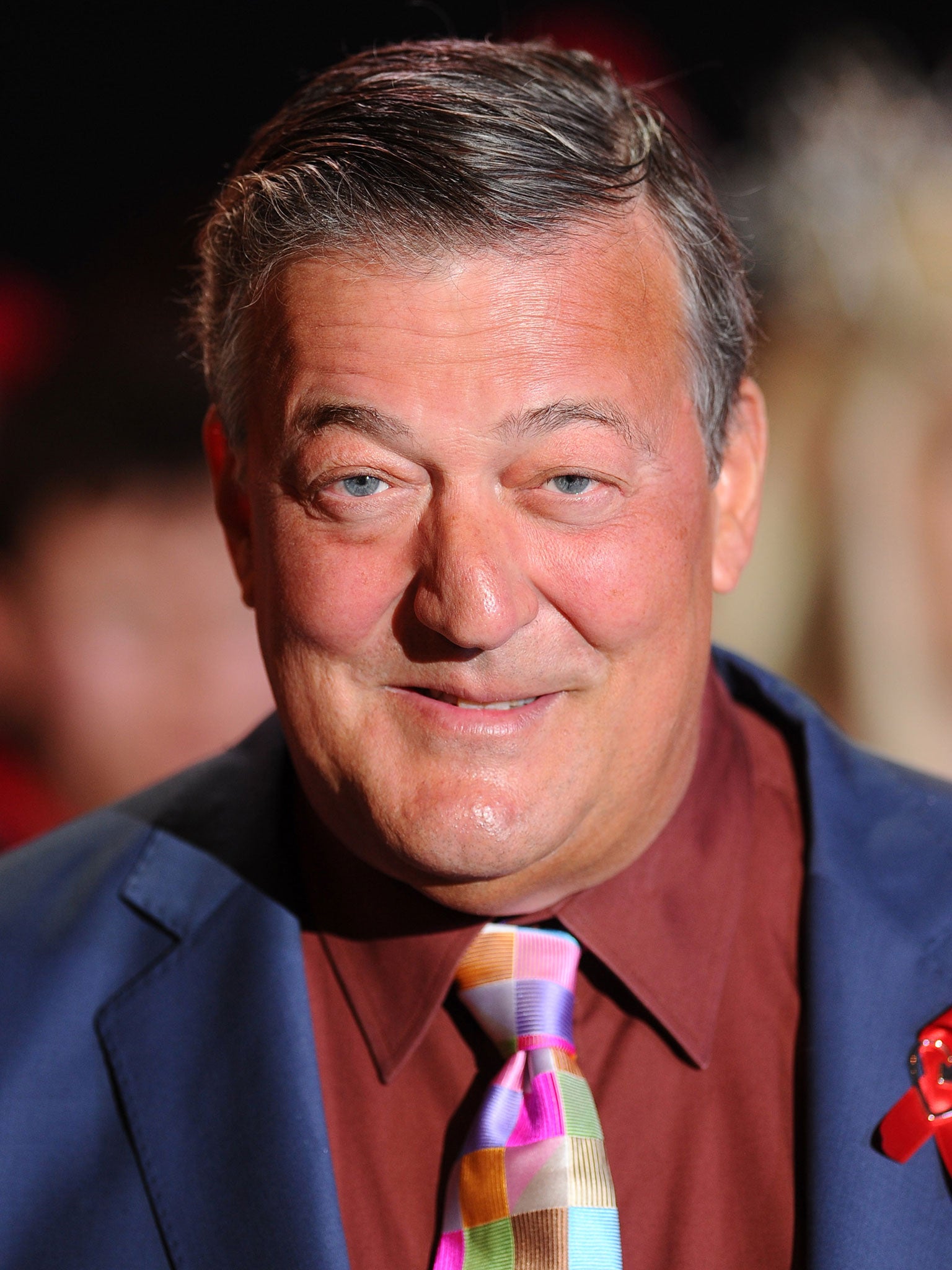 Stephen Fry has joined Prince William, Angelina Jolie and the leaders of the three main political parties in backing The Independent's Homeless Veterans campaign, urging the public "to ensure that no veteran faces a future without a home".
The actor, author and television presenter – whose depiction of the unhinged General Melchett in the First World War sitcom Blackadder Goes Forth remains one of his most memorable roles – said it was "shocking" to think that some of Britain's ex-servicemen and women could be left homeless after re-entering civilian life.
Proceeds from The Independent's Homeless Veterans appeal will be split evenly between ABF The Soldiers' Charity, an umbrella organisation which gives grants to thousands of individuals and smaller projects, and Veterans Aid, which directly combats homelessness among former servicemen and women through its London drop-in centre and hostel.
"There are some well-loved symbols of the British way of life: Routemaster buses, village cricket, rain-drenched flower shows and the dazzling displays of precision drill performed at the Trooping of the Colour and the Royal Tournament," Fry said. "Our armed forces, however, are so much more than just an ornamental national institution. They brave danger, they are prepared to sacrifice all, they leave everything behind and they do it with heroic good cheer and without a whisper of complaint. It's shocking, then, to think that after dangerous deployment in the service of their country some veterans face housing hardship. Others battle mental ill-health, alcohol dependency, family breakdown or injury too. They are desperately in need of financial assistance and public recognition."
Fry, who attended the opening of The Soldiers' Charity garden at the Chelsea Flower Show last year, reading a selection of First World War poetry, also spoke of his own family's military past.
In pictures: Homeless Veterans appeal
Show all 31
"My grandfather served in the Austro-Hungarian Army in the First World War. Despite being just 18 years old when he volunteered, he won a medal on the Eastern Front, where millions of men lost their lives in the battle for Romania. He trudged home on his own, receiving nothing in the way of support or help. Luckily, today we have much more in place to look after our soldiers," he said.
"I am in good company. Members of the Royal Family and many others from all walks of life have all backed this campaign. It is surely up to those of us who have a voice to support those who have none. Give veterans the help they deserve."
The heads of both charities being supported by The Independent's appeal welcomed the actor's words. Major General (Ret'd) Martin Rutledge, chief executive of ABF The Soldiers' Charity, said: "We are extremely proud of the support Stephen has given [us] throughout the year. He gave a very moving poetry reading at the Chelsea Flower Show and has now shown to the country the depth of his support for the men and women of our armed forces.
"As with Stephen, many of us in the UK have a direct relationship with someone who has served, be it recently or 100 years ago, so the campaign is very personal to many of us. This appeal is highlighting the plight that many veterans go through when leaving the services – but it is also giving the country a chance to let all those that have served know that they will not be forgotten, at all levels."
Dr Hugh Milroy, the CEO of Veterans Aid, said the actor's words were particularly poignant given his own history of mental health problems. Fry has been diagnosed with bipolar disorder and has spoken in the past about attempting suicide.
"I'm delighted that Stephen Fry is backing the campaign – not because he's a 'celebrity' but because he is an individual whose honesty about his own mental health problems has given other sufferers the courage to come forward and seek help," said Dr Milroy.
"There are so many elephants in the room where veterans are concerned that it is particularly valuable to have the support of someone who understands that men and women whose battles are against depression, addiction and relationship issues also deserve our help. Here at Veterans Aid we know from hard experience that all these things mitigate against being able to secure and sustain accommodation."
Join our commenting forum
Join thought-provoking conversations, follow other Independent readers and see their replies