Homeless Veterans appeal: The 90-year-old veteran kept in her home by ABF The Soldier's Charity
Greta Casperson reminds us that it's not just younger veterans who are in need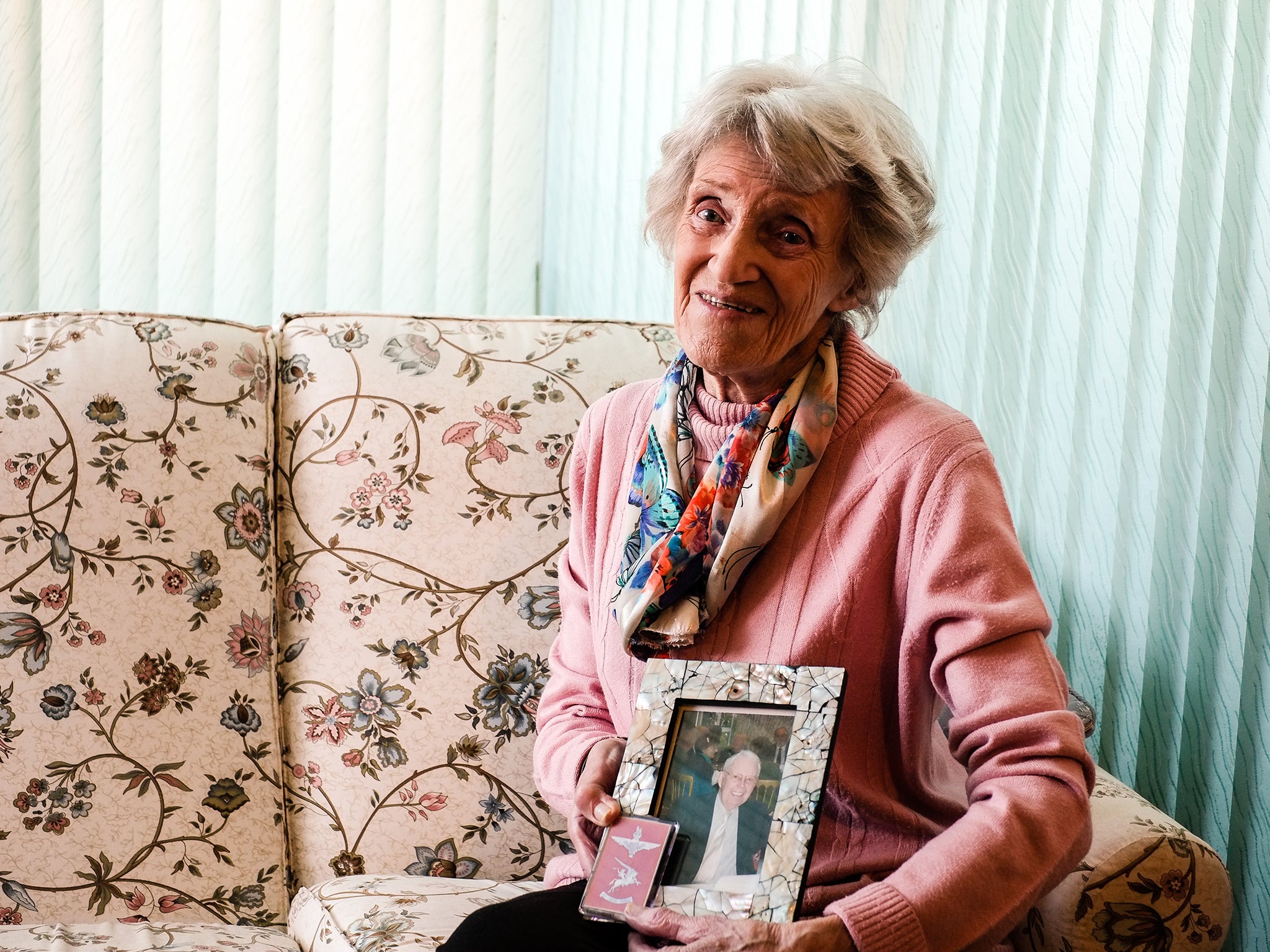 In October, Greta Casperson had a difficult choice to make. The 90-year-old, who served at Bletchley Park during the Second World War, needed to find more than £2,500 to replace her ancient boiler. She could either pay the bill, exhausting almost all of her life savings in the process, or endure a freezing winter at her home in Hampshire.
Luckily, it was a decision that she did not have to make. Before the weather became too cold, a new boiler had been paid for and installed with the help of a £750 grant from ABF The Soldiers' Charity, one of two being supported by The Independent's appeal in aid of veterans who have fallen on hard times.
"I couldn't have gone on living here because it's quite a big area to keep warm – but I didn't want to move," says Mrs Casperson, sitting in the kitchen of the house in New Milton where she has lived for the past 32 years. "I'm very grateful. The new boiler's all modern and automatic – the other one was very old."
In pictures: Homeless Veterans appeal
Show all 31
Her story is a reminder that it is not just younger veterans who were involved with the conflicts in Northern Ireland, Iraq and Afghanistan that can be in need of help. Last year alone, The Soldiers' Charity helped more than 300 people who served their country in the Second World War.
Mrs Casperson, who is originally from Bridlington in Yorkshire, was only 15 when the war broke out, which she described as a "terrible shock". Called up when she turned 18, she attended a mysterious job interview in Leeds in which she was told she would be carrying out "clerical work" for the Government at Bletchley Park.
"My mum and dad asked me where I was going and I said I didn't know," she recalls. "It sounded quite interesting, doing my little bit towards the war effort. I can remember arriving there. They hadn't any digs available, I suppose because of the number of people working there at the end of the war."
Such was the shortage of space, she spent her first three weeks at Bletchley living in a Nissen hut in the grounds before moving to more suitable accommodation six miles away. She was immediately put to work in one of the famous code-breaking huts – but had no idea that the work she was doing would ultimately help Britain win the war.
"You'd get the messages through and we had a code that was changed every so often," she recalls. "If it was an urgent message, it would have a special code at the top and it had to be taken through to an RAF officer in one of the other rooms. It didn't really feel exciting, I just felt that I was getting on with it."
After the war she met her husband, Denis, started a family and barely gave Bletchley a thought for 30 years. She says she was "shocked" to discover – along with the rest of Britain – just how crucial the work carried out there had been. "I had no idea whatsoever that it was so important," she says. "I felt very proud."
Although she has yet to see The Imitation Game, the recent film about Bletchley Park starring Benedict Cumberbatch, Mrs Casperson went back to visit several times with Denis before he died in 2008. He too was a veteran, serving with the Parachute Regiment during the war. "I remember he said to me: 'I'm proud of you'," she recalls.
Brigadier (Ret'd) Robin Bacon, chief of staff at The Soldiers' Charity, said: "When we first met Greta we were humbled by her modesty and amazing story and really pleased to be able to help her in her own time of need, keeping her warm for the winter.
"Since 1944, the Soldiers' Charity has been supporting brave yet unassuming heroes like Greta, who served our nation brilliantly and selflessly in its darkest hours, carrying the incredible secrets of the vital work of Bletchley Park for many decades."
Join our commenting forum
Join thought-provoking conversations, follow other Independent readers and see their replies