Homeless Veterans appeal: The daring tale of Britain's last 'human torpedo'
War hero who now enjoys a home provided by Haig Housing recounts his mission to sink ship to Chris Green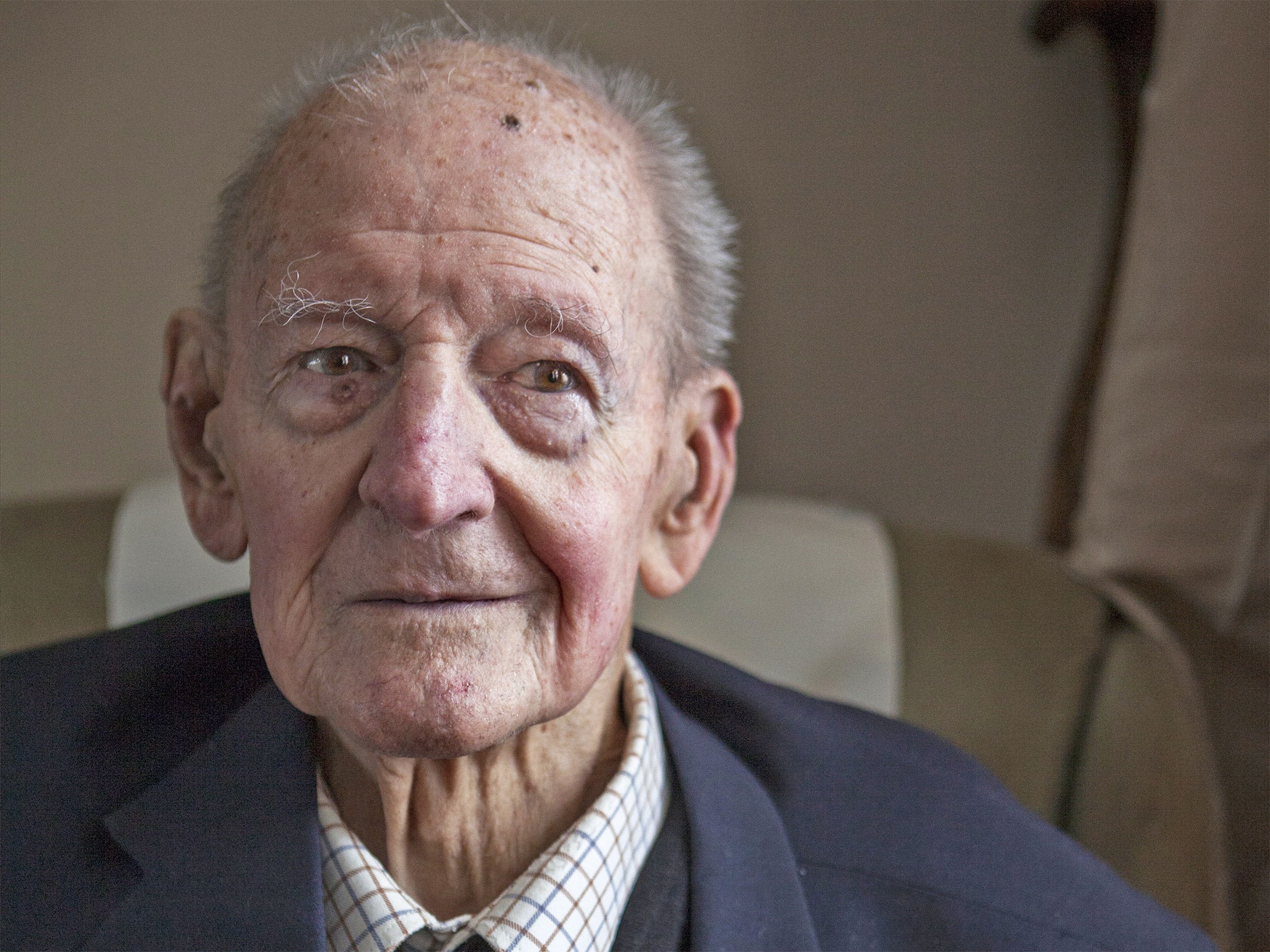 On 27 October 1944, in the waters off the coast of present-day Thailand, Tony Eldridge donned his diving suit and left the safety of the British submarine HMS Trenchant alongside his number two Sydney "Butch" Woollcott. Their mission: to sink a Japanese ship by expertly piloting a bomb under its hull.
The operation was fraught with danger, not least because of the machine they were using to carry it out. Known as a "chariot", it was essentially a driveable torpedo – any slight navigational error by the two men could cause the warhead they were riding to detonate.
The men did not know it at the time, but they had just embarked upon the final chariot mission of the Second World War. Only 46 "charioteers", as they were known, were ever sent on operations, many of them were killed in action. Mr Eldridge, now 91, is the last of these men still alive.
Originally from Tunbridge Wells, for the past 10 years he has lived in a quiet cul-de-sac near Watford with his wife, Dorothy. Their home is provided by Haig Housing, which has almost 1,400 residences across the UK and specialises in meeting the housing needs of ex-servicemen and women and their families.
To support its work, over the past year Haig Housing was given grants totalling more than £132,000 by ABF The Soldiers' Charity, one of two charities benefiting from The Independent's appeal this Christmas. Without such generosity, Mr and Mrs Eldridge might have struggled to find suitable accommodation.
Mr Eldridge joined the Royal Navy with the aim of becoming an officer, an ambition he soon accomplished. Eager to see some action, he put his name forward for special training – without knowing that this would lead to being recruited to the elite team of "human torpedoes", as the press billed them.
"On the night we passed out, someone came along and said they were looking for people to do something different, which they called 'special service'. A few hours later it became 'special and hazardous' service," he jokes.
Mr Eldridge spent months training as a diver, at first in water tanks and quiet harbours but then in the wilder parts of Scotland. In 1944 he met King George VI aboard the HMS Bonaventure off Orkney. A black-and-white photograph of the moment still hangs in the hallway of his house.
"It was bloody cold – diving in the UK is not fun," he recalls. "To overcome this they gave us a tube filled with chemicals, just to warm your hands up. But otherwise, your hands were bare. Eventually we got fed up and said: 'What about some operations?' They told us that HMS Wolfe was going out to the Far East."
From there, Mr Eldridge was transferred to HMS Trenchant, where he was finally told the aim of his top-secret mission: sinking a Japanese ship called the Sumatra. Previous attempts to target the vessel had failed.
"Subs had tried to sink this thing before, but the torpedoes ran into sand and never reached the target," he recalls. "But we were able to go in shallow water, so they asked us to do it."
Before they left the safety of the submarine, both men were given an "escape and evasion" kit, which included a loaded .38 revolver, various currencies, a roll of gold sovereigns, a commando dagger, maps of the local area, a telescope and a needle and thread. The final item was the most sinister: a cyanide suicide capsule.
"There were some pretty horrible stories coming back from RAF people who'd been knocked off in Burma," Mr Eldridge says. "Some of them were murdered, so we had one of these tablets to use if we felt it would be a good idea. Mentally, we decided at the start we weren't going to be captured – and we weren't."
Once the men left the submarine, they were on their own. "Things don't become visible until you get quite close – you can't see very far. All you have is a compass, and no comms [communications] back with the sub. You had to wait until you saw the masts of the target and then you'd dive underneath it and stop."
After negotiating six-and- a-half miles of ocean and attaching the warhead to the bottom of the ship, the men activated the six-hour fuse and returned to the Trenchant. As soon as they arrived back, their chariot was sunk in case it was discovered later by a Japanese boat – a piece of history which has lain undiscovered at the bottom of the ocean ever since.
Then followed the anxious wait for the explosion. "I saw bits of this ship up in the air," Mr Eldridge recalls. "In minutes, it had keeled over and sank in two bits. We were just delighted that we'd been successful – that's what we went for, that was the whole idea."
When the crew of the Trenchant returned to port in Trincomalee in Sri Lanka, they were given a hero's reception by the ships there. "They cleared the lower decks and we were cheered in. That was a good feeling. It was fantastic," says Mr Eldridge, who earned the Distinguished Service Cross for his efforts.
Join our commenting forum
Join thought-provoking conversations, follow other Independent readers and see their replies