Homeless Veterans appeal: The elderly couple who found love at a centre for blind veterans
Meeting someone was 'the last thing' on Nancy Roberts' mind until she met Dennis Hatch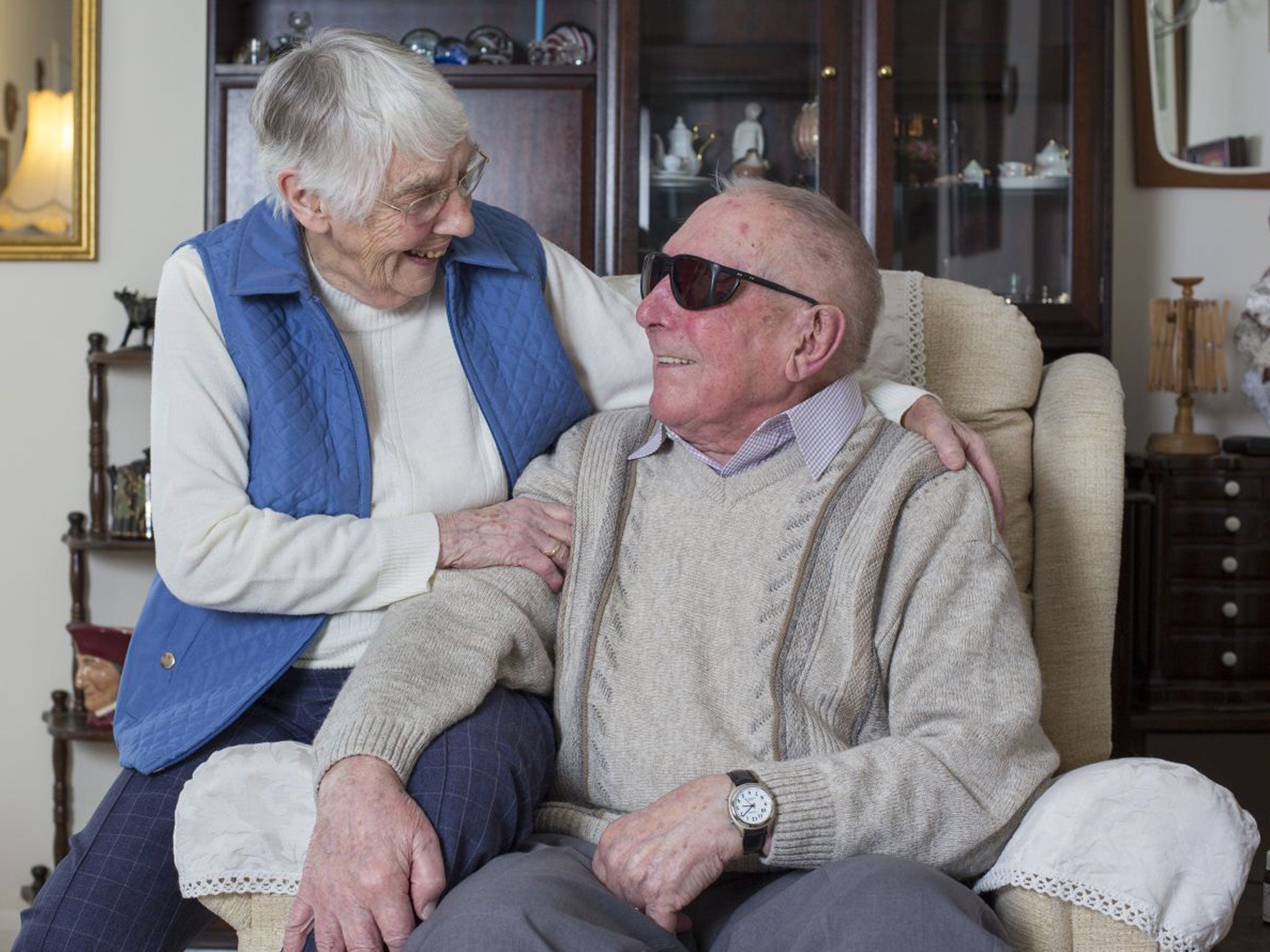 A rehabilitation centre for blind veterans and their families is an unlikely place for love to blossom. But for elderly couple Dennis Hatch and Nancy Roberts, that is exactly what happened.
The pair, who are both in their 80s and now live together in Worcestershire, met at one of Blind Veterans UK's centres in Brighton. Dennis volunteered for the Royal Navy in 1943, while Nancy's late husband Ted served in the Second World War with The Royal Signals.
Blind Veterans UK has benefited from funding from ABF The Soldiers' Charity, one of two being supported by The Independent's appeal. In 2011 it was awarded £160,000 by the grant-giving body.
Dennis, 89, who suffers from macular degeneration, has been supported by Blind Veterans UK for five years. Nancy, 84, first came into contact with the charity after Ted went blind overnight. Since he died, she has continued to receive assistance from staff.
"It all started over breakfast," said Dennis, who spent three years with the Navy in the Mediterranean, Malta and South of France before being demobbed in 1946. "When I sat down I saw this lady with a lovely smile on her face sat opposite me.
"I was trying to pour myself a coffee but as I have a shake, she helped me to pour it. She then ended up buttering my toast for me as well. Meeting someone was the last thing on my mind, but we immediately clicked and get on so well."
In pictures: Homeless Veterans appeal
Show all 31
Nancy added: "After Ted died, I had to rebuild my life again. I still enjoyed getting to Blind Veteran UK's rehabilitation centre in Brighton – it was good to socialise with other people. Meeting someone was the last thing on my mind. I didn't want anyone else, I had cared for Ted for so long, but when I met Dennis we just hit it off straight away. It's like we are living our lives all over again."
Blind Veterans UK has been providing vital free rehabilitation, equipment and emotional support to vision-impaired veterans for more than 100 years. As part of its No One Alone campaign, it is urging anyone who thinks they qualify for help – or knows somebody who might – to call them on 0800 389 7979.
Brigadier (Ret'd) Robin Bacon, chief of staff at The Soldiers' Charity, said: "When we assist other military charities we know that they are doing great work but we often do not get to hear such personal and touching stories as this.
"It is really heart-warming to hear of Dennis and Nancy finding love. Our veterans can lead such fulfilling lives given the right support, and that's why we and other charities like Blind Veterans UK will always be there to help."
Join our commenting forum
Join thought-provoking conversations, follow other Independent readers and see their replies