Homeless Veterans appeal: Top military psychiatrist dismisses 'myths' of common mental problems
Depiction of all ex-service personnel having post-traumatic stress disorder may stop people who really need help from getting it, he says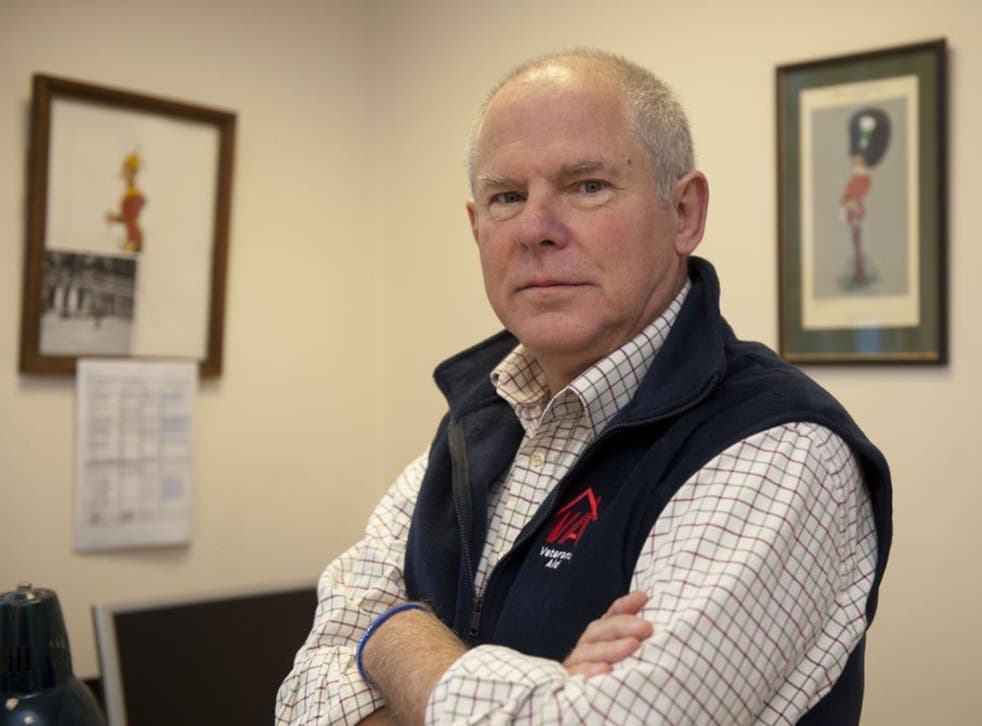 The popular belief that Britain's veterans are broken individuals who are all suffering from post-traumatic stress disorder (PTSD) could be endangering the UK's national security, one of the country's leading military psychiatrists has warned.
Ian Palmer, who was the first professor of military psychiatry to the British Armed Forces, said the typical view of soldier returning from deployment as "damaged" was a myth which could damage recruitment and make the UK look weak to its enemies.
"I think the whole trauma dialectic is in danger of, to put no finer point on it, putting our country at risk by shaping other nations' view of us," he said. Statistical evidence shows that people who leave the forces after only a few years are more likely to suffer from mental health problems than those who serve for much longer, he added.
"If military service was bad for your mental health the longer you stayed in the worse you would get – but it is the opposite," he said. "We have lost the plot here – we are living in urban myths."
Professor Palmer is now Honorary Psychiatrist to Veterans Aid, one of the two charities whose work is being supported by The Independent's Homeless Veterans appeal this Christmas. Over his career he has interviewed hundreds of mentally ill ex-servicemen and women.
He was himself medically discharged from the Army after suffering from psychotic depression related to traumatic events he witnessed during his service in Rwanda, giving him a unique insight into mental illness among veterans.
While he acknowledged the seriousness of PTSD, he warned that it has become a "catch all" term for mental illness which may lead veterans who actually have separate underlying issues to blame their problems on being traumatised – which then delays their recovery.
"PTSD is probably the only psychiatric disorder which has very little stigma attached to it – because it allows you to say 'It's not my fault'. The problem with that is, if it's not my fault, whose fault is it? Sometimes you can get into a terrible situation of blaming other people all the time."
The over-use of the term could also have the effect of damaging recruitment, he said. "Why would you, as a mum, let your kids go forward if you thought they were going to be mentally damaged by their service?"
He added that some veterans are also at risk of being given the wrong medical treatment if doctors immediately presume that their often complex mental health problems must be PTSD. "I am convinced that this urban myth keeps bona fide cases away from help," he said. "If you make these links it makes it difficult for mental health services not to draw the wrong conclusion that 'Oh, it must be PTSD'."
In pictures: Homeless Veterans appeal

Show all 31
According to Professor Nicola Fear of the Centre for Military Health Research at King's College London, the rates of PTSD in servicemen and women who have been deployed is 4 per cent – almost exactly the same as that observed in the general population.
Although the figure rises to 7 per cent for those in combat roles, she said this was still "relatively low", adding: "It is not saying that everyone who has seen or been involved in combat is developing PTSD."
She added: "It is important that we get the facts right because we are doing service personnel and their families a disservice if we are perpetuating these misconceptions about what it's like to be in the military.
"Yes there is an impact of military service and we must not forget those individuals who have been affected – but not everybody has. Our research shows that the vast majority do well. When they leave they get jobs, they form new relationships, they do well.
"There are a handful of individuals out there who do need help. We mustn't forget that. But it is wrong for the public to think everybody is damaged by their military service because from our research that clearly is not the case."
A recent report by the British Legion also stated that the rates of mental health problems amongst service personnel and recent veterans – including anxiety, depression and other common disorders – were "broadly similar" to the UK population as a whole.
Hugh Milroy, CEO of Veterans Aid, said the widely-held idea that being in the military leaves people scarred was misguided. "Of course we know that PTSD exists. Some of our clients do suffer and we are always on the lookout for it, but severe mental health problems exist throughout society – veterans are no exception," he said.
Brigadier (Ret'd) Robin Bacon, Chief of Staff at ABF The Soldiers' Charity, which is also being supported by The Independent's appeal, said: "There is definitely more prominence being paid to the issue of PTSD in the last few years within the military community and it is something The Soldiers' Charity is paying close attention to.
"There is a wide support network for soldiers and veterans who need assistance, be it the MoD, their local GP or a service charity. While the figures may show the issue isn't significantly larger than in the wider UK population, we need to make sure all those who are affected are given the support they need."
Join our new commenting forum
Join thought-provoking conversations, follow other Independent readers and see their replies