Homeless Veterans appeal: 'You all help each other out in the Army. I'm glad I can visit and give something back'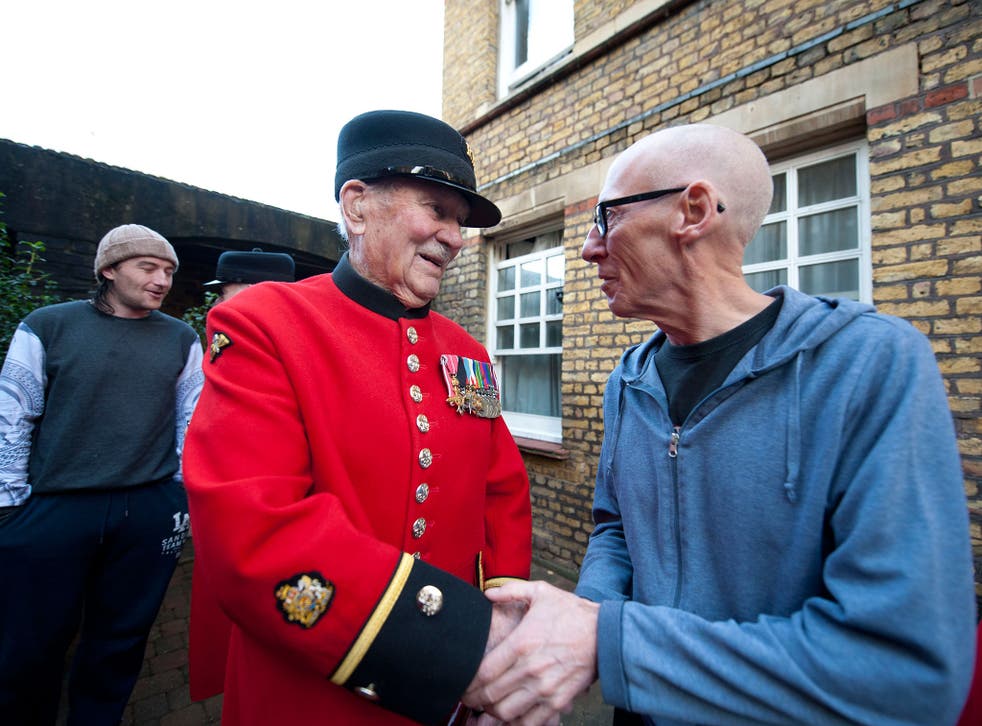 Immaculately turned out in her red Chelsea Pensioner's coat with its polished buttons and her pair of medals on display, Marjorie Cole does not look like the kind of person who once struggled to heat her flat. But the 70-year-old, who joined the Army in 1961 and served for 14 years, says her life could have been very different had she not moved to the retirement home five years ago.
When she returned to her home in West Yorkshire in the 1970s after leaving the Army, she suffered back problems and was unable to work. Her mother and sister were both ill with cancer, and with money tight, she recalls how she was forced to "turn the electric fire down to one bar" and put on an extra sweater to keep warm.
Now, her life is very different. For the past four years, Ms Cole has been visiting Veterans Aid's hostel for homeless ex-servicemen in Stepney, east London, speaking to residents and playing her part in the unique exchange scheme the charity operates with the Royal Hospital Chelsea. In return, hostel residents of New Belvedere House, regularly travel to Chelsea to play bowls.
Ms Cole says becoming a Chelsea Pensioner was the best decision she ever made, as it allowed her to "get help, meet people and do things" rather than being stuck at home. She says her life "began at 65" – but she feels great sympathy for the hostel's residents as she knows from experience how difficult life can be. "If I hadn't become a Chelsea Pensioner I could have needed Veterans Aid myself. It can happen to anybody," she says.
"You all help each other out in the Army," she adds of her visits to the charity, one of two being supported by The Independent's appeal for Homeless Veterans this Christmas. "I'm glad I can visit and give something back. I can't give money, but I can give time. I just talk to the boys about what they did in the Army and have a bit of camaraderie.
"I think it's nice for them to have a lady to talk to, and they know that someone cares. Some of the veterans have been here a while, and when you come back you can see the difference in them. They've got their confidence back."
Joining Ms Cole on her visit is Fred Rook, who has been a Chelsea Pensioner for two years. He was called up to serve in the Army during the Second World War and later spent 28 years with the Metropolitan Police. It is his third visit to Veterans Aid.
"I was fortunate, because when I came out of the Army, I went straight into the police," says the 88-year-old. "But I feel for those who are unemployed and have difficulty finding a job. It gives me pleasure to chat to them and see how they're getting on. I don't make a point of giving them advice, we just have general conversation."
Residents of New Belvedere House, many of whom have previously lived on the streets, find the Chelsea Pensioners' visits rewarding. Among them is Richard Straker, who had slept rough for several months before he arrived at Veterans Aid in August.
In pictures: Homeless Veterans appeal

Show all 31
The 23-year-old says the experience of meeting the elderly veterans is "hard to put into words". "What these guys have been through compared to the new generation of people in the Army is incomparable, so when we hear their stories we just sit back and think: 'Wow'," he says. "To see them and speak to them, laughing and joking, it's inspiring."
For Peter Thompson, 43, who arrived at the hostel two weeks ago after being released from prison, the visit is surreal. "If it wasn't for Veterans Aid I'd have been on the street," he says. "I don't know what I would've done – I'd probably have been in trouble again, committing crime to get put back in prison, because at least you've got a roof over your head and three meals a day. Here, it's like being back in the barracks, we can all have a laugh and a joke."
Veterans Aid's relationship with Royal Hospital Chelsea dates back to 1932, the year the charity was founded by Gwendolyn Huggins. Her husband, Major Gilbert Huggins, was the RHC's 20th Adjutant and presented VA with a billiard table at the end of his tenure.
Join our new commenting forum
Join thought-provoking conversations, follow other Independent readers and see their replies