I worked for Carillion until it collapsed – and now the Home Office is trying to deport me
This is not a case of me breaking the law or trying to do something illegal. It's a case of me picking up the pieces of my life after the collapse of Carillion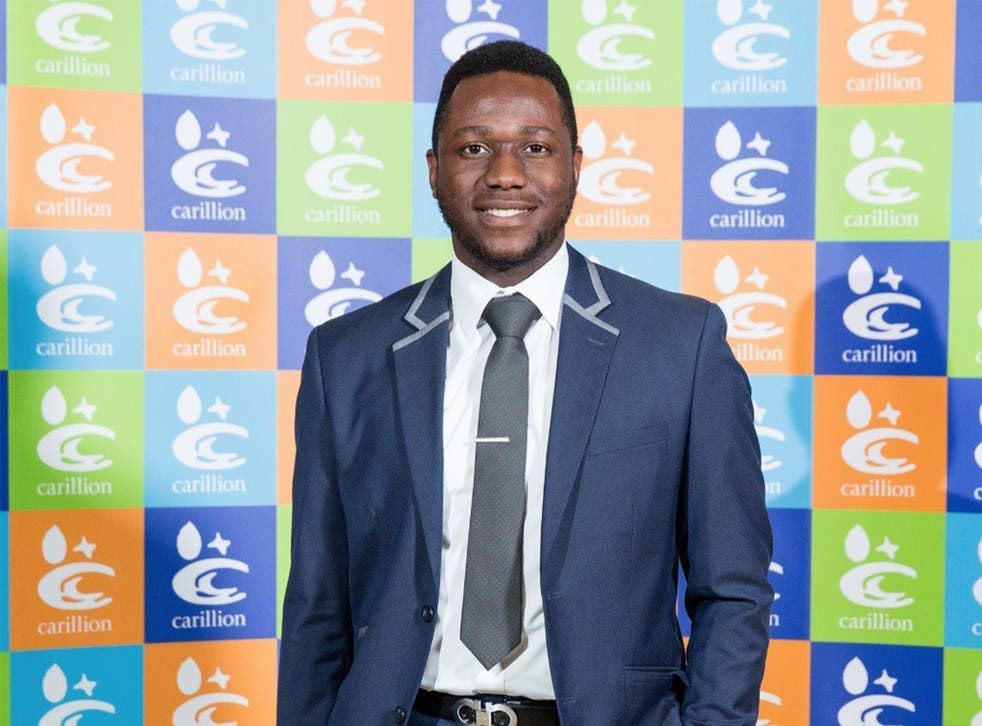 My name is Hamza Idris and Britain has been my home for almost a decade. I moved here on 8 September 2011 from Nigeria and went to college and university here, before successfully applying onto the Carillion graduate scheme, a job I really wanted and enjoyed.
But a year and 8 months on after starting with Carillion, I have found myself prevented from doing my job due to the company's collapse. I have now been threatened with deportation by the Home Office.
This story begins on 15 January this year, when Carillion filed for compulsory liquidation. It felt like my world had crashed. I was so confused and remember feeling numb. All employees were at risk of losing their jobs. However, because I worked in the part of Carillion that dealt with services (delivering facilities management services to clients), my colleagues and I were advised to continue to come to work and we were assured we would be paid. After a few weeks of talks, we were informed that we were going to transfer to a new company on 1 February 2018. That day came, and nothing for us as staff changed except the logo. All my colleagues and I were transferred to the new company on the same contract, terms and conditions, and salary as we were on at Carillion.
I worked with the new company for a month until I was pulled into an office and informed I could no longer continue my work as the Home Office would not accept a transfer application. Essentially the Home Office has refused to let me transfer to the new company with my colleagues although I am doing the exact same job, with the same terms and conditions as I was on previously. I had my pass, laptop and work phone taken from me and was not permitted to return.
Anthony Bryan says race is a 'big part' of the Home Office
Although the new company was very considerate and took the time to explain what was going on, I felt like I was being stripped of my dignity. The new company promised to support me through the process, and it has. It submitted an application to take over my sponsorship, and has since kept my position open until we get a definitive response.
As a result of this issue, I have been prevented from doing my job since 1 March, have had to use my savings to pay for rent and bills, and have now had to move from London to Birmingham to live with friends.
I have left my life, my church, my friends and my worship group behind in London, creating more of a traumatic experience. Leaving the UK will be worse – it will mean starting over from scratch with no connections. I have built my life here and starting over again will be tough, and indeed painful.
This is not a case of me breaking the law or trying to do something illegal. It's a case of me picking up the pieces of my life after the collapse of Carillion. The fact that the Home Office isn't willing to help a victim of Carillion's collapse because I am not British (neglecting all I have contributed to the country in the last almost seven years) is truly the definition of hostile. It shows that cases are not considered on a case-by-case basis but more on a "computer says no" approach. This is inhumane.
I approached my MP, David Evennett, about my dilemma and he promised to assist. The Home Office did not respond to him for over a month and I heard from the Home Office first when they wrote to me and told me I had two months to leave the country or make a new application. They stated that Carillion had informed them as far back as 7 February that I had left the company. The Home Office made no mention of my transfer.
A day later, on 18 April, my MP got this response from the Home Office and forwarded it to me:
"The team informed [us] that as Carillion no longer exists, then TUPE [the Transfer of Undertakings (Protection of Employment) regulations] does not apply as the company has gone into liquidation. They, therefore, cannot transfer Mr Idris because they are no longer trading. Mr Idris will need to apply under Tier 2 for a new Tier 2 visa with a licensed sponsor, if they have a Tier 2 license. TUPE would have applied prior to the liquidation, but as the company no longer exists this cannot be done. The Home Office has no discretion as both companies have to be licensed and fully active and unfortunately Carillion is not."
This is true – but even as of today, Carillion is still on the sponsor register with a Tier 2 (A rating), and I cannot make a new application because that will mean reapplying for my current position/a position I held. The company will have to perform a resident labour market test, which I was exempt from straight out of university, and I will have to pay over £1,700, which I paid the first time round.
Being from Nigeria, which was colonised by the United Kingdom, the UK has felt like a parent country. That is why I chose to move here in 2011 to study. To be punished (through no fault of my own) feels even more painful. I moved here at 16, studied for five years to get my two degrees, work for 18 months, and have never been negatively involved with the law.
I believe this can be resolved by the Home Office if they look at my case with compassion and fairness. I did not contribute to the collapse of Carillion, but I sure am paying the cost. It is grossly unfair to have to make a new application for my job, spend a lot of money I don't have, or be forced to move away and start again.
All I really want is my job and life back here in the UK. This issue has affected my health, it has affected my relationships with friends and it has stunted my professional growth.
Hamza Idris is raising money on GoFundMe to fund his legal fee
Register for free to continue reading
Registration is a free and easy way to support our truly independent journalism
By registering, you will also enjoy limited access to Premium articles, exclusive newsletters, commenting, and virtual events with our leading journalists
Already have an account? sign in
Join our new commenting forum
Join thought-provoking conversations, follow other Independent readers and see their replies