Blame Tory negligence and ideology for Carillion's collapse
In November my office asked the Cabinet Office what risk was identified prior to Carillion being awarded government contracts and whether the company is able to fulfil its obligations — our questions were batted away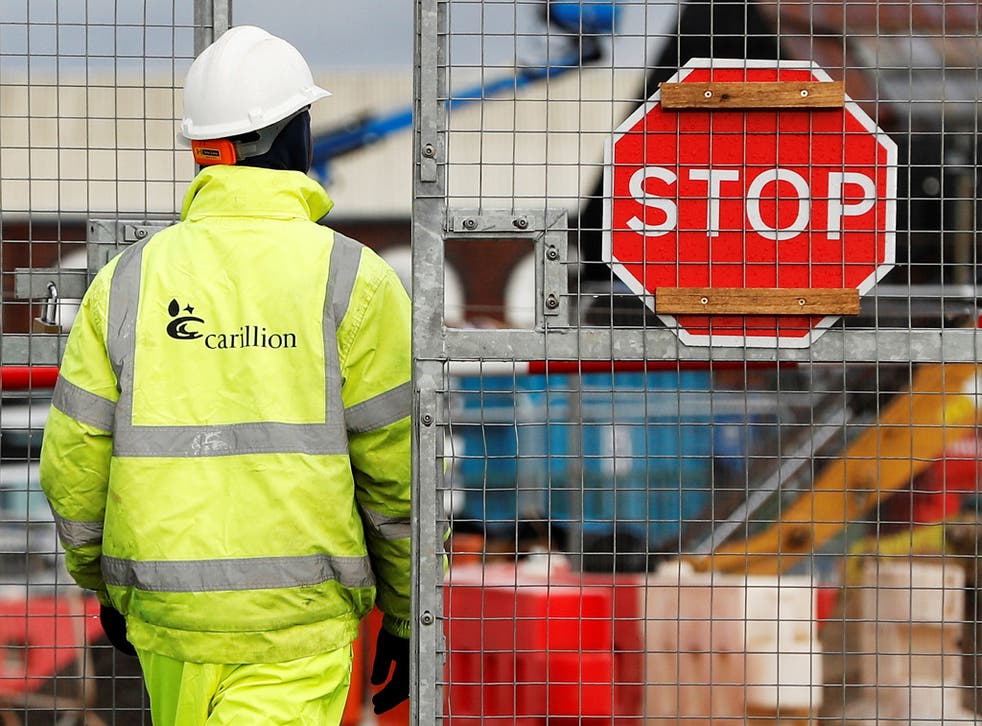 Today it finally happened. Carillion, a key strategic supplier to multiple government departments, has collapsed. With its share price at rock bottom and with debt having skyrocketed, Carillion went into liquidation following a refusal from lenders to prop up the embattled firm.
The damage from Carillion's failure will run deep. Carillion manages hospitals, barracks, prisons and houses on behalf of the government, employing almost 20,000 people across the UK. It was a poster child for the outsourcing revolution. It is now a national scandal, and it is one of Tory making.
Despite the apparent suddenness of Carillion's problems, this is a story that has been unfolding for months. In July 2017 Carillion issued a shock profit warning, setting aside £845m to cover problem contracts and pulling out of others. In September it announced half-year losses of £1.15bn.
Remarkably, despite this and a further two profit warnings, Carillion has in the last six months been awarded three more government contracts worth almost £2bn. It is government policy to designate any of their "strategic suppliers" as High Risk if they issue just one profit warning. It is also government policy to appoint a Crown Representative to manage its relationship with such suppliers. In Carillion's case this position was left vacant from August to November 2017, a crucial period in the company's decline—a staggering act of negligence from the Conservatives.
What is the Carillion fiasco? Economics Editor Ben Chu explains
UK news in pictures

Show all 50
The Government has serious questions to answer on Carillion's collapse and their failure to act earlier when the writing has been on the wall for so long. In November my office asked the Cabinet Office what risk was identified prior to Carillion being awarded government contracts and whether the company is able to fulfil its obligations. Then our questions were batted away with generic reference to EU procurement legislation. I expect the same evasion over the coming days.
This won't surprise me. Because we know that this government is far more interested in who delivers our public services than in their actual quality or sustainability. The Conservative leadership are dogmatically committed to outsourcing public services to the private sector. This is their primary goal, and the destruction caused in realising it is a necessary sacrifice—a "temporary adjustment" before the market delivers value. Only we're still waiting.
The newly appointed Minister for the Cabinet Office, my counterpart and the person leading on the Carillon crisis, David Lidington, has form here. It was he who, as Justice Secretary, published a controversial tender that proposed giving private security firms the power to arrest UK citizens. There are few more shocking examples of an extreme commitment to outsourcing than giving big business the power to deprive people of their liberty.
It seems that for the Conservatives nothing is off the table when it comes to doling out contracts to their friends in the private sector. Yet what they frequently pay less attention to is whether the successful bidder can actually deliver the services they've promised, or what the cost will be when they can't. The Government's decision to continue paying former Carillion staff to deliver public services is the right one, but it will be a costly fix for their mistake of outsourcing in the first place.
The Government's dealings with Carillion is the perfect illustration of how the Conservatives are playing fast and loose with taxpayers money in pursuit of their ideological ambitions. This cavalier attitude was epitomised by Transport Secretary Chris Grayling, who blithely insisted that Carillion's financial problems "were not an issue" following its successful tender for HS2 contracts last July, despite the company issuing a profit warning just a few days earlier and even though hedge funds were betting on Carillion's failure as early as 2015.
How he is being proved wrong. Of course, it will not be Grayling, one of Theresa May's closest allies, that suffers the consequences. Nor, I wager, will it be those involved at a senior level in Carillion, who will probably move on to pastures new, well-rewarded for their failure. Indeed, a few months before its difficulties became public, Carillion changed the wording of its pay policy to make it more difficult for investors to claw back bonuses paid to its executives in the event of financial difficulty.
Once again, it will likely be the public that pays the price, be it through the cost of bringing all the services back in-house, necessary though this is, or through a repeat of the expensive tendering processes that gave Carillion its government contracts in the first place. This is to say nothing of potential job and pension losses.
For what we know for sure about outsourcing is that when times are good and profits are to be had it's shareholders that benefit, but when crisis hits and losses mount it's the public that picks up the bill one way or another.
Like the bailout of the banking sector, it's a model that privatises profits and socialises risk. It's economics for the few, not the many, and it's time to end it. We can start by bringing the affected public services back in-house on a permanent basis, and we can take it further by electing a Labour Government that will put a stop to the continued corporate sabotage of society.
Jon Trickett is MP for Hemsworth and Shadow Minister (Cabinet Office).
Join our new commenting forum
Join thought-provoking conversations, follow other Independent readers and see their replies