Carillion's Government contracts could have been stopped by a single law. Why wasn't it used?
Carillion is part of what is known as 'the shadow state': a group of large companies secretively awarded government contracts to run Britain's public services. There are others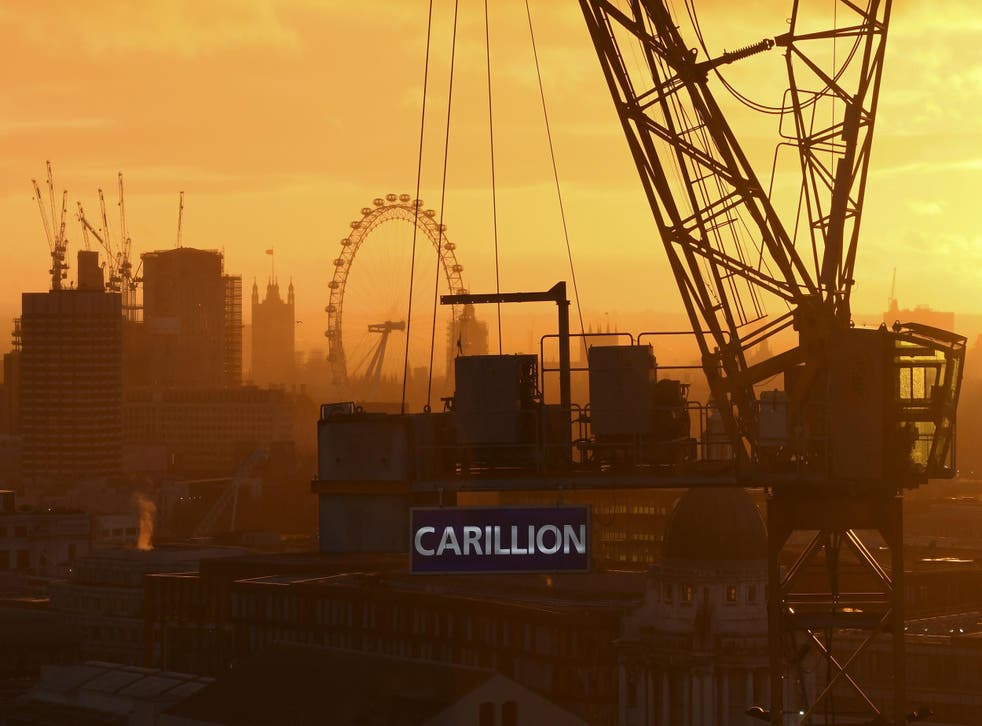 There's a law that forces the Government to consider the social consequences of giving contracts to big companies like Carillion.
In Oxfordshire, firefighters are on standby to deliver school meals now Carillion, propped up for months by government contracts, has gone bust.
I wonder if many of those Oxfordshire families had heard of Carillion until they read in the paper on Monday that firefighters, already overstretched in their duties fighting fires and saving lives, might be needed to deliver food to their children.
It's not just school lunches. A road-building project in Leeds has been thrown into doubt, a bypass in Lincolnshire may need a new contractor to finish works, academies sponsored by a Carillion trust will have to get a new name.
At least 25 local councils had contracts with Carillion, including catering and cleaning, major engineering, library management and road gritting. We need wonder no more how one company could properly provide so many specialist services. It couldn't.
Jeremy Corbyn attacks Conservatives' 'rip-off privatisation policies' after Carillion collapse
These contracts made Carillion bosses rich: Richard Howson, the former chief executive, took home £1.5m in 2016.
But they also made Carillion "too big to fail". While hedge funds were raking in £18m as Carillion shares slumped after a profit warning in July, the Government continued to award the company contracts, including High Speed Two, worth £1.3 billion.
Carillion is part of what is known as "the shadow state": a group of large companies secretively awarded Government contracts to run Britain's public services. There are others. G4S will be remembered for its failures in the run up to the 2012 Olympics; Serco is the stock market's best bet to mop up the contracts lost by Carillion.
What if, instead of awarding those contracts to another faceless FTSE 100 company, councils employed local businesses to do the work? It would boost jobs and training, nourishing communities, rather than leaving them vulnerable to market forces outside their control.
Five years ago, this kind of thinking was the basis for the Public Services (Social Value) Act. Since it came into force in January 2013, public bodies are required to consider the social value of the contracts they award.
One-third of local councils have since used the Act. This amounts to £25bn of public spending being shaped by social values, out of total public spending of £268bn, according to Social Enterprise UK.
In Preston, local councillors used the Act as the basis to redirect contracts, from printing services for the police to food for council buildings, towards local businesses. In Plymouth, the local council used the Act to employ CATERed, a co-operative company jointly owned by the council and 67 local schools, to provide school meals.
The Act gives smaller, local businesses a natural advantage. Bidders must prove that how they do business positively impacts the local social and economic value of their area, incentivising good practice and rewarding companies that support communities.
UK news in pictures

Show all 50
But many of the groups that use it say that it does not go far enough. Public bodies have only to consider social value rather than to embed it in their criteria for awarding contracts. And they only have to do so above a threshold set by the EU, which has increased to over £600,000 for services tendered by the central government, ruling out many smaller contracts.
A review of the Act, called for in January 2017, lost momentum after the snap election. But a review is now essential to give the public sector more confidence to use social value when deciding on how to award contracts – not least because after Brexit, the UK will have to redefine how it wants to run procurement for public services.
The Social Value Act is not a catch-all solution to the shadow state. It will take a change of culture in the Government to stop awarding the same handful of companies lucrative contracts with the understanding that they deliver profits for shareholders over the short term. But it is certainly a good place to start.
Join our new commenting forum
Join thought-provoking conversations, follow other Independent readers and see their replies