Barcelona's decision to ban the public from their match shows how Spanish football has become a sideshow to the Catalan question
I find myself unable to understand just how Barcelona would not take the unilateral action to simply announce that the game would not be taking place. There are bigger things than a football game – like almost 900 injured citizens following the excessive use of force of the Spanish police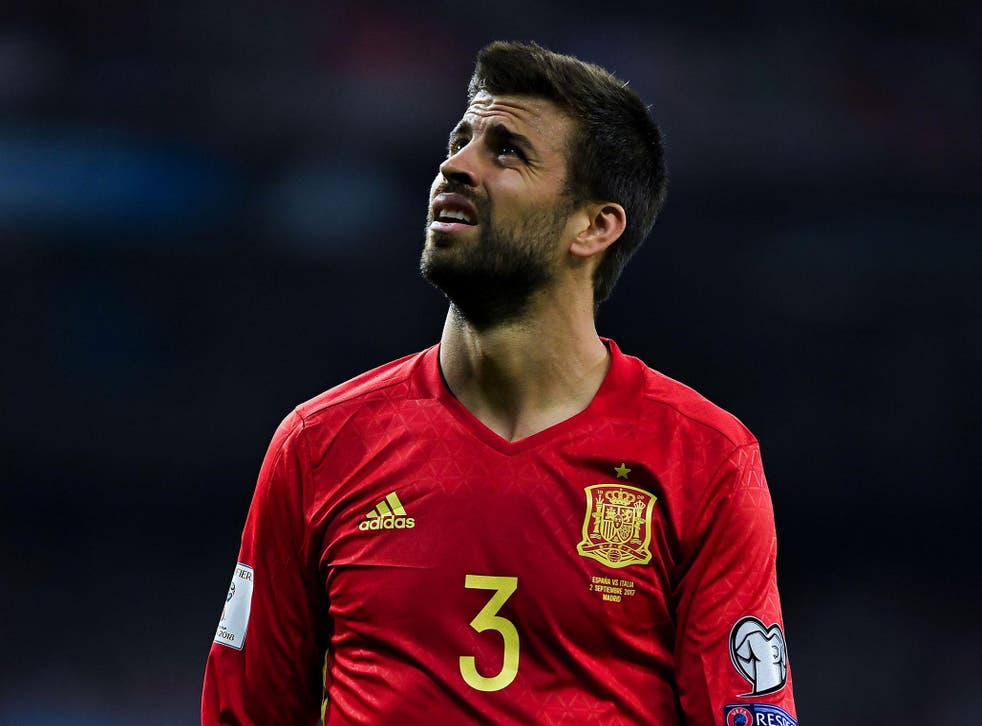 Today Spain and Spanish football stands in the dock following Barcelona's decision to play their league match against Las Palmas behind closed doors.
Barcelona had wanted to postpone the game but had they unilaterally decided not to play, which their directors considered, then they would automatically have lost six points. Las Palmas would have been adjudged to have won 0-3 and there would have been a substantial fine to pay as well.
Only a declaration by the local police that the security of the public could not be guaranteed would be an acceptable reason for La Liga to postpone the fixture. It never came.
A meeting with the players and manager followed at which, eventually, it was decided that the best way to protest was to show an empty Camp Nou to the world. Since then, two Barcelona directors have resigned.
Gerard Pique – who has always defended the right of Catalonians to vote, without divulging his own position, and who yesterday cried as he was trying to explain his emotions after the game – has admitted they agreed to play following the board decision. He would have preferred not to play. Doing it behind closed doors was clearly not a unanimous decision and divided top players within the squad.
Footage shows riot police brutally eject Catalans from polling station
By the way, there are calls for Pique not to join Spain and he himself said yesterday that if not wanted, he will retire before the World Cup, the date he had set for himself to end his career with La Roja. And I wonder, why do Spanish fans demand more patriotism from him than they did from Pizzi, di Stefano, Marcos Senna, Diego Costa or Rodrigo?
This is an extremely delicate and controversial political and social decision from just about every angle and I fully understand that this was indeed an exceptional circumstance, on an extraordinarily difficult day. That said I find myself unable to understand just how Barcelona would not take the unilateral action to simply announce that the game would not be taking place. There are bigger things than a football game – like almost 900 injured citizens following the excessive use of force of the Spanish police.
There are all manner of issues to look at not least the fact that the Spanish government and its prime minister has with his actions singled highhandedly guaranteed a huge increase in the numbers of those in favour of a referendum and, I am sure, of Catalan independence, while simultaneously splitting his country.
While it is argued that a people get the political leaders that they deserve, everyone is left wondering just what Spain and Catalonia have done to deserve so many politicians who are mostly attention seekers, more concerned with staining their nation's history with their own fingerprints than they are with working for the common good of the people they laughably purport to represent.
No one is without blame, but it is totally unjustified the behaviour of the jackboot "ambassadors" of the Madrid government disguised as Guardia Civil and Police, and eerily reminiscent of the troops that marched into the Catalan capital at the end of the Spanish Civil War.
What should have been a dialogue and a discussion was converted yesterday into a battle for 'bragging rights' with the stability of both nations as the victim – the collateral damage – of such political posturing.
Three weeks ago I did not feel the inclination to vote. This was not the referendum I was looking for, it felt imposed, from few to few. The reaction of the central government has made me feel that I wish had done.
What we got today was a demonstration by many of the people (some in favour of independence, others against, young and old, right wing and left wing) to maintain their right to vote, one that they did not enjoy from 1939 until 1976, and a right they feel has being taken away from them by Rajoy's alleged "democracy". That version of politics from the right wing PP has intentionally convinced a huge number of people from the rest of Spain that Catalans are the "enemy". Convenient to have such a smokescreen to hide the corruption and mediocrity of the most unprincipled party in the democratic history of Spain.
Catalonia independence referendum: Riot police clash with voters

Show all 17
On a regional level the Catalan Federation cancelled all games throughout the region at lunch time. And while on two occasions the Spanish Federation stepped in to prevent the football team Lleida from playing with the Catalan shirt, La Liga permitted Las Palmas to place a Spanish flag on their shirts as a way to show their political stand – they defended in a public note the unity of Spain. This is the league who would undoubtedly be the first to impose draconian fines on any club or individual seeking to use football as a form of making any political statements. But only, it seems, if they are aimed against the state.
Can you start to understand why Catalans feel they are treated differently by the central authorities?
Catalonia, not unnaturally, finds the situation as incomprehensible as it is indefensible. Spain, its government, its law enforcers, should hang their heads in shame, on a day when football became logically a sideshow.
Join our new commenting forum
Join thought-provoking conversations, follow other Independent readers and see their replies