Catalan Independence: Can cash-strapped Spain afford the most-treasured jewel in its crown?
Catalans pay more tax than anywhere else in Spain. As the eurozone crisis deepens, the independence movement is gaining strength. Will this put-upon region break away?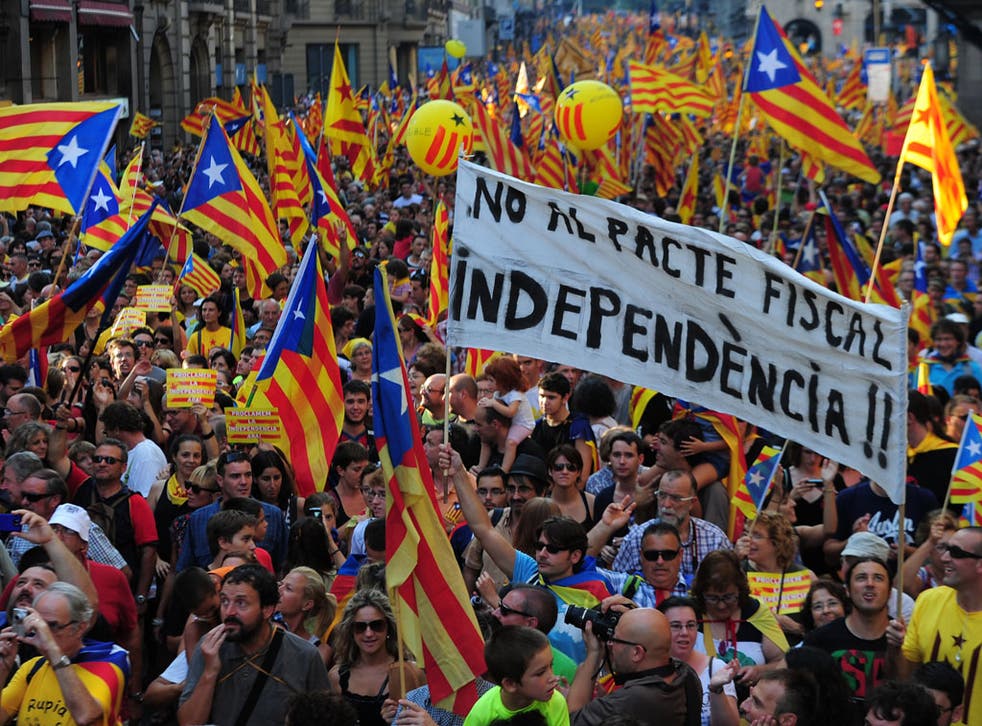 The tide is turning, Catalan filmmaker Josep Citutat tells me. "Something is changing so fast. A lot of people around me, family and friends, who weren't independent – now they are." Record numbers marching on the streets outside his flat in Barcelona confirm his judgment.
Around 1.5 million people were thought to have filled the streets of the Catalan capital last earlier this month. Independentistes poured in from around the region, creating a sea of yellow and red up and down the famous boulevards.
The strength of the protest was no surprise given the dire economic condition in the debt-addled region of a country suffering the worst of the eurozone crisis. As Europe has seen before, economic suffering is feeding nationalist sentiment.
History aside, a portion of this growing antagonism has its origins in the imbalance between what Catalans contribute to central government in Madrid and what they get back in return. The idea that they are supporting the rest of Spain, which is close to collapse, breeds resentment and mirrors similar reactions in northern Europe over the eurozone crisis in general.
In the UK, UKIP is now a force to be reckoned with, giving leader Nigel Farage a sturdier platform than ever from which to question the country's relationship with the EU. Like the parties of Geert Wilders in Holland and Marine Le Pen in France, UKIP has exploited an economic crisis that threatens to undo 60 years of international cooperation.
Laid bare, Catalonia accounts for approximately 20 per cent of Spain's economic output, but holds 15 per cent of the population. Economists estimate that Catalonia pays €12bn more in taxes per year to Madrid than it gets back to spend. Many Catalans put this estimation as high as €16bn.
Catalans also pay more than anywhere else in Spain, on average, for property conveyances, health care, vehicle registration, highway tolls and income tax (which rests at 49 per cent in the highest bracket).
Just last month the region asked Madrid for a €5bn bailout, despite cutting faster and deeper than many of the other 17 autonomous regions.
And all this amid Catalonia's own crisis. Just last month the region asked Madrid for a €5bn bailout, despite cutting faster and deeper than many of the other 17 autonomous regions. The anger caused by the cuts makes Catalans feel they are subsidising Spain more than ever - galvanising the independence movement further.
This imbalance is one of the many things which has led to record numbers joining a call for independence. Nonetheless, Spanish president Mariano Rajoy dismissed the march as an unnecessary distraction in a time of hardship.
Rajoy should perhaps take heed more than ever. The prospect of Catalan independence should bring him out in a cold sweat. To lose such a massive chunk of the economy and still be left with the worst performing regions in the South would spell tragedy.
It could also set a dangerous precedent elsewhere in Europe where austerity at home coupled with contributions to bailouts and stability funds abroad are sources of rising nationalism too.
With its own unity, and that of Europe in mind, Madrid needs to readdress its relationship with the most treasured jewel in its once glorious crown. There needs to be sensible compromise with the Catalans, or Spain faces the reality of a disastrous split which is certain to draw the attention of an already precariously united Europe.
Register for free to continue reading
Registration is a free and easy way to support our truly independent journalism
By registering, you will also enjoy limited access to Premium articles, exclusive newsletters, commenting, and virtual events with our leading journalists
Already have an account? sign in
Join our new commenting forum
Join thought-provoking conversations, follow other Independent readers and see their replies