Charlie Lyne's 10-hour-plus film of paint drying to the British film board made hard work of film censorship
Was this a case of a prank spectacularly backfiring?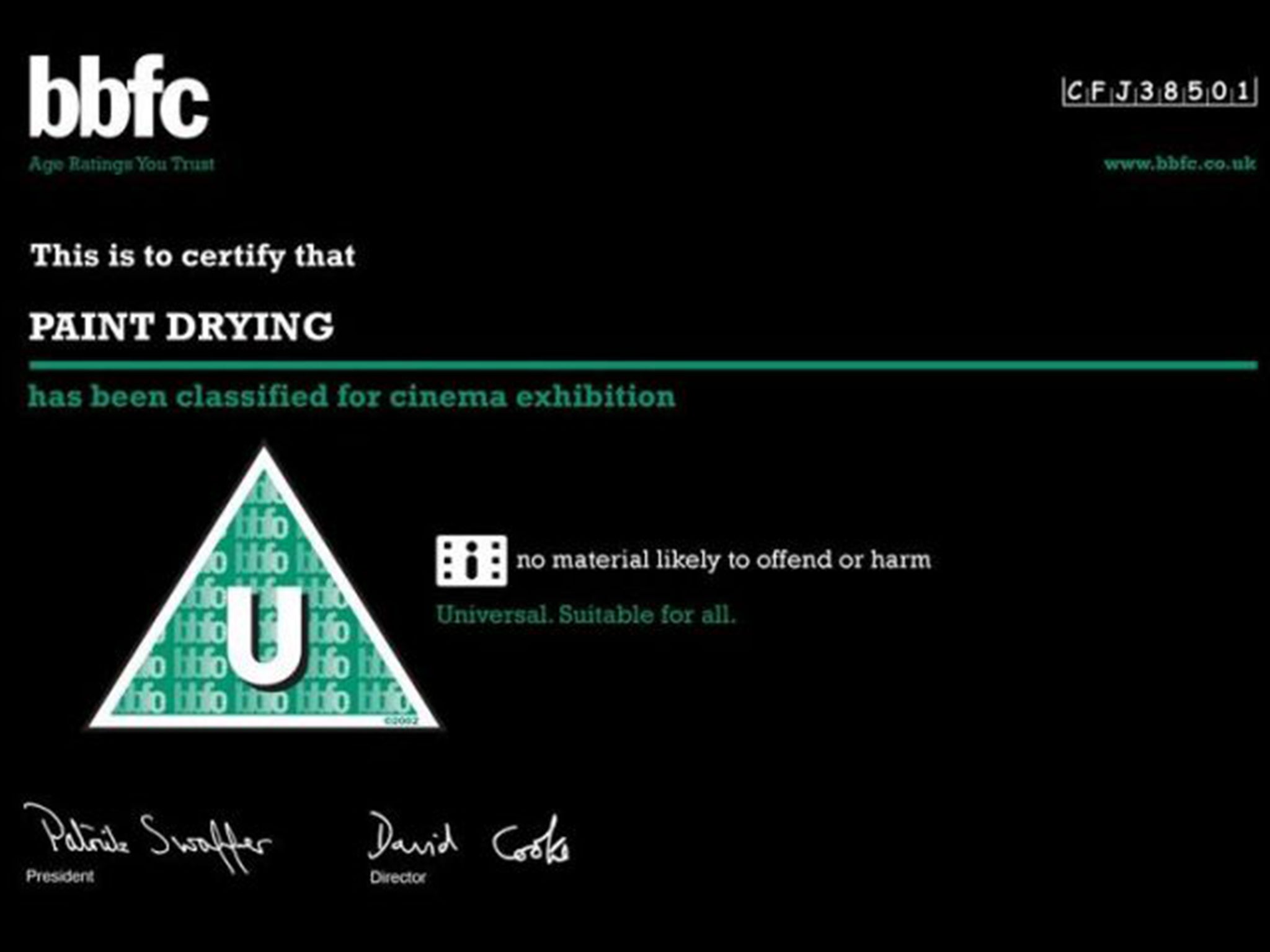 When the writer and film-maker Charlie Lyne delivered his 10-hour-plus film of paint drying to the British Board of Film Classification recently, he was trying to make a point about censorship. Last week, that point seemed lost when two of the board's examiners settled in to watch the film before issuing it with a U certificate. "Examiners are required to watch a wide variety of content, so this didn't faze them," the board commented, well, drily.
Was this a case of a prank spectacularly backfiring? "People wouldn't stand for it if the BBFC was censoring literature, music or any other art form, so why is film fair game?" Lyne asks me. "Paint Drying is my attempt to draw attention to that contradiction and I wanted to provoke a discussion about film censorship in the UK, which my project certainly has." Has he watched the film himself? "Nah."
So, what might Lyne's sequel be to really show those examiners? Hours of film of a person sleeping? Andy Warhol did that in 1963. A single shot of the colour blue? Derek Jarman did that in 1993. I know … how about an endless loop of nails scraping down a blackboard? Or a day in the life of one of the BBFC examiners, perhaps.
How big you've groan
While this column has been known to mock those strange commemorative days that are littered throughout the year (30 January is Backward Day, apparently; don't ask), it was cheering to hear the announcement that 8 February would mark the inaugural UK Pun Day.
The day kicks off with a panel discussion called (what else?) "It's a Punny Old World" at BBC Radio Leicester (tickets from comedy-festival.co.uk), where Professor Christie Davies, a 74-year-old academic and writer who takes the art of comedy very seriously, will explain why puns make us groan, the difference between a good pun and a bad one, why English is a good language for punning in, and more.
Later in the day, as part of the Dave's Leicester Comedy Festival, contestants will battle it out to become the UK Pun Champion. Just one complaint: couldn't they have arranged all this for a day earlier so I could remind you to pick up a copy of The Independent on Punday on your way?
The agony and the ecstasy
People who write advice columns in newspapers and magazines know that a small number of the letters they get sent are fake. The "mother of all agony aunts", Irma Kurtz, reckons she can spot them from the handwriting. The Mirror's Coleen Nolan recently fell foul of a man who claimed his partner's "love for lizards [was] tearing [them] apart", and so on. Many get published and replied to; the columnists tend to never speak of it again.
Full credit, then, to Amy Dickinson, whose "Ask Amy" column is syndicated to more than 150 US newspapers. Last week, she received a letter from a "Feeling Foolish" that essentially rehashed a situation from a Seinfeld episode and even threw in clues.
"Dear readers," Dickinson wrote on her blog the next day, "every once in a while I get punked by a villainous, fun-loving reader. I have some affection for these episodes because I often think that if I didn't actually have a job, punking advice columnists is exactly what I would do with my time."
The perfect response.
Go fund them
Though there is no shortage of ways of dispensing of any spare cash, might I draw your attention to two projects seeking money through crowdfunding. The first is a film called The Truthful Phone, which has only days to go to reach its target and is still offering the top draw of a unique creature from the film to anyone with £5,000 to spare.
And though it's difficult to imagine anything better than that hairy critter – made by a puppeteer who has worked on The Muppets and Star Wars – you might prefer to help out with a video game called Sebastian Frank: The Beer Hall Putsch, which will allow players to go back in time in a quest to stop Hitler rising to power.
Either way, a bit of history could be yours.
Wacky races
With the Oscars race row giving way to the, ahem, discussion over the casting of Joseph Fiennes as Michael Jackson, last week Twitter users flexed their perfectly timed funny bones under #MakeaMovieWhiter.
Though there was an endless stream of good suggestions, I particularly loved The Helped, Guess Who's Coming to Brunch, 0 Years a Slave and The British Empire Strikes Back.
Twitter. It's not just for trolls, you know.
No rhyme or reason
Another in a regular series of limericks based on recent events:
At the school gates all tired and yawning,
See them drop off their kids in the morning,
But now like a nightmare,
Those folk in nightwear,
Are sent back to bed with a warning.
Join our commenting forum
Join thought-provoking conversations, follow other Independent readers and see their replies