The Independent's journalism is supported by our readers. When you purchase through links on our site, we may earn commission.
The Chauvin verdict is one thing. The next case to come will be the real test
Later this year, when the three officers who stood by as Chauvin murdered Floyd go on trial for their own actions. What happens then will be just as important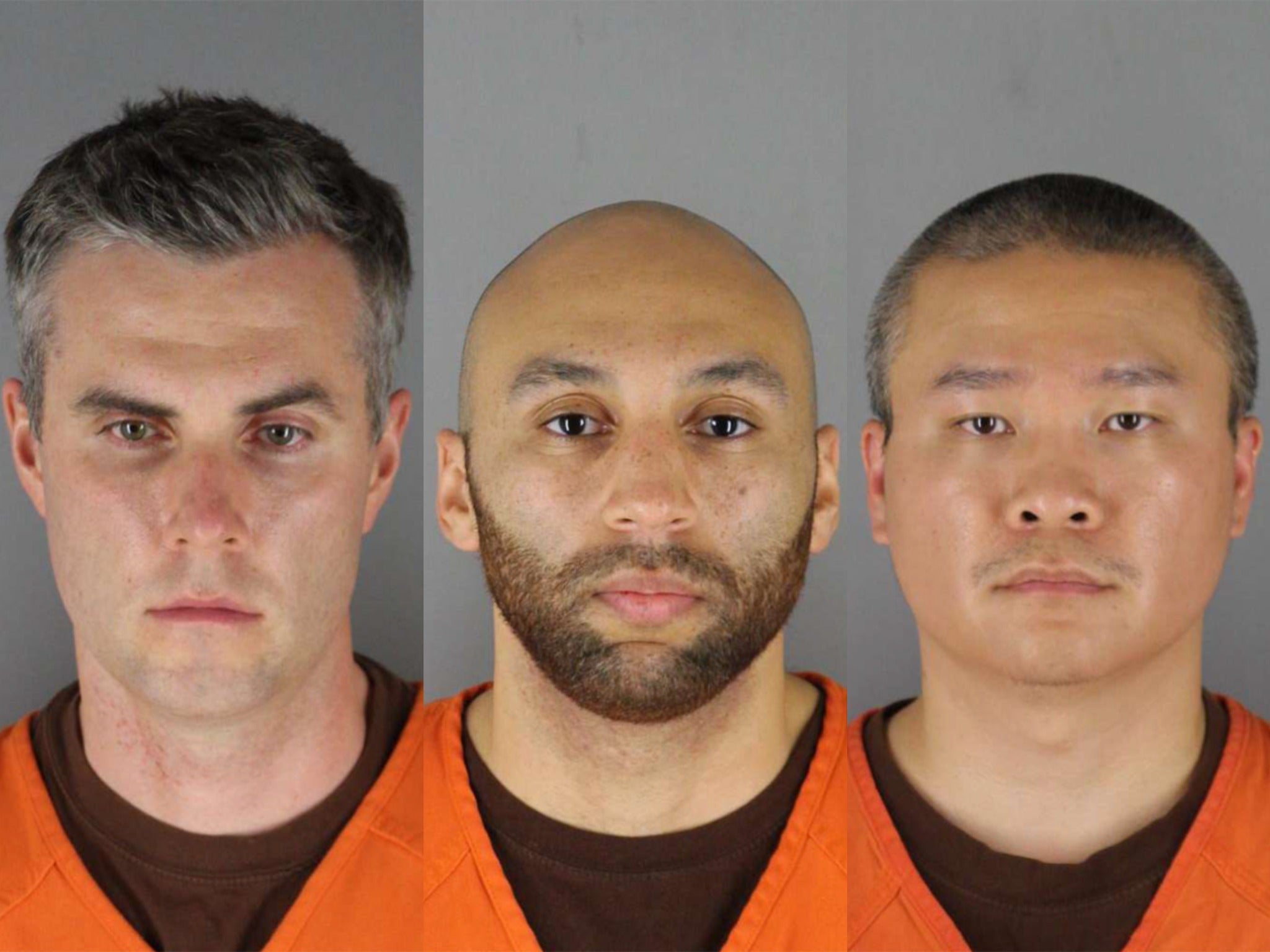 Guilty. Guilty. Guilty." That pronouncement by the jury in the trial of Derek Chauvin for murdering George Floyd allowed much of Black America to exhale. The pronouncement also created a sense of relief in much of America, either because of concerns about what the reaction to a "not guilty" verdict would have been; because of a mistaken belief that it demonstrated the criminal legal system is capable of addressing the crisis of police killing Black people; or, perhaps, a genuine sharing in the trauma and exhaustion experienced by Black America as they have watched, again and again, police officers who kill Black people leave the courtroom free. 
While entirely understandable, the exhale and the sense of relief are premature. Chauvin may have been found guilty, pending the inevitable appeal, but policing of Black people in America remains on trial. The prospects for a just verdict remain in doubt.
Chauvin had to be found guilty. If video of the deliberate, slow killing of a helpless person as bystanders pleaded for mercy, backed by the testimony of the policing establishment that Chauvin's actions violated policy, had not been enough to secure a conviction from a racially diverse jury, then the criminal legal system could never be expected to work. But the Chauvin case is not the norm. There is not always such full video. The helplessness of the victim is not always so apparent. The accused police officer is not always deprived of the "justification" that they were acting out of fear for their safety – or the myriad other excuses that have led to acquittals or no charges being brought in so many other cases. The police establishment does not always strongly back accountability.  The real test of our criminal legal system will be the next case, the harder case, the typical case. 
The circumstances of George Floyd's murder are scheduled to return to court later this year, when the three officers who stood by as Chauvin murdered Floyd go on trial for their actions (or, as one might more accurately put it, inaction.) Those officers saw the events that led the jury to convict and they did nothing. They did nothing despite the pleas of onlookers and their sworn duty to "serve and protect". 
Will the criminal legal system hold those officers to account for their abject failure to intervene and save Floyd's life? Will the police establishment bring the full weight of its authority to bear and say that not only must officers not kill helpless people, but officers must intervene to keep their colleagues from doing so? Will that jury reject the excuses and the justifications for inaction sure to be offered? That verdict is still to come, but there are reasons to be wary.
The case of Cariol Horne may be instructive. Horne was a Buffalo, New York, police officer who intervened to stop another officer who had placed a Black man in a potentially lethal chokehold. The officer responded by striking Horne in the face, causing injuries that required surgery.  The Buffalo police department subsequently suspended Horne for four days for interfering with another officer and then fired her and deprived her of her pension when she fought the suspension. Horne's actions were vindicated only after a 14-year struggle when a New York state court judge ordered her reinstatement, back pay and pension last week. 
What happened to Cariol Horne is all too typical of how police respond to officers who seek to protect citizens from their rogue colleagues. The prosecution of the three officers who stood by as Chauvin murdered Floyd is an opportunity for the criminal legal system to signal that there has been some change in approach. We should all pay attention.
Those who seek fair and equitable treatment of Black people by police are entitled to a moment of relief after the triple guilty verdict on Chauvin. For once, there was a semblance of accountability. But that moment of relief should not lead to complacency. Derek Chauvin's was the easy case. Unfortunately, there are more to come, and history does not provide many reasons to be optimistic. 
Jeffrey D Robinson is an experienced civil rights litigator, former associate director-counsel for the NAACP Legal Defence and Education Fund, and expert in public policy. His human rights work has included serving as a consultant to the Conviction Integrity Unit of the District of Columbia US Attorney's Office and to the human rights charity Reprieve
Join our commenting forum
Join thought-provoking conversations, follow other Independent readers and see their replies