Chester Bennington saw me through my worst times – I'm sorry we couldn't see him through his
Seeing so many posts from countless people about how Chester Bennington helped them overcome their own personal struggles should be enough to make us realise that so many of us are, in fact, struggling on our own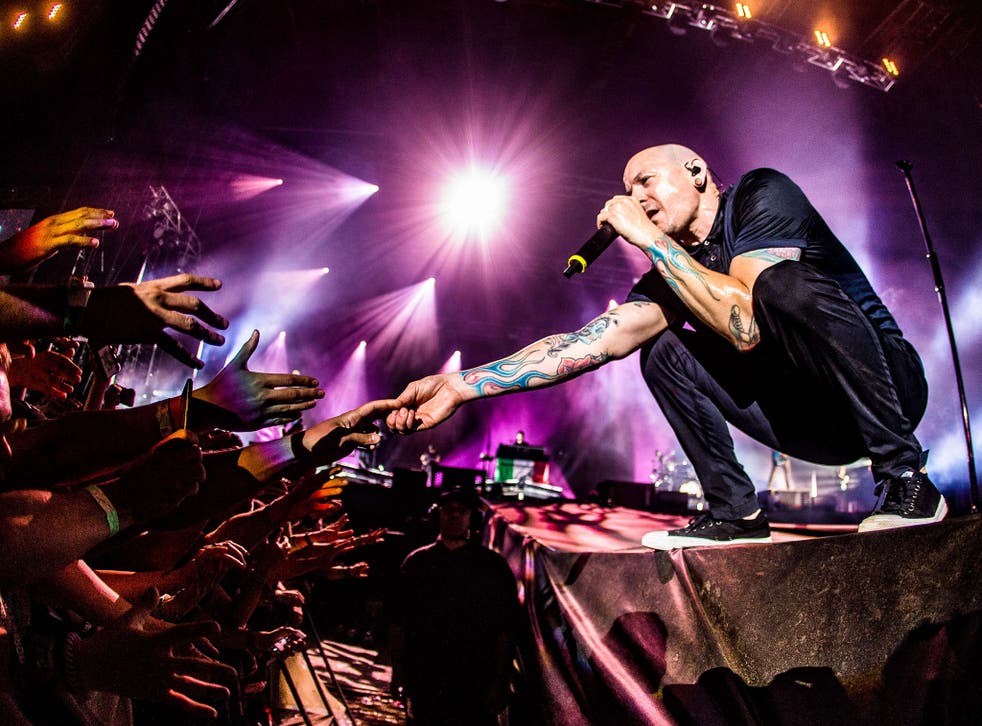 I was on the Tube when I saw the news last night that Chester Bennington had died. When I learned it was suicide that had claimed his life, there was little I could do to stop myself from becoming one of those teary-eyed spectacles on public transport.
How could someone who had guided me through the worst of times in my life struggle to make it through the worst of times in his?
Of course, we should all know by now that even the people who bring us the most joy, laughter or solace in life are not immune to depression; they are not immune to wanting to die.
For me, Linkin Park was a saving grace that saw me through some of the darker days in life. Songs like "Numb" and "Crawling" carried me through the usual bouts of teenage angst. But there were also times when what I felt was much more than angst; times when I simply did not want to live.
I remember sitting my room and telling myself, wait until tomorrow and if you still feel this way, go ahead. Kill yourself. And in the time between the evening and the next morning, it was Linkin Park and Chester Bennington's powerful voice that always led me into yet another day. I would play "My December", a bonus track on the Hybrid Theory album on repeat for hours. I can think back to days when that one song was possibly the only thing that saw me through one handful of minutes (4.17 to be exact) to the next, just so that I could press replay and hear it all over again.
It was comforting that someone, Chester, must be feeling as completely shit as I was to be able to produce such a heart-rending track.
During happier moments, of course, I loved rapping along to Linkin Park's collaborative album with Jay-Z, Collision Course, which I still consider to be one of, if not the, most genius mash-up ideas of all time – but in the end, it was Bennington's more soulful songs that always spoke to me, and, it seems, countless others.
I suspect many of us, more than we would like to admit, have heard the siren call of suicidal thoughts. Suicide is a silent killer. It creeps into the back of your mind and begs to be contemplated quietly.
But worse, is that it isn't the only voice that demands the silence of its victims. Despite growing rates of suicide in the UK and elsewhere, society still shuns open discussion around suicide and further alienates those who already feel themselves at odds with life.
Chester Bennington performing stripped back version of Crawling will send shivers down your spine
Korn guitarist Brian "Head" Welch accused Chester Bennington of taking the "cowardly way out". I can understand the pain and sadness that would drive him to such anger, but I've never understood the notion of suicide being a cowardly act.
I can only imagine it takes a great deal of strength – and certainty that there is no other viable pathway to peace – to take your own life.
It also takes strength to be there for the people who, like Chester had, have opened up about their struggles with depression and suicide.
​Last night, I stayed up late listening to Linkin Park's albums, and in particular, one song: "Nobody Can Save Me" – an optimistic tune, despite its title.
"So tell me it's alright, tell me I'm forgiven ... I don't wanna let you down, but only I can save me." That's certainly the way it can feel when you're going through dark times on your own – but surely that isn't how it ought to be.
Seeing so many posts from countless people about how Chester Bennington helped them overcome their own personal struggles should be enough to make us realise that so many of us are, in fact, struggling on our own.
Both the Linkin Park singer and his fellow musician and beloved friend, Chris Cornell, who killed himself just two months before Bennington took his own life, channelled their sorrow into beautiful music that helped many of us cope.
I'm sorry that we couldn't do the same for them – or for the 800,000 others worldwide who are lost to suicide year after year.
For confidential support on mental health call Samaritans free from any phone, at any time, on 116 123 (UK & RoI) or email jo@samaritans.org. In the US call 1-800-273-TALK or chat online
Register for free to continue reading
Registration is a free and easy way to support our truly independent journalism
By registering, you will also enjoy limited access to Premium articles, exclusive newsletters, commenting, and virtual events with our leading journalists
Already have an account? sign in
Join our new commenting forum
Join thought-provoking conversations, follow other Independent readers and see their replies