Chimamanda Ngozi Adichie isn't quite the champion of feminism you think – here's why
The celebrated author's idea of what type of person deserves to be respected or fought for under her brand is increasingly exclusive, but what we need at this moment in time is the opposite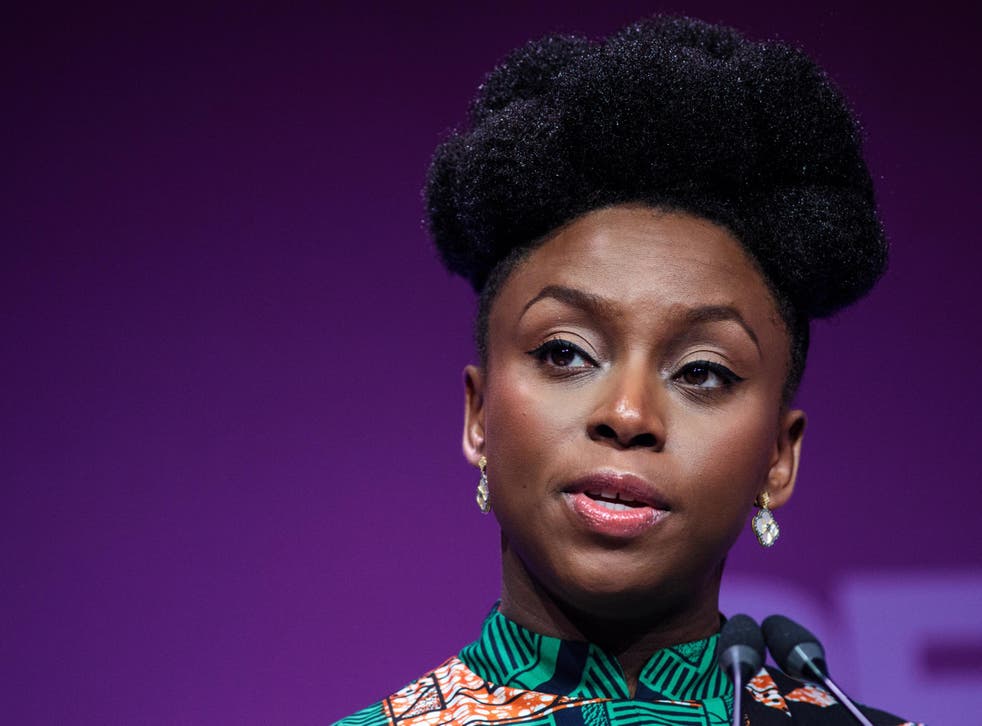 I have consumed the works of Chimamanda Ngozi Adichie since I was 14 years old. I'm 21 now, which means I've spent nearly a decade looking up to this black woman who wrote fascinating stories, with perfectly imperfect characters, about growing up in Africa.
I was raised and introduced to Adichie's Purple Hibiscus by an equally perfectly imperfect Malawian woman, Agnes Longwe, my grandmother. A woman who, at the Post Office one day, unknowingly pushed me to look beyond fictional accounts of black womanhood.
While standing in line to be served with my grandmother, a white woman waltzed in, and walked straight past the long queue confidently saying she just wanted to ask a question. While most of the other people in the Post Office mumbled about the unfairness of the situation, my grandmother went right up to her and told her to wait like everyone else. A short argument ensued before my grandmother yelled, "What did you say? What did you just call me? I will show you a kaffir!"
(A "kaffir" is a racist derogatory word used to describe Africans by colonial settlers.)
The woman's face turned pale because she knew what was coming next. The black men and black women in line suddenly found their voices and started yelling at the white woman to leave. When we got home I asked her if the woman really called her that, because I had been standing right there and didn't hear her. She casually said, "No, but she was thinking it. They are always thinking it."
I knew then that it would take more than Purple Hibiscus to help me understand black women like my grandmother. So I dedicated myself to reading more black feminist theory rather than fiction. And because I didn't have the lived experiences of the black women I was reading about at the time, I knew then that it is not an individualistic ideology, but a collective struggle for emancipation of black women, and therefore of black people.
I personally do not believe a feminist is simply, as Adichie and the dictionary put it, "someone who believes in the equality of the sexes".
Adichie is from Africa. A continent that was and is still being colonised, pillaged and its natives relegated to the trenches. The brand of feminism or "gender activism" practised by Adichie disregards the specificity of the colonial oppression Africans face for being black.
How can one fight for "equality" while ignoring the consequences of its history of slavery – modern black servitude, racial inequity and inequality? How does one ignore the racist hierarchy that globally places white skin above black people of any gender?
Black women are not just oppressed because they are women, they are oppressed because they are black women. White women, on the other hand, continue to be complicit in racism, often reaping the benefits of colonialism, particularly in Africa. In South Africa, for example, white people in general are disproportionately paid more than their black counterparts, own a large majority of the land that was dispossessed from black people, have higher living standards and are treated like first class citizens.
And the women Adichie admires, like Hillary Clinton, are no better. Yet when the African feminist-in-chief met her, she sidestepped important questions and offered her questions like "I want to ask whether you are aware of how much of an inspiration you are?" and "are you an optimist?".
Adichie recently graced the Abantu Book Festival in South Africa, for two consecutive days. She was in conversation with South African writer Pumla Gqola who, like Adichie, is a liberal feminist.
If you expected a substantive interview, you would have been left starkly disappointed. When it comes to thought, there's consistency, and then there is stagnation. My stance is that Adichie's school of thought borders on stagnation and anti-intellectualism. She still holds the same liberal worldview she held in 2007, like a decade-long scripted performance.
Chimamanda Ngozi Adichie: Fortunes of war and peace

Show all 2
When asked which black feminist literature she enjoys reading she said, "I don't care much for feminist academic texts, I care for the textured lives of feminist characters. Maybe that's because I'm a storyteller." I find this disingenuous at best. Adichie gets her talking points from theoretical feminists that came before her, with We Should All Be Feminists one of the most notable examples of making what many feminist scholars have always said more accessible for the masses.
But by being branded revolutionary in the mainstream, while simultaneously not mentioning her influences (whether they were direct or not), Adichie has erased the black women that paved the way before her, thus delegitimising their work, and I find that her pride in failing to publicly engage with feminist theory is, quite frankly, embarrassing.
Despite that, my critique of Adichie is not meant to alienate, vilify or cancel her. I love her. But because she has been elevated to the position of the world's favourite feminism-lite African woman, particularly in the West, I think it's important to talk about the harmful aspects of the type of feminism she has built a multimillion brand on.
I'm not concerned because of her fame or fortune; I'm concerned that there's a generation of young black women who look to her for feminist guidance without challenging anything she says, or the dangers of striving for feminism that simply serves to garner white acceptance.
Support free-thinking journalism and attend Independent events
My view is that her restrictive notion of what type of black person deserves to be respected, or fought for under her brand, is by definition anti-black, because it is exclusionary. Furthermore, I find it anti-black because I believe it exonerates white women from atrocities and racism that they inherently preside over while solely elevating gender inequality as the central tool for women's liberation. But while gender equality is important, it's more complex for those of us who aren't white women. Women of colour, for example, must still navigate in anti-black societies. What about them?
A while ago, Adichie made comments about trans women having lived with a supposed privilege over cisgender women. I agree with her to a certain extent. But any privilege some trans women have over others has nothing to do with their "transness". Like any other group, it can be owed to class, race and a whole host of other social factors. White people are the perfect example for this concept, because whiteness grants you innate privileges regardless of your sexuality, class or identity.
But as far as I'm concerned, that logic seems to escape Adichie when it comes to racial-gendered oppression, which is why I can't help but read her feminism, which disregards racial-gendered oppression, as distinctly Eurocentric.
I suggest that Adichie reads and engages in decolonial black feminist literature. It is only then that she can begin to offer something meaningful to not just the black women that look up to her now, but also the oppressed in the African continent and global South.
Register for free to continue reading
Registration is a free and easy way to support our truly independent journalism
By registering, you will also enjoy limited access to Premium articles, exclusive newsletters, commenting, and virtual events with our leading journalists
Already have an account? sign in
Register for free to continue reading
Registration is a free and easy way to support our truly independent journalism
By registering, you will also enjoy limited access to Premium articles, exclusive newsletters, commenting, and virtual events with our leading journalists
Already have an account? sign in
Join our new commenting forum
Join thought-provoking conversations, follow other Independent readers and see their replies