China's human rights abuses are going unpunished – its financial power means the world keeps looking away
China has been touted as a welcome, benevolent financier in Africa, but its growing economic influence has troubling effects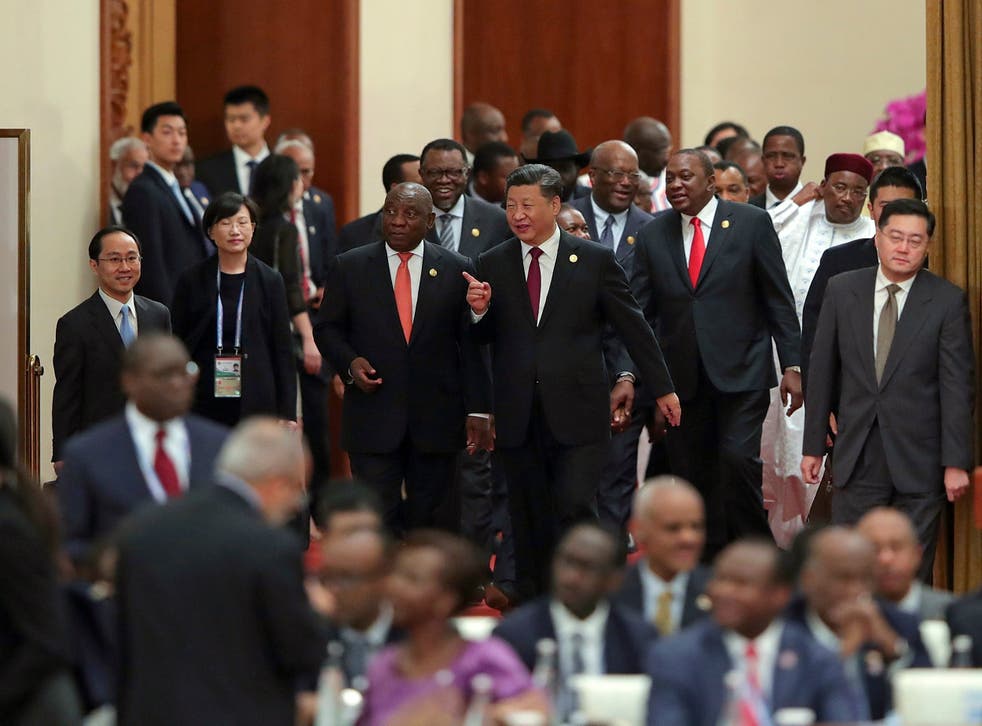 With the brutal murder of journalist Jamal Khashoggi fresh in the mind, the appetite of the global community for holding countries to account on human rights abuse appears to be increasing. Not only are world leaders joining in criticism where abuses are exposed, but ordinary citizens seem to have been galvanised to take action too. Though limited, and late, this change in attitude is welcome.
But what of the other countries still benefiting from their own covert abuses that target communities that the west is still turning a blind eye to? Countries such as China, which, through its ever-expanding financial power, has managed to throw a great deal of the world off the scent of its relentless oppression of various communities at home (the plight of Uyghur Muslims, in particular), as well as abroad.
Take China's Belt and Road project throughout Africa as an example of its new global influence: the ambitious endeavour has seen the nation expand its influence exponentially in countries including Zambia, the Democratic Republic of the Congo, Kenya and South Africa, through huge investment in this major infrastructure scheme.
China has been touted as a welcome, benevolent financier in Africa, with the added bonus of providing infrastructure support and peace-keeping assistance – even where past evidence suggests the contracts drawn up to facilitate this support have a troubling legacy for local people.
In September, at a Beijing summit with African leaders, Xi Jinping pledged $60bn (£47bn) for endeavours in Africa in addition to its 2015 promise of $60bn, to be delivered in the form of investment and loans, as a means of "bettering lives" for locals, and putting "more emphasis on the environment and resources". China has, during this time, also become increasingly involved in UN Peacekeeping operations, offering training for police officers and military assistance in a number of African nations.
This level of intervention should be raising global questions about how power is used and where it is abused. But those questions are not forthcoming.
There are lots of reasons to be worried about China's conduct on the world stage. Just this week, the country opened its 13th police station in South Africa's Port Elizabeth, an initiative that the provincial commissioner, lieutenant general Liziwe Ntshinga referred to as "noble". But South Africans who believe the partnership is built on corruption and a growing debt burden (as evidenced in Angola, a nation China has also consistently provided with aid and one which has an appalling track record when it comes to reproductive rights, abuses by security and political violence) think otherwise.
In Kenya, a wave of Chinese management brought to light racist abuse against Kenyans in the workplace, with examples of bosses referring to black people as monkeys, according to The New York Times.
The long arm of finance appears to be linked to Chinese enforcement, not only at home but now overseas. And China's record at home should be of particular concern to anyone watching its influence spread across the globe. As Human Rights Watch consistently reports, Chinese law enforcement has seen to the surveillance and arbitrary detention of human rights defenders for years now. Forced confessions, brought about through physical as well as psychological torture, are known to be common interrogation tactics when it comes to law enforcement, with the Turkic Muslim Uyghur community one of the most severely targeted groups in the region.
Extremely invasive surveillance missions have targeted the community, ranging from the installation of QR codes on the homes of Uyghur Muslims to the legalisation of "vocational training centres" – understood by many in the west to be internment camps – that serve solely as a means of further persecuting the religious minority. It is estimated that up to one million Chinese Muslims are held in these camps today.
The abuses of world power, in the face of China's financial influence, do not end at human lives, either. The Chinese cabinet has just reversed a 25-year-old ban on the use of rhinoceros horns and tiger bones in medicine – a move that the World Wildlife Fund said would have "devastating consequences globally".
And yet, unlike elsewhere, nobody speaks up. China's silent abuses are treated with a business-as-usual complacency.
When the world wakes up to the severity and consequences of its silence over China, the cries of injustice will be too little, too late.
Join our new commenting forum
Join thought-provoking conversations, follow other Independent readers and see their replies