Donald Trump isn't just bad for America – when it comes to his climate change beliefs he's a danger to us all
Trump has said that he wants to scrap the major regulations that President Obama put in place to reduce US carbon dioxide emissions. Most devastatingly, just a week after the Paris Climate deal became law, the US has elected a President who wants to pull out of it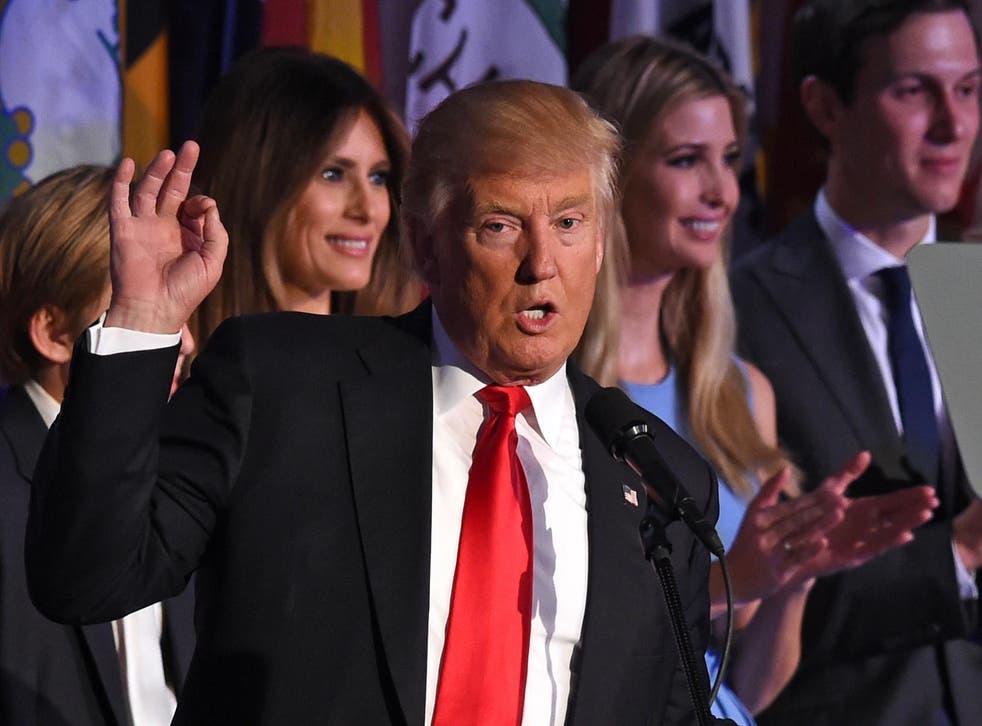 I still can't quite believe what has happened in the US. The sense of utter devastation is overwhelming and it hurts.
A xenophobic, dangerous, misogynist is set to be leader of the most powerful country on Earth. A man who mocks disabled people and whose hatred for Muslims and Mexicans has been worn as a badge of honour. Today is a dark, dark day.
I know that women in the US, and people of colour, migrants, LGBT people and many others will wake up today in a country they fear is set to be run by a man who has waged a war of the airwaves against them.
For those of us who are concerned about climate change – and that should be every single one of us – Trump's election is truly a hammer blow to the work we've been doing. Slowly but surely, countries across the world have been moving forward and working closer together on climate change, and now the most powerful nation on earth is to be led by someone who denies that the earth is warming. In fact, he believes that "the concept of global warming was created by and for the Chinese in order to make US manufacturing non-competitive."
Jeremy Corbyn reacts to Trump victory
Trump has said that he wants to scrap the major regulations that President Obama put in place to reduce US carbon dioxide emissions, including the Clean Power Plan. Most devastatingly, just a week after the Paris Climate deal became law, the US has elected a President who wants to pull out of it.
Collective global action on climate change is now inevitable: it is happening right now in Marrakech. Trump could seriously slow this down, with catastrophic consequences for some of the poorest people in the world who will suffer the worst effects of climate change.
Make no mistake, Trump presents a genuine threat to some of the poorest people in the world who will suffer the worst effects of the climate crisis.
In the face of such darkness it is tempting to hide away from it all and pretend that this is some sort of nightmare. I have no doubt that forces in Britain will now use this as a moment to reinforce their own worldview of a smaller country, with high walls surrounding us. And those very same people will argue that our own fight against climate change here is somehow futile.
But we must not slip into fatalism. Britain could now begin to lead the world on climate change – working closely with our friends in Europe. What better response to Trump's election than showing him that investing in renewables makes economic sense and strengthens energy security – whatever his views on climate change.
With states like California and New York pursuing their own ambitious climate policies, there is hope that the US might still meet its climate obligations.
President Donald Trump life in pictures

Show all 16
I will never believe that people are inherently closed-minded or insular, but I do believe that people, the world over, are scared and angry – and are kicking back in ways that nobody predicted. The establishment has been dealt near-knockout blows in both the US and Britain – only to be replaced by even more reactionary forces. By people more than willing to use the politics of hate to divide us.
I have a message for those people who will try to stir up hatred and fear. Where you try and divide us we will stand firmer together than ever before. Where you try and pitch our communities against each other, we will build stronger bonds between ourselves and our neighbours. And where you try and reject the science, and condemn the world to catastrophic climate change, we will do everything in our power to stop you.
This is no time to mourn – instead we must organise like never before to keep our communities cohesive and our climate safe. On this dark day we extend the hand of friendship to people in the US who wake up in fear. Solidarity is a popular word, but we have to make it mean something. It's at times like this when we need to unite, learn, resist and hope more than ever before. Today, in whatever ways we can, let's light a candle rather than curse the darkness.
Caroline Lucas is co-leader of the Green Party
Join our new commenting forum
Join thought-provoking conversations, follow other Independent readers and see their replies