I joined Moscow's secret climate strike movement and this is what I found
Police behaviour is unpredictable. One week they might simply watch, and another they may come and harass or arrest people. Coming from a background of climate activism in the UK, the culture shock was immense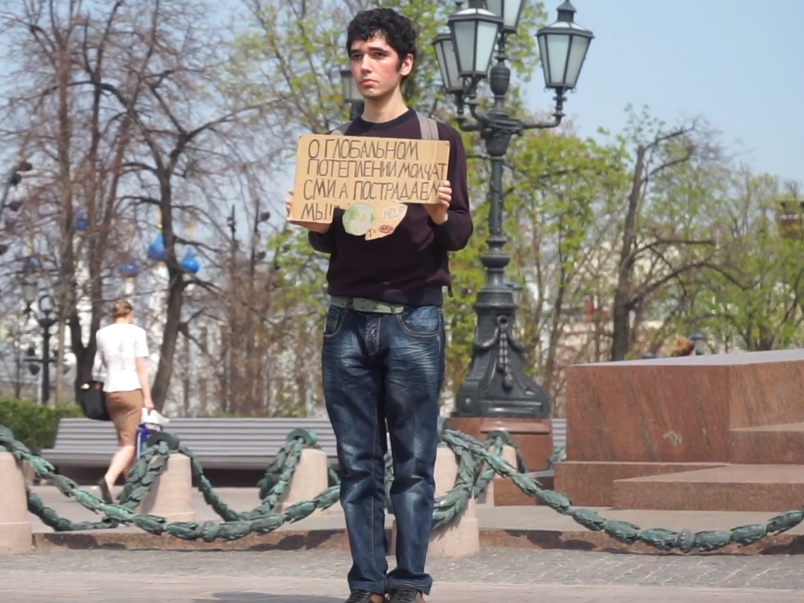 We often associate Russia with corruption, scandal and criminality. However, in the three months since I moved to Russia, I have experienced the opposite: across 11 time zones on the largest landmass on earth, hundreds of young people are standing up in open defiance of the government to protest for their right to live in a climate crisis-free planet.
Like their peers across the world, these protesters are gathering every Friday. However, unlike many of their peers, they are unable to do so legally. In Russia, protests consisting of more than one person require authorisation, which the "Fridays for Future" campaign has been repeatedly refused.
Nonetheless, here in central Moscow, activists form a queue every week to stage single person pickets. Much of this activity has been inspired by one Muscovite student, Arshak Makichyan, who decided to protest after being inspired by Greta Thunberg and political activists in Russia. Since he began picketing by himself six months ago, a grassroots group has grown around him, springing up from Murmansk in the Arctic Circle to Vladivostok in Siberia.
Though technically legal, these pickets push the boundaries of the law. In October, Arshak and two other protesters were arrested for hosting an unauthorised mass protest (it should be noted that "mass" here refers to the three of them). They are currently awaiting trial and although there is little chance of being found not guilty, their hope is that authorities' fear of the story reaching international media outlets means that they will only face a fine.
The alternative custodial sentence for two of them, for whom this is their second arrest, is up to ten days. If they are arrested for a third time, the penalty could increase to years in jail. But the campaigners are not deterred and plan to continue until their demands, which include sustainable energy, recycling, and an end to deforestation, are met.
Best Global Climate Strike protest signs, Friday 27 September 2019
Show all 57
Given these political circumstances, optimism and hope are essential. It is estimated that 700 people in up to 35 cities across Russia attended the global strike on 27 September, including 70 people who queued in Pushkin Square to take part in the single person picket.
Fridays for Future pickets, both mass and single, take place weekly in eight cities. This may seem small, in comparison with the hundreds of thousands marching in other European countries, but considering that just six months ago climate activism in Russia was limited to one student standing in Pushkin Square the significance of this cannot be underestimated.
I attended September's global strike protest in Moscow as an observer, along with several other expats. The atmosphere was subdued, but defiant. Police quickly gathered to observe. There was a constant anxiety in the air. Everyone wanted to make sure that no action – somebody in the queue holding up a banner; anyone talking to the person striking for too long – could be interpreted as a mass protest. Police behaviour is unpredictable. One week they might simply watch, and another they may come and harass or arrest people. Coming from a background of climate activism in the UK, the culture shock was immense, and I am in awe at the work these activists are doing. Where in the UK, extreme climate activism is scaling Big Ben or blocking bridges, in Russia simply existing as a dissenter from the norm makes you a rebel, and the consequences faced are so much higher.
Those involved in the protests are principally university students who have grown up with social media and get their news from alternative sources to state owned TV, but older generations are also becoming more aware. Arshak, along with other activists I spoke to, agreed that there is an increasingly positive reaction from passers-by as opposed to the open hostility faced at the start. As Arshak told me, "It is not about whether you are old or young, it is about whether you have the information." Access to social media and foreign TV programmes through streaming websites mean that Russian youths are far more likely to question what they are being told at home.
Climate justice is impossible to achieve without a global movement and a combined effort from all governments.
The attack on Russian climate protesters is an attack on all of us, and whilst I do not want to minimise the work being done by campaigners across the world, if Russia's climate policies are not radically improved, global progress will be limited. Russia is the fourth most polluting country on earth, and contributes 5 per cent of all greenhouse gases. A significant minority of the Arctic falls within Russia, as well as roughly a fifth of the world's forests.
If we in the West want to prevent imminent climate collapse, we have a duty to show support and solidarity to activists both in Russia and in other authoritarian regimes around the world, in whatever way we can.
Join our commenting forum
Join thought-provoking conversations, follow other Independent readers and see their replies