Brian Viner: The fans who chose Kendal over Bayern
The Last Word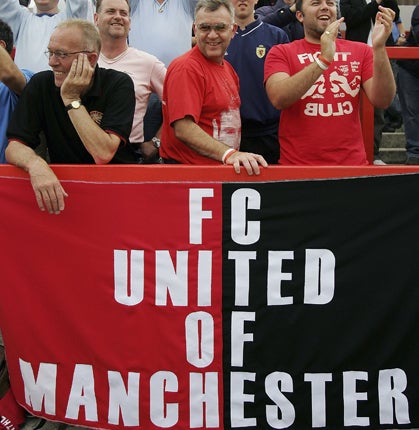 For footballing neutrals, the journey to Manchester on Wednesday was well worth the bother.
I was sorry to see United undone at home, but there were five goals to savour, and it's always fun to watch rapturous away fans bouncing up and down. For United supporters, however, it was a grim night. And the euphoria of those Kendal Town fans made it even harder to bear.
Kendal Town? Not Bayern Munich? No, because this was FC United of Manchester of the Unibond Premier League, the club set up as a counterblast to the Glazer family's takeover of Manchester United, and cherished by its fiercely loyal fans as an antidote to all that is rapacious and sick about top-level football. Most of those fans still adore Man United – "I'll always be red to the core," one of them told me – but wild horses wouldn't drag them to Old Trafford to fill the Glazer coffers. True, Wednesday's crowd was a little thinner than usual on account of the live ITV coverage of a certain Champions League quarter-final, but there were still 1,500 of the FC United faithful there, more interested in the fortunes of their new beloved than the travails of their old love. To reach for some alternative imagery, these are not the stone-throwing protesters, as represented by those in the Stretford End wearing the old green-and-gold colours of Newton Heath; these are your full-blown, hardcore jihadis.
Still, as jihadis go, they could scarcely have been more welcoming to an outsider, even an outsider who once incurred their terrible wrath. In May 2007, in this space, I dared to assert that with another league title won and £50m lined up to spend on new players, maybe those who had burnt effigies of the Glazers should offer an apology. Abuse rained down on me in the form of hundreds of e-mails, the more temperate of them explaining, without calling me a #*@#ing ignorant #*@#!, that the Americans had constructed their new empire on quicksand. The following week I gorged myself on humble pie, and a nice man called David French wrote to tell me all about the ethos behind FC United, who are owned by their members and have a board but no chairman. Last year, in response to the credit crunch, they even asked people to pay what they could afford for season tickets. If Karl Marx were alive today, he'd be an FC United fan.
Anyway, David invited me to see a game some time, and on Wednesday I finally took up his offer, intrigued by the clash with Manchester United's most important game of the season. So in the city centre, as hordes of Man United and Bayern fans made their way to Old Trafford, I got on a bus heading in the opposite direction, to Bury.
FC United play their home games at Gigg Lane, paying Bury FC handsomely for the privilege. But last month the council gave them the green (and gold) light to build their own ground in, of all symbolic neighbourhoods, Newton Heath. For this project they need to raise £3.5m and I have no doubt that they will do so; a genuine passion inflames them, and they are inspired, rather than offended, by the dismissal of them by some at Old Trafford as "a bunch of dicks". Sir Alex Ferguson put it slightly more politely. "That mob," he called them. But it is the former description that proudly graces a banner, defiantly raised at all home games.
The association with Manchester United will always energise them – they wear the same colours, and have even had a Giggs in the team, Ryan's brother Rhodri – but it no longer defines them. Even were the Glazers to sell up to a consortium headed by Sir Bobby Charlton, Denis Law and Paddy Crerand, FC United would march on towards what appears to be the summit of their realistic ambition, a place in the Blue Square Premier, the top-tier of non-league football. They're two divisions away, but their short history augurs well, for they have already been promoted twice.
On the pitch, however, this has been a disappointing season, and the 4-1 walloping by Kendal Town didn't help. Off the pitch, they're thriving. And from first whistle to last on Wednesday there resounded a repertoire of booming chants that would put the fans at most Premier League grounds, not least Old Trafford, to shame. David French had been a Manchester United season-ticket holder for more than 30 of his 42 years when he gave up, or rather realigned, the faith. It wasn't an easy thing to do. But then Old Trafford wasn't what it had once been. "I can't believe that so many people can make such little noise," he told me. At FC United, it's the other way round.
What is Woods up against at Augusta?
Across the southern states of the US, there endures the belief, among a disturbingly large minority of white people, that young black men are feckless and priapic. Billy Payne, chairman of the Augusta National, might not have had this racist stereotype in mind when he launched his revolting ly holier-than-thou public rebuke to Tiger Woods on Wednesday, but you can bet your bottom dollar that it was applauded by rednecks from Augusta, Georgia, to Zip City, Alabama. The racist dimension in the reaction to Tiger's marital infidelities has been largely overlooked by the media these past few months, but that doesn't mean it isn't there.
Join our commenting forum
Join thought-provoking conversations, follow other Independent readers and see their replies