A freed Mubarak should feel at home in today's topsy turvy Egypt
The lads from state security are behaving with Mubarak-era ruthlessness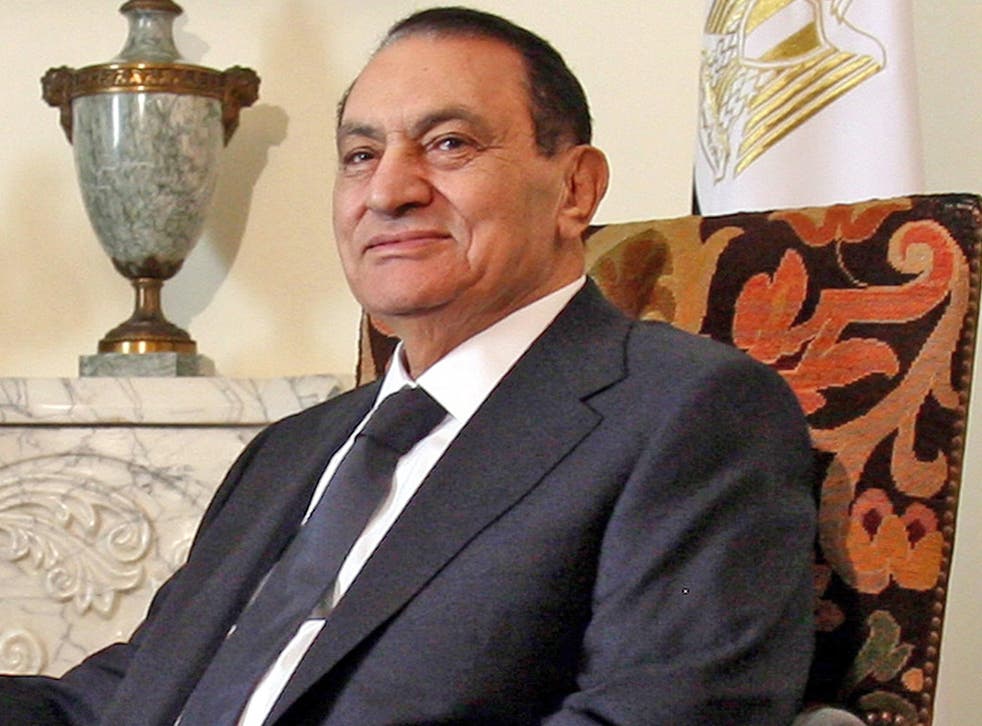 Mubarak to be freed? Crazy as it may seem, his freedom would be in keeping with the mad tragedy through which Egypt is living. What would seem impossible in the aftermath of the 2011 revolution – hundreds massacred by state security, police cadets slaughtered by desert gunmen, Mubarak out of jail – has acquired a kind of normality.
On the streets of Cairo there have now appeared thousands of large coloured photographs of Barack Obama with Bin Laden's beard attached to his chin and a Muslim prayer sign on his forehead. And to the right of Obama is that most handsome of all generals, Abdel-Fattah al-Sisi, Minister of Defence, Deputy Prime Minister and head of the Egyptian army.
So there's no doubt who the good guys are, and who the bad guys are. State television's three channels now run a 24-hour banner in English on the top left of the screen: "Egypt fighting terrorism". And it seems viewers are inclined to believe it. The foul killing of the 25 policemen in Sinai and their dignified military funerals this week almost pushed the killing of 36 uncharged prisoners being transported in a police van by state security men in the Delta off the newspaper front pages. Al-Ahram carried half a page of photographs of these young men and a coloured picture of their corpses lined up after the killers left them. It could be mistaken for a picture of dead Iraqi cops and Syrian civil war victims.
In a report to be published today, Human Rights Watch says it can confirm that 37 Christian churches have been damaged across Egypt. In Minya, for example, Muslim Brotherhood sympathisers left their sit-ins after news of the mass killings at the Rabaa al-Adawiya mosque in Cairo reached them a week ago, and immediately attacked police stations and Christian institutions. These included a Christian-owned houseboat on the Nile in which two men – one of them a Muslim – were burnt to death. In all, foreign NGOs now believe that 121 men were shot dead in Ramses Square on Friday and that police used a machine gun on crowds, guided by television cameras attached to their vehicles.
In the topsy-turvy world in which all now seem to be condemned to live in Egypt, some Copts in upper Egypt are blaming not Muslims for their church destruction, but President Obama. A common rumour is that Obama has a Muslim brother – and that this is one reason why the United States supposedly supported the Brotherhood.
Egyptian journalists I meet on the streets of Cairo all complain that they can no longer write freely although – to keep the book of accusations balanced – it should be remembered that more writers were prosecuted under the rule of Mohamed Morsi than in the previous 185 years of Egyptian history.
Among the few voices of journalistic sanity has been Emad Eddin Hussein in Al-Shorouk newspaper. Writing of the 36 prisoners killed in the police truck last week, he says that "the Muslim Brotherhood may have committed many crimes or brainwashed the minds of many civilians, but this does not justify their killing… The Egyptian government has to ensure the efficiency of police officers, some of whom acted very aggressively towards the Muslim Brotherhood supporters over the past days"
That is putting it mildly. The lads from state security are back in all their Mubarak-like ruthlessness, assisted – as in 2011 – by the hired thugs and ex-prisoners who are used to club protesters with iron bars. So if Mubarak does emerge from the grim confines of the Tora prison complex – wherein his Brotherhood enemies are also being held – he will find the new Egypt of his freedom faintly familiar.
Register for free to continue reading
Registration is a free and easy way to support our truly independent journalism
By registering, you will also enjoy limited access to Premium articles, exclusive newsletters, commenting, and virtual events with our leading journalists
Already have an account? sign in