A journalist goes missing nearly every day in Ukraine
It's not just journalists who are being victimised by pro-Russian separatists, but entire newsrooms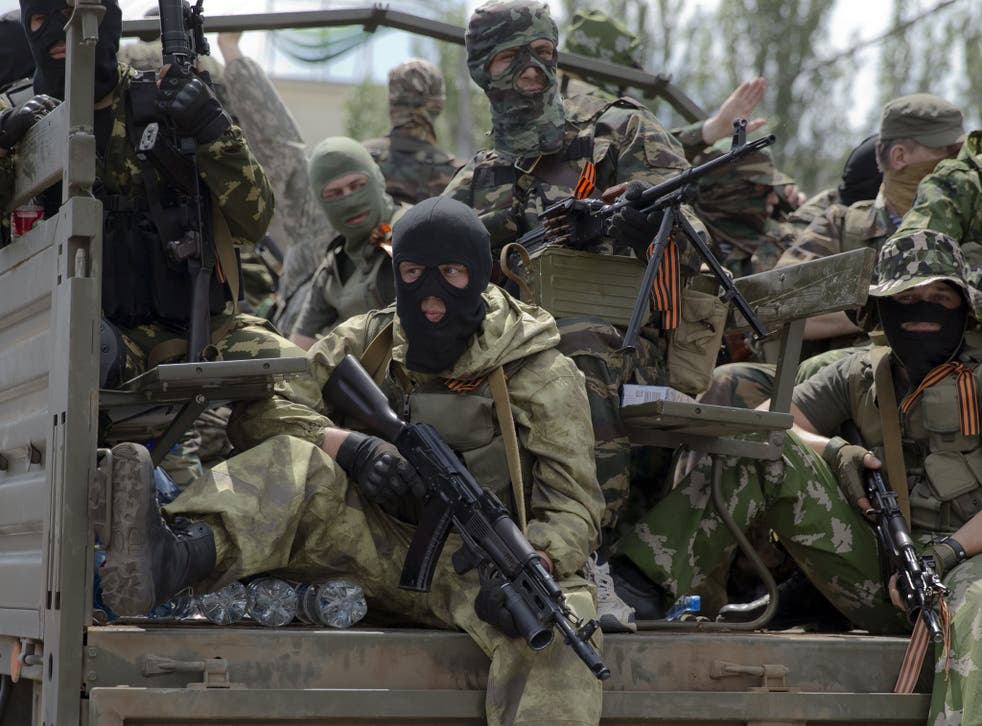 The campaign by pro-Russian separatists to muzzle local Ukrainian journalists appears to be succeeding. Scores of foreign and local Ukrainian journalists are being attacked, brutalised and held captive with increasing intensity. Nearly every day since the beginning of April, a new missing person's report is filed by the families of the working journalists.
On 25 April, local television reporter for ZIK, Yuri Leliavski, was imprisoned in a basement for two weeks in Sloviansk, East Ukraine.
On 26 April, Lutsk-based journalist Sergei Shapoval of news website Volyn Post was kidnapped. Separatists held Shapoval captive, along with other journalists, in an unmarked building in Donetsk, East Ukraine.
After Shapoval endured three weeks of brutality and imprisonment, he gained his freedom when his captors traded him to a powerful pro-Russian politician. On May 11, masked men forced their way into the home of journalist Alexander Yaroshenko, where they beat him and subsequently burned down his house in the Odessa region of Ukraine. Their experiences have left them all so traumatised, they are reluctant to speak openly.
The released captives report on the torture tactics that the separatists employ on their hostages. In the case of Alexander Yaroshenko, he reported that his would-be murderers beat him while they yelled, "You don't love Putin." He managed to escape by running into the forest to hide.
In the case of Shapoval, he reported that he could hear the screams of people as they were dragged down the corridors of the building. He too was tortured, but did not want to go into detail. These are but a few of the journalists being targeted.
Individual journalists are not the only victims in the line of pro-Russian separatist fire. Newsrooms are also being invaded. Armed men raided regional newspaper Provintsiya (Province) in the city of Konstantinovka in Donetsk. Militant separatists detained journalists at Ukrainian television channel ICTV, destroying equipment and news feeds throughout.
Assailants seized control of the local television broadcasting centre and demanded that they relay only Russian TV stations. The next day, armed men raided the country's transmission centre to switch off all Ukrainian digital and analogue programmes in favour of Russian ones.
Voices in Danger approached Oksana Romaniuk, Executive Director of the Institute of Mass Information in Ukraine, to obtain contact with the victims. She explained that, "….they are not ready to talk…they need time because there has been a lot of attention [on] them."
Romaniuk instead offers Voices in Danger a detailed picture of the press situation in Ukraine. "Separatists in the east of Ukraine are clearly taking aim at journalists. From the beginning of April until today [19 May], we have recorded over 35 cases of Ukrainian and foreign journalists who have been captured as hostages. This gives a clear sign of intimidation for all the journalists working in the region."
Romaniuk further explained the situation that the media in Ukraine faces: "Many local journalists had to leave their jobs because of threats and because local media offices became a target for separatists. There are a lot of challenges for journalists in terms of physical security. But, at the same time, we ask foreign journalists to arrive and cover the situation. We support Ukrainian journalists who travel to the East because publicity is the only thing that can help defend human rights, particularly when the legislation and state offices do not work. They are simply blocked in the occupied regions."
Muzaffar Suleymanov, the Europe and Central Asia Program Researcher for The Committee to Protect Journalists (CPJ), has been appealing to the various factions in Ukraine since the conflict began. The latest statement out today by CPJ's Suleymanov reinforces his appeal: "We call on all sides in the conflict in Ukraine to respect journalists' status as civilians and allow them to report freely."
Register for free to continue reading
Registration is a free and easy way to support our truly independent journalism
By registering, you will also enjoy limited access to Premium articles, exclusive newsletters, commenting, and virtual events with our leading journalists
Already have an account? sign in
Register for free to continue reading
Registration is a free and easy way to support our truly independent journalism
By registering, you will also enjoy limited access to Premium articles, exclusive newsletters, commenting, and virtual events with our leading journalists
Already have an account? sign in
Join our new commenting forum
Join thought-provoking conversations, follow other Independent readers and see their replies