A justified moment to make history: Lawyers strike for first time ever to protest legal aid cuts
'The Tory-led government is punishing the poor, this time for wanting justice'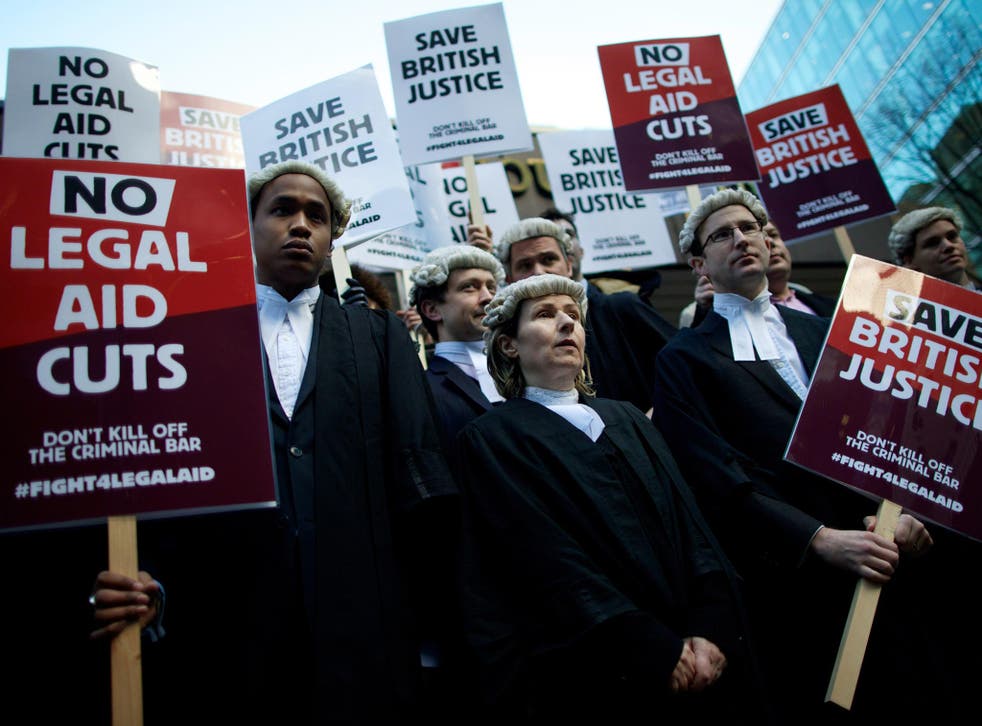 For the first time in British history, barristers and solicitors across the nation went on strike. For the long morning hours of January 6th, Justice was adjourned.
Streaming out of court in their wigs and gowns - symbols of a legal heritage dating back to the 14th century - lawyers stood shoulder to shoulder in traditional black and white attire, sombrely mourning the death of legal aid.
Perhaps 'death' is too strong a word; 'purgatory' may be a more accurate description for the future of legal aid if Justice Secretary, Chris Grayling's proposed cuts go through. His proposals will reduce legal aid by £220 million per year by 2018. Such severe cuts to legal aid are ideologically, not financially, driven. In the words of former Shadow Justice Minister, Rob Flello MP; "Once again this Tory-led government is punishing the poor, this time for wanting justice."
Legal aid cuts will hurt the most marginalised in British society. The proposed legal aid rates are so low that talented criminal defence lawyers are likely to leave the legal profession. Defendants who cannot afford to pay privately for legal representation will either be left to defend themselves or receive sub-standard representation, inevitably resulting in miscarriages of justice. It is imperative that defendant's whose liberty is at risk, have good quality legal representation when the state has the power to use all of its resources in prosecuting defendants.
Cuts to legal aid are not taking place in a vacuum. They should be viewed as one plank in a raft of austerity measures including the bedroom tax and the benefit cap, both of which cripple the most deprived families in our nation. Nick Armstrong, a barrister at Matrix Chambers, warns, "The government is imposing ideology under the guise of austerity and stripping away our fundamental protections. It is deeply sinister, and hugely dangerous."
We should pay heed to Grayling's own words: slashing £4 million from the prison law budget is not a practical measure, but rather ideological; "I do not think prisoners should be able to go to court." It would be fair for voters to query whether draconian ideology at the highest level of legal office is appropriate, given that such ideology flies in the face of justice.
In fact ideology need not be the driving force behind the cuts. Early last year the Law Society, Bar Council, and Shadow Justice Secretary, Sadiq Khan, submitted counter-proposals aimed to redress heavy financial expenditure in the justice system. They suggested a review of the courts, crown prosecution service, and judiciary to minimise inefficiency and bureaucracy. These counter-proposals were rejected by Grayling.
It is interesting to note that the first non-lawyer to serve as Lord Chancellor (since 1673) so staunchly refused to heed this expert legal advice. At 25 Bedford Row, Sushil Kumar queries the Justice Secretary's experience, "Grayling has yet to demonstrate the understanding and commitment required to protect a world class justice system that is in danger of being dismantled."
The Lord Chancellor should work with the legal profession to devise sensible proposals that both save public money and uphold justice. Regrettably, Grayling prefers to deploy underhand tactics to push through punitive legal aid cuts. First, by declaring (inaccurately) that the public no longer supports legal aid; secondly, misrepresenting criminal defence barristers as fat cat, overpaid lawyers.
According to Grayling "The [legal aid] system has lost much of its credibility with the public." This flies in the face of evidence. A Bar Council poll as recent as May 2013 interviewed over 2,000 people to hear their opinions. Seven out of ten interviewees were concerned that cuts to legal aid could lead to innocent people being convicted. 67% agreed that legal aid is a price worth paying for living in a fair society.
Let us address Grayling's second criticism, that criminal barristers are 'fat cat' lawyers. Gemma Burns, Criminal Barrister at 33 Bedford Row clarifies, "The truth is that 60% [of criminal lawyers] earn less than £30,000 per year, and that's before tax and national insurance. After that's deducted, we make little over minimum wage." With the prospect of further cuts to legal aid, the future looks bleak for criminal lawyers.
But we will not stand by and allow the Lord Chancellor to erode the rule of law in our country. Criminal Barristers and Solicitors are organised and united, and ready to fight these savage cuts. "The historic action yesterday has drawn a line in the sand, no longer will we stand by and watch the justice system be undone by those who are shortsighted and repressive," said Michael Mansfield Q.C. Head of Mansfield Chambers.
Let us be clear, at the Criminal Bar, power to the lawyers is power to the people.
Charlotte Proudman is a barrister at 1 Mitre Court Buildings.
Register for free to continue reading
Registration is a free and easy way to support our truly independent journalism
By registering, you will also enjoy limited access to Premium articles, exclusive newsletters, commenting, and virtual events with our leading journalists
Already have an account? sign in
Join our new commenting forum
Join thought-provoking conversations, follow other Independent readers and see their replies